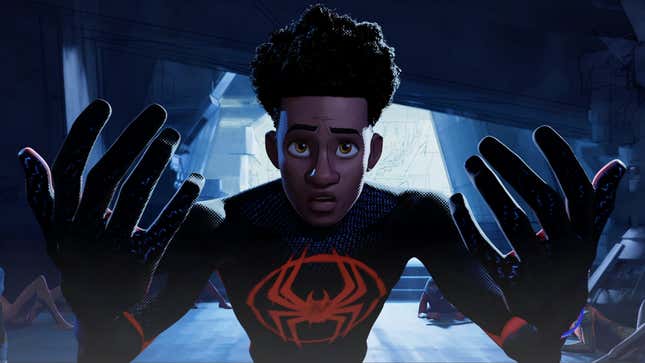 The first two trailers for Spider-Man: Across the Spider-Verse have put their focus on Miles Morales (Shameik Moore). With how long it's been since we've seen this take on the young Spider-Man, the trailers have gone out of their way to show how much he's come into his own since then (and remind audiences how great Into the Spider-Verse was). But after helping other Spiders like Peter B. Parker (Jake Johnson) and Gwen Stacy (Hailee Steinfeld) acclimate them to his world and get back to their own universes, Across makes Miles the fish out of water and introduces him to a whole plethora of universes with their own Spider-heroes.
Beyond showing us how dazzling the new animation and art styles on display, the new trailer for Across finally provides a look at the film's villains, the Inheritors. In the comics, they're a race of psychic vampires who love to feed off the life force of their victims, and have a particular vendetta against all versions of Spider-Man in particular. As they are wont to do, they and their chief Inheritor Morlun have been making trouble all across the multiverse, and Oscar Isaac's Miguel O'Hara (aka Spider-Man 2099) is more than willing to kill them before they can feed on anyone else. Miles, Gwen and others are very much not willing to cross that line, which means we've got ourselves a Spider war.
The Woman Who Would Be Photon
If the original Spider-Verse film took inspiration from the 2014 comic of the same name, Across appears to be drawing influence from its 2018 sequel, Spider-Geddon. In that, the Spiders were divided on whether or not to kill the Inheritors, with Miles being a key player on the "no kill" side. With that kind of threat and plenty of fresh new Spiders to introduce like Spider-Punk (Daniel Kaluuya) and Spider-Woman (Issa Rae), it's easy to see why there's already another film in development.
Also starring Karan Soni, Jason Schwartzman, Jorma Tacone, and Lauren Luna Vélez, Spider-Man: Across the Spider-Verse comes to theaters on June 2.
---
Want more io9 news? Check out when to expect the latest Marvel, Star Wars, and Star Trek releases, what's next for the DC Universe on film and TV, and everything you need to know about the future of Doctor Who.