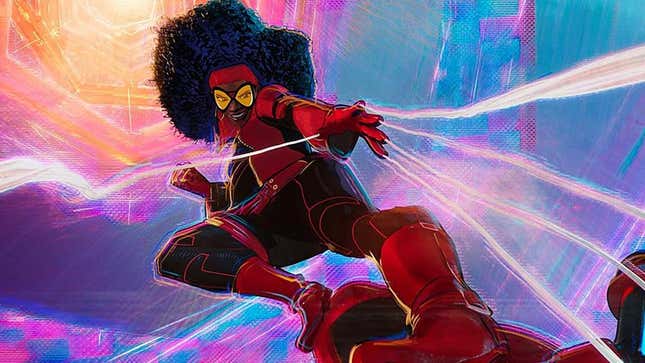 Like its predecessor, the upcoming Spider-Man: Across the Spider-Verse is set to introduce audiences to a brand new pack of Spider-heroes they otherwise might not have known about. Beyond Oscar Isaac's Spider-Man 2099 (aka Miguel O'Hara), two of the more prominent faces are Pavitr Prabhakar, aka the Spider-Man of India in Earth-50101, and the Spider-Woman Jessica Drew.

io9 Interview: Oscar Isaac Was 'All In' on Moon Knight
Recently, a pair of new promos popped up on the internet individually for both Jessica and Pavitr (voiced respectively by Insecure's Issa Rae and Deadpool's Karan Soni). Jessica exists in the mainline Marvel Universe alongside Miles Morales and Peter Parker, and Across' take on her largely seems to follow from the character's 2015 run by Dennis Hopeless and Javier Rodriguez, wherein she was an active superhero while also in her second trimester. Her Mother's Day-timed promo focuses on how effective she is while expecting, thanks to her motorcycle and the way she's incorporated it into her webslinging.
It's not known what universe Jessica hails from quite yet. In fact, the only thing that's really been said about her is that she and Hailee Steinfeld's Spider-Gwen will eventually team up in a spinoff movie that'll also feature fellow Spider-hero Silk, aka Cindy Moon. Silk hasn't been seen or mentioned in any Across promo thus far, but as of 2022, she is set to headline a show for Prime Video sometime in the near future. Whether it's live-action or animation, we don't know yet, but don't be surprised if Across (or its sequel) sets the stage for that team-up during its runtime.
Meanwhile, Pavitr's promo is a similarly brief, but sweet showcase for him and his traffic-heavy home dimension of Mumbattan. Short as it is, it gets the job done in making Pavitr out to be a potential scene stealer in the film. His energy is fun, and the way he uses his bangles to attack enemies and snare them in his webs is just a cool, novel thing that helps him stand out from the other Spiders. It also helps that he has a great design and animation style that feels all his own. This is something the original Spider-Verse film largely excelled at, and it's great to see it return here with a bigger roster of characters.
Pavitr first came onto the comics scene with 2004's Spider-Man: India miniseries by Jeevan Kang, Sharad Devarajan, and Suresh Seetharaman. The four-issue miniseries follows similar origin story beats as Peter Parker in the 616 universe, but rather than being bit by a spider, Pavitr gains his spider powers from an ancient yogi who tasks him with saving Mumbattan from evil forces. He wasn't seen again until the original 2014 Spider-Verse comic book event, and later headlined 2015's Web Warriors comic with Spider-Gwen, Spider-Ham, Spider-Man Noir, and Spider-Man UK, most of whom have appeared in either Spider-Verse or Across.
After Spider-Man: Across the Spider-Verse comes to theaters on June 2, you can read Pavitr's adventures later that month in Spider-Man: India, a new comic set after Marvel's End of Spider-Verse event. That series, by Nikesh Shukla and Abhishek Masluni, will be released later in the month.
---
Want more io9 news? Check out when to expect the latest Marvel, Star Wars, and Star Trek releases, what's next for the DC Universe on film and TV, and everything you need to know about the future of Doctor Who.