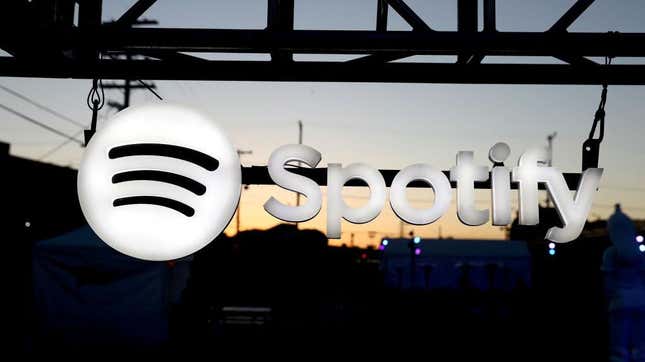 Spotify announced it is changing its user interface by replacing the universal heart icon and the "add to playlist" button with the plus symbol. The change will allow users to not only save music, but to add a song, playlist, or podcast to a specific destination with the two-in-one combo button.
Company research reportedly found that users were overwhelmingly pleased with the new layout and it "helped save time and gave users the ability to add to multiple playlists at once," Spotify said on its site.
Spotify is one of the most-used musical streaming services but it can get time-consuming as users switch back and forth between adding music with the specified button or simply liking it, which could make it get lost in the ether. This new layout on the Spotify app will also allow users to add audiobooks and podcasts to their playlists and will not affect the existing items in the library.
Gizmodo reached out to Spotify for comment but was redirected to the company's blog post.
Spotify rolled out a beta test last year and requested feedback from users to better tailor the change to what the audience wants. The company posted that users reported the option to add an entire album to a playlist as useful but said the disappearance of the heart icon on songs and albums was "dearly missed."
In recent months Spotify has played with new ideas to increase user engagement by testing its DJ AI feature which is self-explanatory in the sense that the app curates a music selection and provides commentary, similar to a typical radio station. The company also released a feature called "Exclude from your Taste Profile" in which users specify which playlists they would like excluded from the recommendations, and last summer it introduced a feature to separate Music feeds from Podcasts and Shows feeds.
Now Spotify is rolling out its newest feature change on the iOS and Android Spotify app globally today and will continue to make it available to all Spotify users in the upcoming weeks. "This upgrade is the latest step in our ongoing work to create a more intuitive experience," Spotify said on the site, adding, it's "all leading to an easier way for you to engage with the music and podcasts you love."