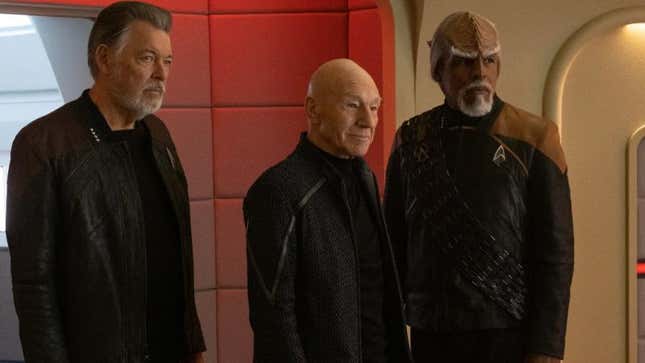 Star Trek: Picard's final episode is an hour of spectacle and gleeful Trek love, and it's hard to imagine just how the series could've reasonably topped it. That is, until we learned there's a 45-minute version of that last scene out there, apparently.

Playing Raffi Throughout Star Trek: Picard

Okay it's not the last-last scene—that Q/Jack Crusher post-credits will have to linger until someone decides Paramount+ should do that Star Trek: Legacy show. We mean the final scene with the Next Generation crew, as Picard, Riker, Troi, Data, LaForge, Worf, and Crusher decide to celebrate a job well done one last time, much in the same way they did in "All Good Things" three decades ago: with a round of cards.

It's a wonderfully joyful scene, not just for the homage to the bridge crew's favorite pastime aboard the Enterprise, or the triumphant horns blasting out the TNG theme over the main credits. But because it's the perfect way to send this crew out—laughing, joking, just being with each other in this moment as friends. And apparently that really is just what that scene was, because series showrunner and writer/director for the episode, Terry Matalas, filmed the TNG stars playing cards for nearly an hour.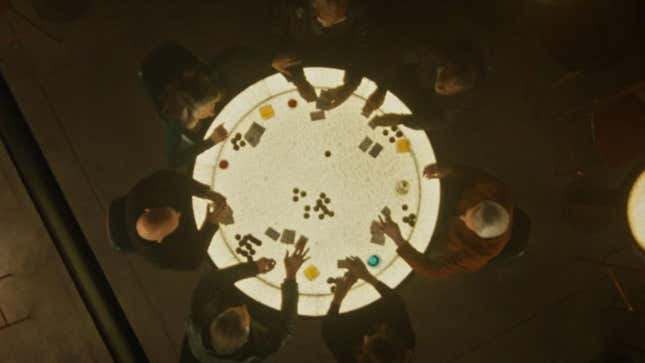 "I wanted the audience to feel like they were really in that poker game, and really get a sense to feel like what it's like to hang out with this cast, to feel the genuine laughter of this friendship that they've had for decades," Matalas told Collider. "So I let the camera roll for 45 minutes, and that camera just moved around that table... those laughs, those smiles, all those are just–they're genuine. None of that's acting, aside from the last line. That was always part of the plan, we built that into the schedule to be able to pull that off. So that's quite wonderful, but I knew I had to end with that shot. That was the right way to end with them."

Having planned to get all that footage necessary for what is, in the end, at most a five-minute scene in the episode might seem like a little overkill, but hey, it might mean a good thing for us. "I think we'll probably put a lot of it on the Blu-ray," Matalas added. You better.
---
Want more io9 news? Check out when to expect the latest Marvel, Star Wars, and Star Trek releases, what's next for the DC Universe on film and TV, and everything you need to know about the future of Doctor Who.