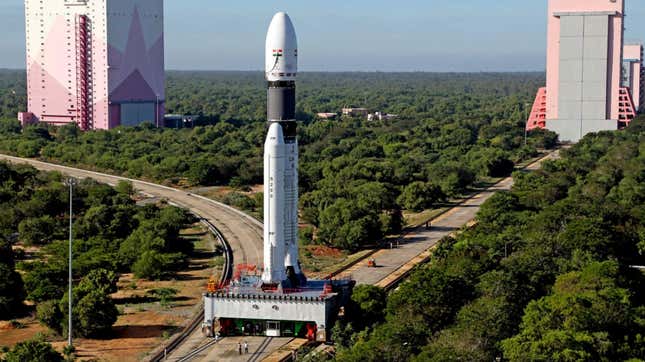 British satellite company OneWeb is gearing up for the launch of its final batch of internet satellites, completing a constellation in low Earth orbit despite some hiccups along the way.
Astronomers Could Soon Get Warnings When SpaceX Satellites Threaten Their View
Update: March 27 at 1:50 p.m. ET: India's LVM-3 launched on Saturday at 11:30 p.m., and all 36 satellites were successfully deployed in orbit.
Original article follows.
India's heaviest launch vehicle LVM-3 will carry 36 OneWeb satellites, with liftoff slated for Sunday at 11:30 p.m. ET, according to OneWeb. The launch will take place at the Satish Dhawan Space Centre in Sriharikota, India, marking OneWeb's second deployment from India. You can watch the launch at the livestream below.

After having to cancel its launches aboard Russia's Soyuz rocket, OneWeb turned to the Indian Space Research Organization (ISRO) to launch its satellites using India's heaviest rocket. In October 2022, the 143-foot-tall (43.5 meter) rocket launched with its first commercial payload, the first batch of 36 OneWeb satellites, on board.
OneWeb has been building an internet constellation in low Earth orbit since 2020, and it currently consists of 579 functioning satellites, according to statistics kept by Harvard-Smithsonian astrophysicist Jonathan McDowell. The addition of 36 new units will raise the population of the constellation to 615, completing the first orbital shell. The company had originally planned on building a 648-unit constellation, but it says this final launch will cap it off and allow for global coverage.
The company ran into some difficulties last year when it was forced to halt the launch of its satellites after terminating its contract with Russia's space agency Roscosmos.
After relying on Russia's Soyuz rocket to launch its satellites, OneWeb's relationship with Roscosmos quickly deteriorated following the Russian invasion of Ukraine. In retaliation against the Western sanctions imposed against Russia, Roscosmos refused to launch OneWeb's satellites unless the company agreed to a list of demands. OneWeb declined, prompting Russia to keep OneWeb's 36 satellites at a storage facility in Baiknour, Kazakhstan.
The company was left scrambling to find alternative rides for its satellites. As a result, OneWeb signed contracts with its internet constellation rival SpaceX, as well as ISRO, for the six remaining launches required for its first generation satellites.
Sunday's launch will complete OneWeb's constellation, enabling it to initiate global coverage this year, according to the company. Hopefully the company will be able to recover from last year's setback, and move on from those 36 satellites still being held hostage by Russia.
 For more spaceflight in your life, follow us on Twitter and bookmark Gizmodo's dedicated Spaceflight page.