Agonizing over a personal essay and crying over SAT scores is a rite of passage for any college-bound high school senior. But maybe those days are over. A liberal arts college in Baltimore is now letting potential students apply with a video instead.
Goucher College is calling itself the "first college to create an application using student-submitted videos as the decisive factor for admission." Yes, a decisive factor, meaning a student could get into their school based solely on a clip they might have uploaded to Vine. A story on NPR explores the unorthodox application process:
Goucher College, a liberal arts school in Baltimore, is offering students the opportunity to skip submitting standardized SAT and ACT scores as well as the traditional college application packet that includes a transcript, letters of recommendation and essays.

Instead, students can apply with a self-produced, two-minute video that explains how they see themselves thriving at Goucher and why they want to go there. Students are also asked to submit two "works of scholarship."
While the new rule certainly reeks of a publicity gimmick, Goucher claims that they're innovating because the old-school application process doesn't serve students well. The school's president José Bowen even defends the move with a bizarre case for accessibility, saying that high school students might not have laptops to write an essay but would definitely have phones to make a video. (I don't really buy that argument, especially considering the school requires a digital application.)
How does one make a college application video? The process posted on Goucher's site asks applicants to answer a question—"How do you see yourself at Goucher?"—and instructs them to upload a video file under 250 MB or simply drop a YouTube or Vimeo link. Their performances will be judged by a rubric that includes considerations like "Can we understand the thoughts you are trying to convey? Did we think you were convincing?"
G/O Media may get a commission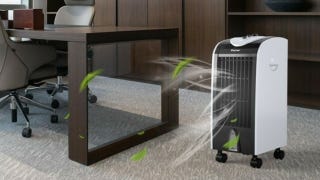 Save $10
Evaporative Portable Air Conditioner Cooler with Filter Knob
As radical as this may seem, there is some precedent for college video applications. Tufts University has been allowing students to submit an optional video "essay" since 2010, and while the video itself isn't weighted as heavily as Goucher's—nor can it take the place of test scores—the results have certainly been, um, interesting:
While these videos might be able to communicate elements of a student's interests in the way that a check-this-box survey about extracurricular activities might not, I'm not sure what exactly an administrator could glean from these videos when it came to selecting them for their institution of higher education.
Let's look at the positives here. One thing to remember is that these are not just digital natives applying to college in 2014, these are digital video natives: It's probably a very natural thing for members of the nameless-generation-after-Millennials to make a video as part of their college application process. It will also save time and effort for college staff, who will not need to wade through acres of paperwork. Reviewers can watch 30 videos in the time it previously took to read a few essays.
Then there's the idea that a video will allow more of a potential student's personality to shine through, which is probably a good thing. Standardized test scores and cliché-heavy essays are notoriously anonymous. You'd actually get a feel for the student you're accepting if you can peek into their bedroom via video selfie—for better or for worse.
But just the idea of the video selfie is the biggest problem here. Taking away the recommendations, tests scores, and essays and replacing them with what's essentially a reality show audition sets up a strange precedent. In essence, schools are admitting students on their ability to hold an iPhone at an arm's length rather than their ability to study for the ACTs. Getting into college shouldn't be like trying out for American Idol.
Video also places, intentionally or not, a lot of emphasis on appearance—something that really shouldn't influence the way that colleges select their incoming classes. Reviewers would likely have a hard time not being swayed by the way a student looks and dresses, or maybe even their race or ethnicity. Even though applications do ask questions about cultural backgrounds, it thrusts these issues harshly into the spotlight. It's like televising the presidential debates: It changed the game in ways unforeseen at the time.
I'm all for finding new ways to surface and evaluate great academic candidates, and I'm quite sure the college application process hasn't evolved all that much since I was immersed in it two decades ago. Heck, I spent most of my childhood with a camcorder in my hand, and I would have gladly preferred to make a video to get myself into college.
But I fear that prizing the superficial shorthand of video over things like excellent writing skills and personal recommendations from teachers is completely backwards—like telling teenagers that something they can make in two minutes is more important than their entire four-year high school career. It shouldn't be as easy as Instagramming yourself on a Vespa.
Which is why we should look at these video applications for what they are: A clever marketing strategy. We'll probably (hopefully) never see video-focused applications at the biggest and most well-known colleges, but this is mostly because they don't have to resort to such a gimmick. Small schools are betting on the fact that students will share their videos online, which, especially for a tiny liberal arts college, might get more students to apply and eventually to enroll. Tufts now has thousands of "commercials" for their school floating around the internet. You can't pay for that kind of promotion! [NPR - Goucher]