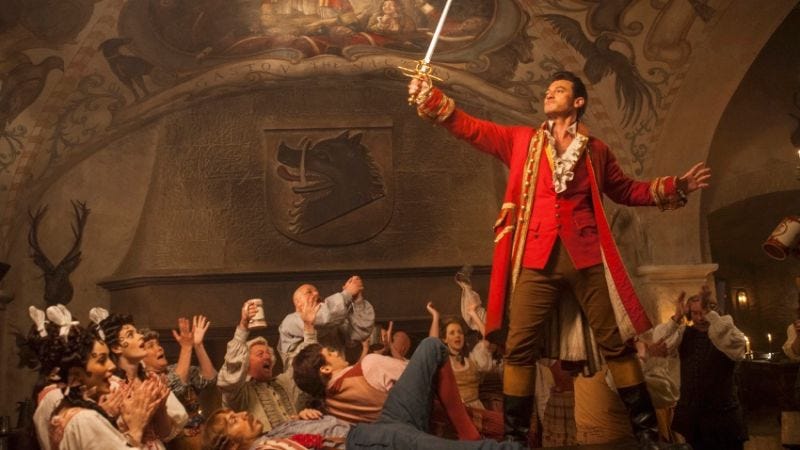 This week we've heard that Disney will be looking at "spinoff and prequel" ideas for the live-action Beauty and the Beast movie that has just come out. But they don't need to look at other options, because there is one obvious and perfect choice: A movie about Gaston.

After that fantastic teaser trailer, we've been patiently waiting for something, anything, in the way of information for the upcoming live-action musical version of Disney' Beauty and the Beast. We finally have it.
We've suspected that Pixels would be an almighty disaster ever since we saw the first trailer, but it's actually worse than we feared. Director Chris Columbus is clearly trying to create another great fantasy adventure, but he's hamstrung by a short-sighted script. And Adam Sandler's painful performance.
Wreck-It Ralph was a revelation: a fairytale for the videogame age about the true meaning of villainy and heroism. Now Ralph's cowriter, Jennifer Lee, has written and co-directed a new film, Frozen, in which one of the all-time great fairytale villains gets a whole new outlook.
When you watch the trailers for Disney's Frozen, the absent-minded Olaf the Snowman looks like he could get seriously annoying. But when you actually watch the film, Olaf steals the show. How did the comedy side character become the best part of Frozen? We talked to voice actor Josh Gad about the process of…
The Craigslist casting, Ashton Kutcher glorifying, budget lacking Steve Jobs biopic just added some fresh blood: the guy from Full Metal Jacket will join the funny fat man from Book of Mormon. Uh, alright!