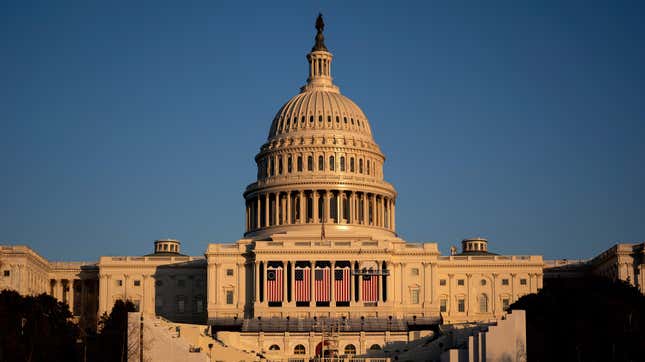 Mack DeGeurin covers breaking news for Gizmodo with an emphasis on politics and tech policy. For this year ahead, Mack spoke to seven experts spanning the political and policy milieu and pressed them to predict some of the top trends likely to occur in 2023. You can follow Mack's coverage here and email story ideas and tips to mdegeurin@gizmodo.com.

The FTC Just Prescribed a Can of Whoop Ass on Health Data
The top story:
GOP lawmakers in the newly controlled House of Representatives will attempt to muddy years worth of Democratic led, at times bipartisan, tech policy initiatives by driving attention towards one singular issue: perceived liberal bias in tech and alleged censorship campaigns carried out at the behest of the Biden administration.
Republican claims of bias against conservatives—which nearly all academic studies show lack coherent evidence—aren't new, but the party's recent success in flipping the House means the party's fever dream suddenly possesses immense political capital. Recent internal communications unveiled in the so-called Twitter Files, though refuted by many as deeply underwhelming, has fueled the ire of Republicans presiding over the House Judiciary Committee and former President Donald Trump, who desperately want to convince the public tech companies are taking orders from Democrats.
Though all this might seem bad for tech companies, it may actually come as a welcome change of pace from previous Democratic leadership, which was laser-focused on investigating business practices and antitrust violations. Republicans might not have anything pleasant to say about tech companies, but their commitment to claims of deep government collusion should do less damage to tech firms than progressive attempts to reign in monopolies. We're all in for a plethora of Congressional hearings dominated by self-righteous lawmakers complaining about "shadowbanned" accounts and disappearing tweets.

What we're waiting for:
A gaggle of tech related Supreme Court cases set to occur in 2023 could fundamentally reshape online protections guaranteed by the First Amendment and Section 230 of the Communications Decency Act. First up: Justices are likely to decide the constitutionality of so-called de-platforming laws introduced in Texas and Florida that would subject tech companies to lawsuits if they remove certain political content. If the court sides with Republican lawmakers, many other states will likely follow suit with their own copycat laws.
On the 230 front, two anti-terrorism cases—Twitter v. Taamneh and Gonzalez v. Google—will determine whether or not algorithmically recommended content is still covered under the provisions which protect publishers from liability for third-party content. "The Supreme Court could substantially cut back on [Section 230] protections, in which case service providers might either allow much less third-party content ,or there might be less opportunity for people to express themselves online," Center for Democracy and Technology Vice President of Policy Samir Jain told Gizmodo. "You could see a very different internet, frankly."

Unconventional wisdom: 
Despite a growing trend of governments looking to expand their digital surveillance capabilities, multiple experts Gizmodo spoke with said a unique convergence of political oddities means it is possible Congress could essentially kill Section 702 of the Foreign Intelligence Surveillance Act (FISA), one of government's strongest legislative tools to conduct warrantless surveillance.
Though the provision technically targets "non-U.S. located abroad," critics like the ACLU say data obtained via 702 can include communications between a target and a U.S. citizen. That wide net, critics allege, creates a legally dubious loophole for federal agencies to surveil Americans.
Though left of center critics have long opposed Section 702 over fears agencies could abuse its powers to target political dissidents and marginalized communities, the provision more earned the ire of Trump Republicans after reports revealed the FBI used 702 to wiretap Trump campaign foreign policy director Carter Page. Supporters of the president were incensed following a December 2019 report from the Justice Department's inspector general which admitted the FBI's applications to spy on page were filled with "factual misstatements and omissions." That mutual disdain for Section 702, though held for starkly different reasons, could lead to an unlikely alliance between Trump Republicans and leftists in Congress. That pairing could let 702 expire, which would leave one of the U.S' most powerful surveillance tools relegated to the dustbins of history.
People to follow
Companies to watch:
OpenAI: An advanced AI company at the forefront of cutting edge text and image generative models. Legal and policy debates involving AI's liability for copyright violations and defamation will likely involve the company's immensely popular ChatGPT and DALL-E models.
Neuralink: Elon Musk's brain computer interface company could begin human trials this year, if it gets FDA approval. Neuralink isn't the most impressive BCI company from a technical perspective, but its high profile means a move to human trials could usher in a groundswell of debate over how to properly regulate devices claiming to enhance cognition.
Clearview AI: Controversial facial recognition firm that has partnered with law enforcement. Following a major legal defeat this year, the company announced its intention sell its "Clearview Consent" facial match system to schools, banks, and other private firms. Clearview's notorious privacy reputation could reignite debate over ethical uses of biometric tech in daily life, and revive state and federal privacy laws currently stuck in holding patterns.
A longshot bet:
Growing unease over the Transportation Security Administration's continued rollout of facial recognition verification for domestic air travel could push the issue to the front of the digital privacy policy conservation, particularly as post-pandemic travel increases. Electronic Frontier Foundation Director of Federal Affairs India McKinney told Gizmodo she feared TSA's rapid facial recognition roll out was forcing travelers to make a choice between convenience and privacy that "isn't really a choice at all."
This debate could lead to sustained support for federal legislation requiring stricter regulations and added transparency over the ways federal agencies can obtain and store U.S. citizens' biometric data.