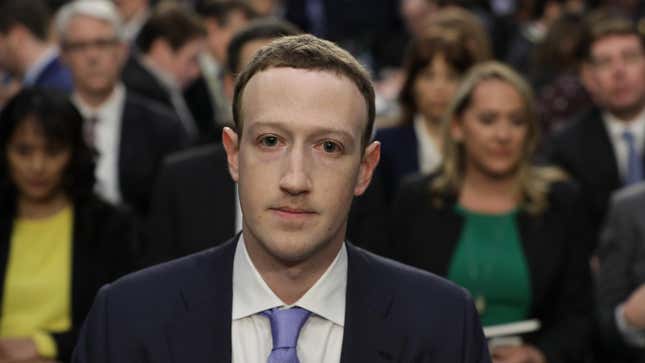 Amid a Facebook marketing blitz, the Federal Trade Commission on Thursday refiled its antitrust lawsuit against the company, claiming that it "holds monopoly power" in the social media market, and maintains that monopoly by "systematically" purchasing rivals and creating other barriers to competition.

Making the Facebook Papers Public
The refiled lawsuit is seen as the FTC's first major battle as it seeks to rein in the dominance of major tech companies that have come to dominate American life. It is also seen as a test of the agency's new chair, Lina Khan, who was a vocal critic of Big Tech in her work in academia and whom Facebook argued should recuse herself because of that work.

"Facebook is the world's dominant online social network, with a purported three billion-plus regular users. Facebook has maintained its monopoly position in significant part by pursuing Chief Executive Officer ('CEO' ) Mark Zuckerberg's strategy, expressed in 2008: 'it is better to buy than compete,'" the FTC complaint says. "True to that maxim, Facebook has systematically tracked potential rivals and acquired companies that it viewed as serious competitive threats. Facebook supplemented this anticompetitive acquisition strategy with anticompetitive conditional dealing policies, designed to erect or maintain entry barriers and to neutralize perceived competitive threats."

The new filing describes schemes in which Facebook wielded its supremacy to undermine any potential for competition; not by out-innovating other companies, but by imposing contractual restrictions on developers that outright prohibited them from competing against Facebook. The outcome—impeding the growth of emerging potential rivals in its industry to further its monopoly—is no different, the FTC said, than had Facebook simply paid its competitors to disappear.
"Facebook continues to hold and operate the assets it acquired unlawfully and continues to keep them positioned to provide a protective 'moat' around its personal social networking monopoly," the complaint says.
Asked for comment, a Facebook spokesperson pointed Gizmodo to a tweet from the company saying it was "reviewing the FTC's amended complaint" and would have "more to say soon."

"Facebook lacked the business acumen and technical talent to survive the transition to mobile. After failing to compete with new innovators, Facebook illegally bought or buried them when their popularity became an existential threat," said Holly Vedova, acting director of the FTC's Bureau of Competition. "This conduct is no less anticompetitive than if Facebook had bribed emerging app competitors not to compete."
Added Vedova: "The antitrust laws were enacted to prevent precisely this type of illegal activity by monopolists. Facebook's actions have suppressed innovation and product quality improvements. And they have degraded the social network experience, subjecting users to lower levels of privacy and data protections and more intrusive ads. The FTC's action today seeks to put an end to this illegal activity and restore competition for the benefit of Americans and honest businesses alike."
The decision to file the complaint was approved in a 3-2 vote, with the agency's two Republican commissioners voting against the move. Facebook has until October 4 to respond to the complaint.
News of the refiled lawsuit, which many onlookers expected, came amid a major PR push by the company, which included the announcement of a new "transparency report" about popular content on its platform and the launch of a virtual reality space in which users of its Oculus VR headsets can remotely attend meetings in digital form.
In addition to Facebook, the company also owns Instagram and WhatsApp, two of the most widely used platforms worldwide, and are prime examples of the company using its vast resources to dominate the social media market.

The FTC was forced to refile its historic lawsuit against Facebook after a federal judge tossed its original complaint in June after agreeing with Facebook's motion to dismiss on the grounds that the government's suit failed to adequately support its claims that Facebook is, in fact, a monopoly.
Read the full FTC v. Facebook antitrust lawsuit below

Update 2:35 p.m. ET: In a statement emailed to Gizmodo, Facebook refuted the FTC's assertion that it is a monopoly. Its response echoes the argument it made the first time the FTC sued the company over alleged antitrust violations.

"It is unfortunate that despite the court's dismissal of the complaint and conclusion that it lacked the basis for a claim, the FTC has chosen to continue this meritless lawsuit. There was no valid claim that Facebook was a monopolist—and that has not changed," the company said. "Our acquisitions of Instagram and WhatsApp were reviewed and cleared many years ago, and our platform policies were lawful. The FTC's claims are an effort to rewrite antitrust laws and upend settled expectations of merger review, declaring to the business community that no sale is ever final. We fight to win people's time and attention every day, and we will continue vigorously defending our company."