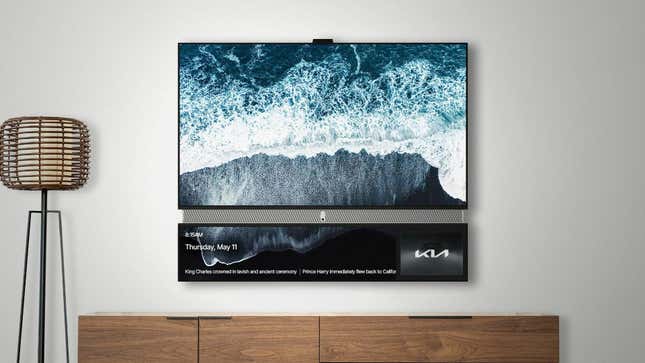 How free is "free" in today's modern age of mass data collection, data brokers, and targeted ads? The new television startup Telly is trying to stretch the very idea of "free" as much as it can with its first batch of half a million large televisions for the first 500,000 people who want them. The entire product's explicit purpose is to blast users with ads, and based on both the company's policies and its founder, Telly is likely to get very tubby with your data.
Apple's Vision Pro Seems Powerful, But Who Is It For? | Future Tech
Moving beyond the vague promises from earlier this month, Telly showed off its new "free television upgrade" on Monday, sharing that its new 55-inch 4K HDR display comes attached to another bottom panel that also acts as another smart screen. Both are attached together by a built-in 5-driver soundbar offering better sound than speakers built right into either panel would. On the wall or on a stand, the whole setup is 63 inches diagonally and weighs a whopping 65 pounds. The company already has a waitlist set up for the first 500,000 users who both sign up and download the Telly app.
The TV comes stock with three HDMI and two USB inputs and a free 4K Android streaming stick (the device does not natively support third party apps like Netflix). The system comes with a built-in camera, voice controls (users can activate the device with a "Hey Telly"), and a motion sensor for "wake up and interactive gaming" that includes some arcade and family based games and fitness programs. The bottom panel is supposed to connect with the main display and show the time, date, a sponsored news slider, and more daily info like the weather or stock tickers. The bottom screen can be left on independently from the top. Oh, and about a quarter of that screen is taken up by a block for ads.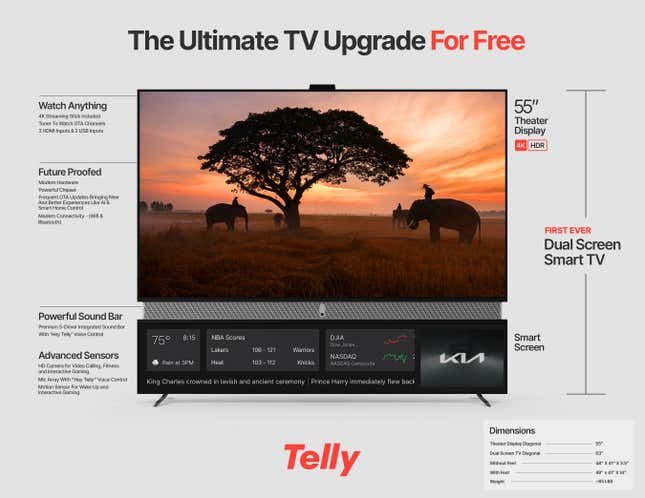 That's not a lot of information to go on, and it sees purposely vague for a new product offering. Janko Roettgers of the Lowpass newsletter already confirmed earlier this month that Telly was gearing up for its ultra ad-supported television setup. The 2021 startup Telly (originally called TeeVee) is being headed by Ilya Pozin, a co-founder of free, ad-supported streaming service Pluto TV, so you might already guess where the company is getting all its money from, and why it's willing to part with half a million devices for free.
"For too long, consumers have not been an equal part of the advertising value exchange," Pozin said in a release. "Companies are making billions of dollars from ads served on televisions, yet consumers have historically had to pay for both the TV and the content they watch."
The thing is, good quality televisions are already as cheap as they've ever been. Screens such as Roku smart TVs are ultra-cheap and serve as a means of getting users to jump on to the brand's streaming content. Otherwise, the biggest reason why high-quality televisions remain affordable is because they're profiting off users' data.
The terms of service for Telly explicitly state that users must connect to the Wi-Fi at all times, and users are restricted from using any advertising blocking software anywhere on their network. The company's privacy policy is broad, covering not only your name, personal details, or even what you watch, but also your cultural or social identifiers (whether you're a fan of a sports team, care about the environment, and any other ad group) and any other inferences about your attributes and behavior the company can make. Of course, you can't opt out of any of this data collection.
As Pozin told Fast Company in probably the most "we own you" way possible:
"We know where you live, what your income bracket is—obviously it's all anonymized—but we know what car you're driving. We know when your lease is up. We know where you shop. We know what your favorite sports teams are, et cetera."
Of course, a piece of black paper would take care of those annoying ads showing up on the TV's bottom panel, but that does nothing about the fact that Telly would already have your data, and would be more than willing to sell it. Pozin said that car makers could target users with notices about their upcoming lease payments or with food delivery ads during dinner time. In an interview with The Verge, Telly's chief strategy officer Dallas Lawrence said that the bottom ad-based bar might come to life without user input. There shouldn't necessarily be ad breaks on the top screen when watching content, but Lawrence added they could incentivize users to fill out content polls by giving gift cards to Netflix.
And with all this data collection going on, it's best not to forget the motion tracker and camera built into the television. Lawrence said the device should come stock with a privacy shield, though it's best not to leave that shutter open when not on Zoom. The privacy page mentions that while the camera does not gather biometric data on users, "When the camera is open, images, recordings, or biometric information about you are not stored on Telly servers."
Telly's release announcing the product was an attempt to get advertisers on board as much as it was about shilling free TVs to the masses. Gary Vaynerchuk of the ad agency Vayner Media praised the dual-screen setup because "gen Z and younger millennials live their lives today across multiple screens."
Well, at least the advertisers could be happy with the new era of promotional TVs.