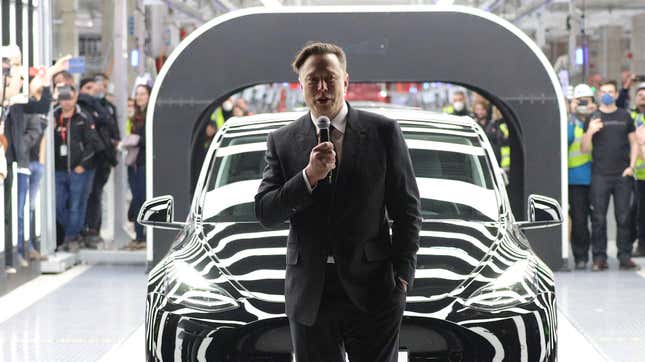 Tesla reportedly created a secretive "Diversion Team" tasked with trying to quickly divert and cancel as many appointments for range-related issues as possible. The unit, according to a Reuters investigation, was reportedly responsible for closing hundreds of cases per week of upset Tesla owners complaining about range performance. Those cars were often working properly but simply failed to meet Tesla's inflated and exaggerated driving range estimates for its fleet of vehicles.
Did Elon Musk Regret Buying Twitter? | Walter Isaacson Interview
The previously unknown unit was reportedly formed after Tesla was inundated with appointments of annoyed drivers complaining they could not drive as far as their cars indicated they could. Staff on the team were tracked on how many cases they diverted on a daily basis and told each closed case saved the company around $1,000, per the report. In a striking scene straight out of The Wolf of Wall Street, some Diversion Team members would celebrate successfully canceled appointments by "putting their phone on mute and striking a metal xylophone." A round of applause in the Tesla offices would ensue, according to Reuters.
Gizmodo could not independently confirm Reuters' findings. Tesla did not respond to our request for comment.
Speed was a top priority for Diversion Team
Tesla's Diversion Team, which is reportedly no longer active, would reportedly receive up to 2,000 cases per week, some by the same customers, and was expected to close around 750 of them. Team members were instructed to call customers who had filed complaints and try to close cases as quickly as possible. If an upset customer did not immediately respond to Tesla's call the team would close the case due to the customer being "unresponsive." When a customer did manage to answer a call, workers were instructed to try and complete the call in no more than five minutes. In some cases, managers reportedly told advisors to stop running remote diagnostics on batteries entirely.
"Thousands of customers were told there is nothing wrong with their car," a person familiar with the team's operations told Reuters.
Tesla has long history of disputed range estimates
Complaints regarding Tesla's lofty range predictions aren't new. A 2021 report from Edmunds determined every model it tested fell short of its EPA range estimates, with the 2020 Model X Long range often falling more than 30 miles short. Tesla disputed those findings only for Edmunds to largely replicate them months later. More recently Tesla was fined $2.2 million by South Korean regulators who said its vehicles averaged around half their advertised range in cold weather.
CEO Elon Musk has publicly defended his vehicles' ranges and even said adding more capacity may detract handling and efficiency due to "uneeded battery mass." But range anxiety still remains one of the top concerns for electric vehicle owners. A 2022 survey of 500 EV owners by Forbes found that more than one-third (37%) said worries over range have "frequently" caused them to rearrange travel plans or cancel a trip.
Reuters reported that Tesla first put software in place to exaggerate range estimates to drivers around 10 years ago. Musk was reportedly involved with a directive where Tesla wrote an algorithm that would show drivers inflated range estimates until the battery fell below 50%. At that point, the range estimate would reportedly drop quicker to show drivers a more realistic estimate. Tesla also includes an estimated 15-mile "safety buffer" when the range estimate shows an empty battery to try and prevent users from being stranded.
Government and regulatory scrutiny ramps up
The Reuters report comes amid increased government and regulatory scrutiny into a range of alleged performance issues related to Tesla vehicles. CNBC reported this week that California's attorney general's office has opened a new investigation into the company over possible safety issues with its Autopilot driver assist feature and false advertising complaints.
The California AG investigation comes on the heels of a class action lawsuit by California Tesla owners over a so-called "phantom braking" issue where vehicles equipped with Autopilot would suddenly slam on the brakes. Federal regulators at the National Highway Traffic Safety Administration are also investigating hundreds of cases or alleged phantom braking. It's a hectic time to be a Tesla lawyer.