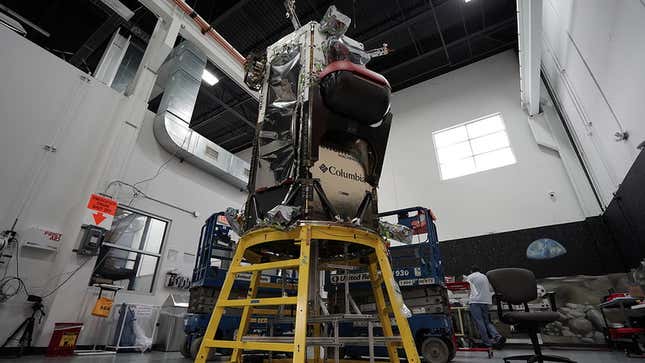 Intuitive Machines is gearing up for the launch of its mission to the Moon, hoping to become the first private space venture to land on the lunar surface. The company recently stated that its lunar lander would be ready to fly in September, with plans to launch the Nova-C lander to the Moon in November.
During an earnings call on Monday, the Texas-based company announced that it's targeting a six-day launch window opening on November 15 for its IM-1 mission. The Nova-C lander will launch atop a SpaceX Falcon 9 rocket from NASA's Kennedy Space Center. Intuitive Machines is planning on delivering the lunar lander to the Kennedy Space Center in Florida by September after it undergoes some final testing at the company's facilities in Houston.
"During the second quarter, we were laser-focused on the final assembly process in preparing IM-1 for launch," Intuitive Machines CEO Steve Altemus said during the call. "Our lunar lander is complete and will be prepared for delivery in September."
Intuitive Machine's lunar lander has been in development since 2019, when NASA awarded the company a $77.5 million contract as part of the space agency's Commercial Lunar Payload Services. Another private company, Astrobotic, is also preparing its own lunar lander as NASA's commercial partner. Astrobotic's Peregrine lander was originally slated for launch in late 2022 but suffered delays mainly to do with its launch vehicle, United Launch Alliance's Vulcan Centaur rocket. The heavy-lift rocket may not make its debut before mid-December.
By booking a ride on the more reliable Falcon 9 rocket, Intuitive Machines now has a lead over Astrobotic in the race to become the first private company to land on the surface of the Moon. Japan's i-space failed in its attempt in April when its Hakuto-R lander miscalculated its distance to the lunar surface. In 2019, Israel's Bersheet lander suffered a similar fate in its own attempt to become the first private lander to reach the lunar surface.
Nova-C was originally supposed to land on Reiner Gamma, one of the Moon's mysterious lunar swirls, which is located on the west side of the planetoid when viewed from Earth. Earlier this year, however, NASA changed its plans for the private lunar lander, redirecting the mission to land on the lunar south pole instead to support its Artemis program.
The south pole is valuable real estate on the Moon, with evidence pointing to reservoirs of ice located in its permanently shadowed areas that could serve as a valuable resource for future habitats. There is currently an ongoing race between Russia and India to be the first to land on the Moon's south pole, with each country launching a lunar lander to touch down on the surface of the Moon by early next week.
Nova-C will carry five NASA payloads to the Moon's surface and will operate for one lunar day, or 14 Earth days, spent collecting scientific data that may prove useful for future crewed missions to the Moon.

For more spaceflight in your life, follow us on Twitter and bookmark Gizmodo's dedicated Spaceflight page.