If you're in the US, one of the biggest barriers to watching the newest Star Trek show is the fact that Discovery is exclusively available through CBS's annoying digital service, All Access. Good news: It's becoming a little easier to, err, access it. Bad news: It's not exactly what you want it to be.

Amazon and CBS have announced that All Access is joining Amazon's Channels initiative, allowing Amazon Prime members to use All Access from within any of their Prime Video ecosystems, regardless of whether it's a mobile app, on a computer or game console, or one built into their TV. That means access to live streams of local CBS channels, thousands of episodes of on-demand television, and yes, exclusive original content like Star Trek: Discovery. Sounds good, right?
Well, that's the end of the good stuff, because here's the catch: You still have to pay extra on top of your $99-a-year Amazon Prime subscription to get CBS All Access. Currently only the $9.99 per month tier—which grants ad-free streaming—is available, but plans to also make the ad-supported $5.99 per month package available are in the works.
Those are the exact same prices you'd pay for All Access anyway, so you're essentially paying for the ability to use All Access through Amazon's ecosystem, having one less log-in, and one less proprietary subscription service, to worry about. Basically, it comes down to convenience, which might be the thing that helps push a few fans to subscribe. Especially if it means an improvement on the streaming issues some had on All Access, but time will tell on that.
Like we said, it's only a minor notch down on the general annoyance of accessing Star Trek: Discovery. But when the alternative is "move to another country and watch it on Netflix (with Klingon subtitles!)," it's still a tiny step forward in making Discovery more appealingly accessible to people.
G/O Media may get a commission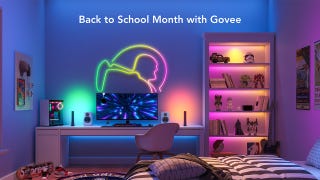 Back to School
Back to School Month with Govee Sale
[Variety]