Yesterday, we wrote about a YouTube video called "Hi Walter! I got a new gf today!" It had recently gone viral, and a theory emerged that it may have been connected to the 2009 disappearance of Kayla Berg, a Wisconsin teenager. Police announced they were investigating the video on Monday, but late last night, the department declared that the whole thing was just a twisted misunderstanding.

"The Antigo Police with the help of another law enforcement agency has been able to identify that this video is 100% fake," the police wrote in a Facebook post. "This video has no connection to the disappearance of Kayla Berg," they added.
However, that "100% fake" detail doesn't seem completely accurate. The video was apparently just some random YouTube user's bad idea of a joke. It appears to have been made by a YouTube user or users named 2150studios. In the comment section for a different video—which features a man who very much resembles the bespectacled man in the "Hi Walter" video—the account apologized for the furor and claimed that it wasn't intentional. That said, any reasonable person would conclude that a video depicting a woman being bound and gagged in a basement is in poor taste.
G/O Media may get a commission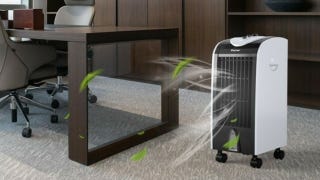 Save $10
Evaporative Portable Air Conditioner Cooler with Filter Knob
"We apologize for any emotional harm caused by 'Hi Walter! I got a new girlfriend' we produced in 2009," the apology read. "There was no intention of it resembling any real person or event. The actors involved wish to extend their sympathies to the Mother of Kayla Berg and sincere apologies for the emotional turmoil it caused."
The announcement by the police comes after a considerable amount of sleuthing from the Reddit and Imgur communities, which helped the video gain wider traction. Antigo police chief Eric Roller told ABC News that the video was brought to the department's attention this weekend after someone saw it and "came up" with Berg's name after looking into disappearances from around that time. It's still unclear who the tipster was or why they thought the video was potentially related to Berg.
In any case, it's yet another example of the power that the internet has when it comes to spreading untruths far and wide. This case, however, did have some serious ramifications, since the video gave the family of a girl who's been missing for seven years a sense of false hope. Kayla Berg's mother watched the video and told local news outlets that she wondered whether the girl was her daughter. The whole debacle is heartbreaking.
The missing person case, for now, is still open. "Every tip that we do get on Kayla we take seriously," Eric Roller told ABC News. "One day we're going to have that one tip that's going to make that difference, and we are gonna find something."