Ghost towns are known to pop up on Craigslist and eBay every once in awhile, but are often snapped up just as fast by eager developers or industrious preppers. Not so for the 62-acre town of Johnsonville, Connecticut which is currently up for auction after remaining abandoned for more than 20 years. Now, a group of people are trying to buy it. With the help of a Google Doc.
From the auction description, Johnsonville sounds pretty darn dreamy: A 1830's-era mill town along the Moodus River, about two hours from New York City and Boston. Besides the houses constructed for mill workers—featuring dozens of Victorian buildings that look like they're in pretty decent shape— there are plenty of would-be businesses zoned and ready for renovation, including a general store, restaurant, and one-room schoolhouse.
Why has this idyllic spot remained vacant for so long? According to Messy Nessy Chic, the town has been abandoned not once but several times in the last few decades by millionaires and hotel corporations who had grand plans for the town but never stuck around long enough to bring their transformations to fruition.
With no heavy-hitting town-buying tycoon stepping up to own this slice of heaven this go-round, a few enthusiastic Twitterers have mounted a grassroots effort to buy the town as a kind of crowdfunding project. Not on Kickstarter. There's a Google Doc where you can make your pledge:
G/O Media may get a commission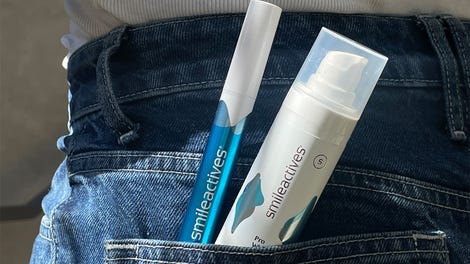 58% off
Whitening Powerhouse Pen & Gel Duo
While I'm sure hoping that these 46 people get their town, I see some significant complications on the horizon. I mean, I'm sure Google Docs are legally binding in every way and everyone on this spreadsheet will certainly fork over their money. But seriously, if by some miracle that actually happens and the funding limit is really reached, there are going to be several hundred people who believe they have a stake in this new utopia. Do they each get to split a building? Will there be timeshares? What if it really is haunted? But most of all: How many people can you fit in a Google Doc anyway?
Photo via the Auction.com listing