Creating your first craft cocktail takes a lot of trial and error, a bit of science, and a dose of creativity. Today, you're going to meet The Angry Ginger, Gizmodo's first (but certainly not our last) attempt and creating an original cocktail. We think you'll like the results.
It's Friday afternoon, you've made it through the long week, and it's time for Happy Hour, Gizmodo's weekly booze column. A cocktail shaker full of innovation, science, and alcohol. Let's raise a glass to Mr. Buchanan.
Today is our beloved Deputy Editor Matt Buchanan's last day at Gizmodo. He's been with the site for five years (since he was in diapers). If I hadn't somehow managed to trick him into thinking I was qualified for this job, who knows where I'd be right now. The Angry Ginger is his signature drink, whether he likes it or not. I briefly toyed with calling it a "Dork and Stormy", but it lacked gravitas.
The Angry Ginger is, essentially, an old fashioned, and as we learned a few weeks ago from master barman Sother Teague, an old fashioned is just sugar, water, spirits, bitters. In this case it's:
G/O Media may get a commission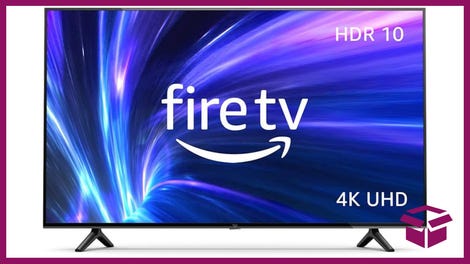 42% Off
Amazon Fire TV 50" 4K Smart TV
Ingredients:
2 ounces bourbon (with a subtle coffee infusion)
1 teaspoon ginger syrup
a few dashes coffee bitters
a few coffee beans to garnish
1 or 2 cubes of ice
To understand The Angry Ginger, first you must understand Matt Buchanan:
1. The Angry Ginger is strong. So is Matt (homebody does pullups with a weight-belt on).
2. The Angry Ginger is infused with coffee. So is Matt.
3. The Angry Ginger's whiskey comes from the South. So does Matt.
4. The Angry Ginger is full of geekiness. So is Matt.
5. The Angry Ginger is an angry ginger. So is Matt.
The Angry Ginger packs a punch. I experimented with adding a splash of seltzer, but Matt isn't watered down, and he isn't bubbly. The bourbon is the primary focus here, but once it's past your tongue, the sweet ginger really gives it some kick. The aroma and light bitterness of the coffee binds it all together into one cohesive cocktail. I recommend drinking a glass of seltzer along side it. Very refreshing.
Let's talk about the ingredients.
Ginger Syrup
There are couple of ways to handle this. The easiest thing you can do is just buy it. Companies like Morris Kitchen make very good ginger syrups, you just need to know where to find it. The best way, though, is to juice some fresh ginger (ideally by running it through a juicer. Or you can crush it in a press then strain it, but it won't yield as much), pour it into a glass. Mix it with some high-quality cane sugar in a one-to-one ratio by weight (i.e. 200 grams of ginger juice + 200 grams of sugar). Then just stir it until it fully dissolves. It'll take a while (resist the urge to heat the solution). The result is sweet, but still has that fiery, fresh ginger kick. This way you can make a lot of it at once and keep it in the fridge for later. Alternatively, when mixing the drink you can start by pouring in one teaspoon of ginger juice and one teaspoon of sugar, and then muddle it in the glass with your first dash of bitters. It'll be slightly fresher, but personally, I think the syrup is just much more convenient and it almost just as fresh (I tried both).
Coffee Bitters
I knew this was going to be a key component, but there was a problem: damn near nobody makes coffee bitters. There was one place in the U.K. that did, but I didn't have time to have someone ship something. So I reached out to our friends at Bittermens and asked if they knew of anything that might work. Within a couple of hours, they had whipped up a custom recipe, made specifically for this cocktail. There are other recipes on the web, but those take days up to weeks. Here's how you can make coffee bitters at home, fast:
Bittermens Quick Coffee Bitters

This process uses N2O cavitation to create a small amount of bitters very quickly.

In a small whipped cream maker (they used one from iSi you can get for about $50) , add:

350 ml of 100 proof vodka
3.5 grams Quassia Bark (you can find this at a good herbal shop)
3.5 grams of Roasted Chicory Root (also at a good herbal shop)
7 grams of Cacao Nibs (you can get this at any gourmet grocery)
14 grams of whole dark roasted coffee beans

Seal it and charge with N2O. Shake up and down for 1 minute. Let rest for one minute. Slowly release the pressure from the whipped cream maker and filter through a strainer or a gold/reusable coffee filter.
You may be able to get better results with stronger spirits, but they went with 100 proof vodka because it's something everyone can get. In general, the higher the proof the better it will macerate. Also, I'm going to experiment with more beans to see if I can get just a little more coffee flavor.
The lovely folks at Bittermens were nice enough to give me one of the bottles they made to test the recipe, and they also supplied some much-needed advice, without which, this cocktail wouldn't have been possible. So, you should buy their bitters. They're fantastic.
Coffee-Infused Bourbon
With the ingredients I've already described, I began experimenting with the cocktail, but it wasn't quite right. I was using an orange twist as garnish, which was overpowering the subtle coffee flavors. I tried losing the orange and adding a little more bitters. Still not quite there. I tired burning some coffee grounds in an overturned glass in order to smoke it first. The results smelled more like a BBQ than a coffee shop. I tried using a few whole coffee beans as garnish on top, and that helped, but it wasn't quiiite there. So I turned to Avery Glasser at Bittermens for some ideas. His advice was simple and genius"
Toss a handful of whole coffee beans into a bottle of bourbon, and let it sit for 2-3 hours (I used a small handful in half a bottle, but I don't have an exact ratio for you on this, so you'll have to experiment). After two hours, you'll really smell the coffee in it, and as it gets closer to three, there is a definite-but still very subtle—coffee flavor. Perfect! Strain out the beans, and you're ready to start building an Angry Ginger of your very own.
Make It
In a rocks glass, add 12-15 drops of coffee bitters and 1 teaspoon of the ginger syrup (if you want it less gingery, go with 3/4 of a teaspoon).
Pour in the 2 ounces of bourbon and add 1 large lump of ice (or two smaller cubes, if you must).
Give the drink a quick stir to cool it and allow flavors to mix.
Top it off with 3-4 whole roasted coffee beans and add another 3-4 drops of bitters (preferably right on the beans).
Enjoy.
The result is like a dark and stormy on steroids. It's got more flavor and it packs a much bigger punch. Plus, it feels wonderful in your tummy (thanks, ginger). As the cocktail was taking shape, I was forced to drink these in various incarnations every night this week. Despite that, if I were hitting a bar tonight, this is what I would want to order. I'm just glad my liver's sacrifice wasn't in vain.
The Angry Ginger was presented to Matt yesterday afternoon, on his penultimate day. I mixed eight of them and they were passed around the Gizmodo bullpen. Matt seemed pleased, and that made me very happy indeed. He's really going to be missed around here. As a writer, it's rare to find an editor who will promise to "murder you in the face" if you call a company "they" instead of "it" again. That's special. No alcoholic beverage can ever replace a friend, but at least we'll have our own Angry Gingers around to numb the pain.
Stop by next Friday afternoon for another boozetechtastic Happy Hour.