In North Carolina, the controversial Atlantic Coast Pipeline is one step closer to reality, after the state Department of Environmental Quality issued the 600-mile long natural gas pipeline project a necessary water quality permit on Friday.
The 401 water quality certification was the last major hurdle for the interstate pipeline, which will cross from West Virginia into Virginia and end in North Carolina. This permit authorizes pipeline developers Duke Energy and Dominion Energy to build through wetlands, streams, and other bodies of water—after they secure every last one of their permits.
Just a few minor permits in North Carolina, and a federal permit from the Army Corps of Engineers for stream and wetland impacts, remain. The pipeline's got all its approvals from West Virginia. The last permit from that state came in Friday. In October, the Federal Energy Regulatory Commission (FERC) approved the project, too.
The Atlantic Coast Pipeline has been controversial for local environmentalists since the very beginning. Groups from across state lines, including Clean Water for North Carolina and the Southern Environmental Law Center, argue the pipeline threatens key wetlands, marshes, and ecosystems throughout the states it'll cross. FERC, at least, isn't in total denial about this. The commission acknowledged in its Final Environmental Impact Statement (FEIS) that the pipeline poses some risk to nearby waterbodies, the endangered Indiana bat, and forested vegetation.
The project also raises some environmental justice concerns among activists who say it disproportionately impacts low-income and communities of color. Two compressor stations in North Carolina (which still need approval) sit near black communities, and these stations would spit sulfur dioxide and particulate matter into the air.
G/O Media may get a commission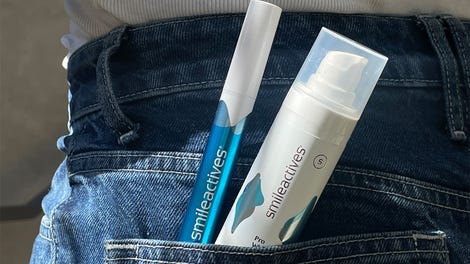 58% off
Whitening Powerhouse Pen & Gel Duo
Then, there is the Haliwa-Saponi Tribe in North Carolina, which was unsatisfied with the FEIS' justice analysis because no one has "adequately engaged the tribal government," as written in the public comment. The pipeline wouldn't cross their lands, but it would cross areas to which they have ancestral and cultural ties.
So, some steps remain before the pipeline can begin construction, and there's resistance ahead if and when it does. This water quality permit from North Carolina places some serious requirements for Dominion and Duke to meet, including private water well testing and monthly inspections from state staff. And some environmental groups groups—including Appalachian Voices and the Southern Environmental Law Center—took Virginia regulators to court earlier this month for its water quality certification.
This pipeline's in for a long road of push back and legal hurdles. North Carolina, at least, won't be blocking its path much longer.