You want to be a futurist, but you're afraid of being wrong. Don't worry. I've brought together ideas that will help you succeed without having to be right. All you have to do is follow the simple principles below.
Be certain, not right. People love certainty. They crave it. In experiments, psychologists have shown that "[w]e tend to seek advice from experts who exhibit the most confidence – even when we know they haven't been particularly accurate in the past." We just can't resist certainty.
Further, confidence and certainty aren't things you arrive at after logical deliberation and reasoning: as UCSF neurologist Robert Burton argues in his book On Being Certain, certainty is a feeling, an emotion, and it has a lot less to do with logic than we realize. So go ahead and feel certain; if other people mistake that for being right, that's their problem. But before too long, people who listen to you will become invested in believing that you're really an authority and know what you're talking about, and will defend your reputation to salvage their own beliefs.
G/O Media may get a commission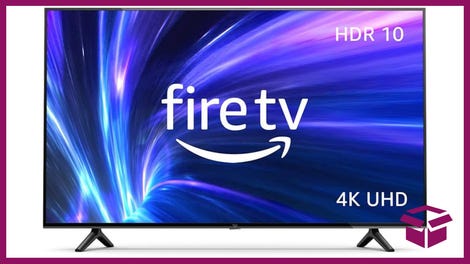 42% Off
Amazon Fire TV 50" 4K Smart TV
So no matter what you do, no matter what you believe, be certain. As Tetlock put it, in this world "only the overconfident survive, and only the truly arrogant thrive."
Finally, for the moralist or logician in you, here's this: even if you don't believe what you're saying, you could wrongly believe you're wrong, and actually be right. Stranger things have happened.
Claim to be an expert: it makes people's brains hurt. In a remarkable new study, Jan Engelmann and colleagues used fMRI to observe the brains of people who received expert advice during a financial simulation. They found that subjects thought differently about their decisions when they received the advice— even if it was bad advice— than when they worked on their own. As the researchers put it, "one effect of expert advice is to 'offload' the calculation of value of decision options from the individual's brain." Put another way, "the advice made the brain switch off (at least to a great extent) processes required for financial decision-making."
No expertise, no problem. It'll actually make your work more accurate if you claim to be an expert— if you're certain that you're an expert— but you actually aren't.
Sounds counterintuitive, right? (Ed.: This is how you know I'm a successful futurist. I said what you didn't expect. Now I'll quote some Science to make my point.) In fact, as J. Scott Armstrong has shown over the last twenty or so years, advanced degrees and deep knowledge don't make you a better forecaster or expert. Statistically, experts are hardly better at predicting the future than chimps throwing darts at a board. As Louis Menand put it, "The accuracy of an expert's predictions actually has an inverse relationship to his or her self-confidence, renown, and, beyond a certain point, depth of knowledge."
And it's perfectly natural to suffer from what Nassim Taleb calls "epistemic arrogance." In all sorts of areas, we routinely overestimate our own certainty and breadth of knowledge, and underestimate what we don't know. If you do that, you're just like everyone else.
So knowing you're not an expert should make you more confident in your work. And confidence is everything.
One simple idea may be one too many. The future is complex, but you shouldn't be. Philip Tetlock explained in Expert Political Judgment that there are two kinds of forecasting personalities: foxes, who tend to appreciate contingency and don't make big claims, and hedgehogs, who have a hammer and see the whole world as a giant nail. Guess who wins. Having a single big theory, even if it's totally outrageous, makes you sound more credible. Having a Great Idea also makes it easier for you to seem like a Great Visionary, capable of seeing things that others cannot.
Get prizes for being outrageous. It's important to get quoted in the media. Being a futurist isn't like being a doctor or lawyer: there are no pesky state boards, no certification tests, none of that. So how do potential clients figure out who to hire? Media attention is one way. As a resident scholar at a think-tank told Tetlock, "I woo dumb-ass reporters who want glib sound bites."
So you need to set yourself apart from the pack, differentiate yourself from the competition. If you're not beautiful, or already famous, the easiest way is to be counterintuitive, or go against the grain. Dissent is always safe, because journalists understand what to do with someone who's critical of the conventional wisdom, and always want someone who can provide an Alternative View For Balance. There are few more secure places in a reporter's Rolodex than that of the Reliably Unpredictable Contrarian.
There's a success hiding in every failure. Let's say you predicted that something would happen, and it hasn't. Is your career over? Of course not. Tetlock found that after a certain point, expertise becomes a hindrance to effective forecasting, because experts are better able to construct erudite-sounding (or erudite-feeling) rationalizations for their failure. Here's how to benefit from this valuable talent.
* Make predictions that are hard to verify. Be fuzzy about timing: it's always safest to say that something will happen in your lifetime, because by definition, you're never around to take flak if you're wrong.
* Find similar events. Maybe you predicted that we'd all watch TV on our watches. Instead, we watch YouTube on our computers. That's pretty close, right? Point proved.
* Say reality came very close to your prediction. Canada almost went to war with Denmark. It was just the arrival of winter that prevented them from attacking each other over competing cliams to the North Pole.
* Those damned externalities. Your prediction would have come true if it hadn't been for the economic downturn, which really messed up everything. (The beauty of this is that economic downturns now come with enough regularity to provide cover for just about everything— yet they're still unpredictable.)
* The future is just a little slow. Instead of derailing it, maybe that (unpredictable!) economic downturn has just put off the future you predict. The underlying dynamics are solid, it's just that the timing is off (because of something you couldn't have foreseen.) The future will get back on track once the Dow climbs above 20,000 again.
* False positives show you care. If you're working an area where the stakes are high, it would be irresponsible NOT to be extreme. Take WMD in Iraq, for example. If experts hadn't predicted that there were chemical weapons in Iraq, and there had been, the consequences would have been unthinkable. Better to be safe than sorry.
Don't remember your failures. No one else will. We don't remember our own failures because, well, in retrospect they weren't failures.
Experts retroactively assign greater certainty to forecasts they made that came true, and retroactively downgraded their assessments of competing forecasts. (Put another way, experts tend to suffer more from hindsight bias than average people, not less.) When we're right, we get smarter, and other people get dumber.
Last but not least, remember that everybody has a track record, but no one knows what it is. As Tetlock put it, "We seek out experts who promise impossible levels of accuracy, then we do a poor job keeping score." Make this work for you. And good luck.
This work of satire originally appeared on Future 2.0. You can read Pang's serious take on this subject here.