The Exorcist may not be racking up huge ratings, but the Fox show—a sequel of sorts to the 1973 horror classic—has attracted a very dedicated viewership, mainly because it's great. The show's two-part season finale kicks off tonight, so we spoke to creator Jeremy Slater about how the difficulties of summoning a demon to primetime and how to keep wowing fans after the show's big twist.

Slater knew from the beginning that even though The Exorcist is based on a very famous movie, name recognition alone wasn't going to guarantee an audience. In fact, Slater thinks it might have been the opposite:
I think a lot of horror fans were rightfully skeptical when it was announced that The Exorcist was going to become a network TV show. If I wasn't involved in the show, I'm sure that would have been one of them. We've really had to go out there and prove that we're our own thing—we're not just a quickie cash grab trying to [take advantage of] someone else's successful property, we actually have a story worth telling. The gratifying thing is that people have given us a chance.
On the other hand, taking cues from a well-known film has, in some ways, actually given a boost to Slater and his fellow writers:
There's definitely an advantage to having characters that the audience already has a strong attachment to, like Regan and Chris MacNeill. From a writing standpoint, it's probably helped us, having such large shoes to fill. It's forced us to be hard on ourselves, pushing each other to be as creative and daring as the original movie was. You're always very aware of the weight that's hanging over your head when you take on a franchise that's so critically respected.
G/O Media may get a commission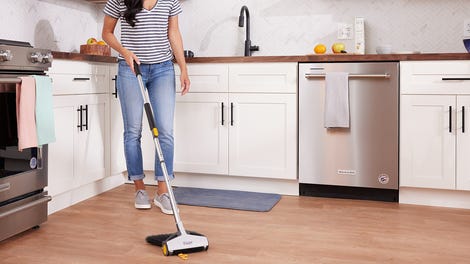 BOGO 50% Off
Flippr - BOGO 50% Off
The show's biggest reveal thus far arrived in episode five (out of 10 total). Faced with the knowledge that her teenage daughter, Casey (Hannah Kasulka), has become possessed, Angela Rance (Geena Davis) finally comes clean with the priests who've been helping her family. It turns out that Angela's real name is Regan MacNeill, a fact that even her husband (Alan Ruck) isn't aware of.
She's the grown-up version of the little girl from The Exorcist, long estranged from her movie-star mother (who shows up at the end of the episode, played by Sharon Gless). The demon's targeting of Casey is, as it turns out, deeply personal, and it's got an even bigger prize in mind. Specifically, a reunion with the girl that got away all those years ago in Georgetown.
"I knew that the midpoint of the season would be when we'd reveal who Angela Rance actually was," Slater says, adding that when he sold the show three years ago, he had already plotted out the first five episodes. Once the show had assembled its writing staff, things naturally shifted course as the story progressed. "What we came up with for the back half of the season was totally changed from the original plan. It wound up being a lot smarter and more exciting than anything I originally had."
Making sure The Exorcist—which has a legacy of spinning heads, foul taunts, and green projectile vomit to live up to—stays as provocative as its namesake inspiration would seem to be a challenge for a show that airs on Fox. But Slater notes that the network has been largely supportive of what has to be one of network TV's most visceral programs:
There are obvious limitations—there are five or six words you can't say, and it's pretty strict in terms of sex and nudity. But that's never been a big component of The Exorcist franchise anyway. In terms of violence, gore, and certain imagery, Fox has been incredibly supportive. They realized from the beginning that the only way a show like this works is if people are talking about it. They really encouraged us to push the envelope—they've actually pushed for more blood, and more maggots.
Obviously, Slater can't divulge too much about the two-part finale. But we do have this exclusive clip from episode nine, which airs tonight, in which Angela/Regan reveals she has a third identity. It's a name you will recognize if you're a fan of the original film.
Hell yeah. But Slater promises that's not all:
There are definitely some shocking things coming up. There hasn't been a very high body count in the show thus far, and all of that is going to change in our finale. Blood is going to be spilled, and some of our characters are going to be put through the wringer. There are some very intense, very emotional scenes.

If you're a fan of the show, there's a lot of big, satisfying character stuff coming up. But if you're just a fan of exciting television, these are by far the craziest episodes we've done out of the entire run. In the editing room, we were saying it feels more like an episode of Lost or The Leftovers than anything else. It's incredibly ambitious and we're hoping we stick the landing, because we do feel that responsibility to our fans.
So far, The Exorcist has yet to be renewed for a second season, but Slater says he's cautiously hopeful. "We have a very passionate fan base, and people are continuing to discover the show every day," he says. "I'm just trying to keep my fingers crossed and stay optimistic, because I have a lot more stories to tell, and it would be heartbreaking to have to stop now."

The Exorcist's final two episodes air December 9 and December 16 on Fox.