Road salt is one of those city services that we take for granted, an invisible network infrastructure with a murky provenance. But though you may not know it, the salt on your roads might come from a sprawling, century-old mine right below your feet.
As the country (excepting those jerks in California) slogs through a long winter, dozens of cities are warning that they're scraping the bottom of their salt barrels. The companies that delivery road salt—like Morton and Cargill—blame demand (obviously) and slow transport times.
Road salt in storage at the public works facility in Glen Ellyn, Ill. AP Photo/Andrew A. Nelles.
G/O Media may get a commission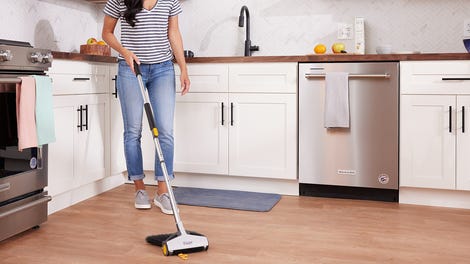 BOGO 50% Off
Flippr - BOGO 50% Off
But where do they get their salt? The answer might surprise you. Though plenty of the stuff comes from far-off locales like Chile's great salt flats, a lot of it is still mined on this continent. After all, it was the rise of suburbia in America—and the millions of roads that were built to serve it—that drove the expansion of a lucrative road salt market in the 1940s and 50s.
Morton, for example, maintains dozens of sites across North America. Your salt might come from a mine in Ohio or Quebec, or a solar evaporation site—where it's crystalized by the sun in open pools—in Florida or New Jersey. Cargill maintains three mines in the US, including one 1,800 feet below Cleveland, as well as bedded deposits in New York.
A salt storage yard in Cleveland. AP Photo/Mark Duncan.
Miners prepare cutting equipment in the mine at American Rock Salt in Hampton Corners, N.Y. AP Photo/David Duprey.
Some American mines still operate independently. The most famous of all is the Detroit Salt Mine, a 114-year-old mine that takes advantage of a gigantic salt deposit below the city (fun fact: it predates the dinosaurs). More than 1,200 feet beneath the Motor City's roads lies a massive mine where salt has been culled from more than 100 miles of tunnels.
When the mine first opened, it was a dangerous place to work—according to one account, machinery had to be cut into pieces and lowered down through the 36 square foot mine shaft to the mine itself, where it was reassembled.
Even mules were lowered down by rope—to remain underground until they died.
Things are a little more efficient today.
According to Atlas Obscura, the miners drill holes into the salt and pack them with explosives, which "yields 900 tons of salt in less than three seconds." Then, the crushed salt is moved onto a conveyor belt to the shaft, to be lifted out and processed.
Images via Wayne State University.
But Detroit Salt Company's business isn't quite what it used to be. A traditional mine isn't nearly as efficient as, say, Morton's tightly controlled evaporation pools. Or nearby mines in Ohio and Canada, which ship their road salt through the Great Lakes.
It's still a busy mine though, and every bit of its product goes towards making road salt. When I gave them a call today, the phones were apparently ringing off the hook. And while the company declined to comment on the shortage, they offered the following assurance—that "DSC is working closely with Metro Detroit communities to meet their needs this record-breaking season for winter safety."
The mine's media contact couldn't tell me much more than that—but his email signature said it all:
O! February

Days tick by

And like that, gone.
Lead image: Workers shovel road salt at the London Strategic Salt Reserve. Peter Macdiarmid/Getty Images.