On Monday, a judge ruled that while Donald Trump can't be named as defendant in the kids climate lawsuit, the trial will go on. It sets up a historic courtroom showdown in two weeks that will pit youths' constitutional rights to a stable climate against the federal government and its inaction on climate change.

The ruling comes after the latest in a salvo of attempts by the federal government to derail the suit. Past efforts have by and large failed, but the new motions found some results. The government argued that the president should be taken off the case as a defendant, saying he wasn't essential to providing the plaintiffs' relief. It also argued the scope of the case was too wide, and asked yet again for the whole case to get dismissed.
On the Trump front, the climate denier in chief is off the hook for now. In her decision, Judge Ann Aiken agreed with the government that Trump isn't essential to the case since other parts of the federal government could provide the relief the 21 youth plaintiffs are seeking. Aiken didn't, however, rule out that Trump's name could be added back to the suit in the future.
The judge also narrowed the scope of suit by tossing out a part which was tied to the Ninth Amendment and rights to be sustained by the climate system. But the judge allowed the kids' central argument—that climate change and its attendant impacts will deprive them of the right to life, liberty, and property protected under the Fifth Amendment—to proceed.
"At this stage, federal defendants have offered no legal or factual rationale significantly different from those offered in their previous motion to dismiss," Aiken wrote, saying the suit would go to trial on October 29.
G/O Media may get a commission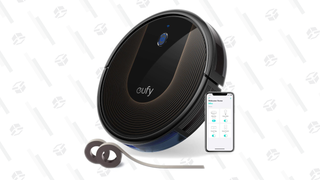 48% Off
Eufy BoostIQ RoboVac
The high-profile suit began in federal court in 2015, naming then-President Barack Obama as a defendant. His administration tried to get the suit dismissed to no avail. When Trump took office two years ago, the defendant named in the suit changed, but the efforts to get it thrown out didn't.
And the attempts to chip away at the case continue as the trial date looms. E&E News reports the government is now attempting to limit expert testimony from climate scientists. None of this appears to have taken wind out of the plaintiffs' sails, though.
"Having contributed extensive personal testimony and research to help develop our case's factual record over the past several years, I am confident that our arguments on the remaining disputed issues will ultimately prevail in court," Alex Loznak, one of plaintiffs, said in a statement. "We still need a full and fair trial to prove our case. October 29, here we come!"