Olivia Wilde takes us for a drive in a new Tron clip. More photos from Captain America have surfaced, as have character details for Wolverine's trip to Japan. Plus, details on X-Men: The First Class, The Walking Dead, and Alien.

Tron Legacy:
Sam Flynn and Olivia Wilde's Cora take a spin in the Light Runner, Tron's off-road vehicle. [via /Film]
Captain America:
There's a veritable bounty of Captain America in the new issue of Entertainment weekly. We get Stanley Tucci as Dr. Abraham Erskine, Hugo Weaving as Johann Schmidt, and Chris Evans both in and — ahem — out of uniform. [Comic Book Movie]


Wolverine 2:
The second film puts Logan in Tokyo, at the behest of a man named Zen, and there's a host of Japanese characters he'll encounter across the ocean. There is Shingen, a man whose father was Master of the Hand. The Master kills himself to prevent Shingen from taking his title, hoping Logan will become the next Master of the Hand. Logan saves the life of Mariko, Shingen's daughter. They fall in love, but Mariko is engaged to Noburo Moro, the corrupt Minister of Justice who is in the Yakuza's pocket.
G/O Media may get a commission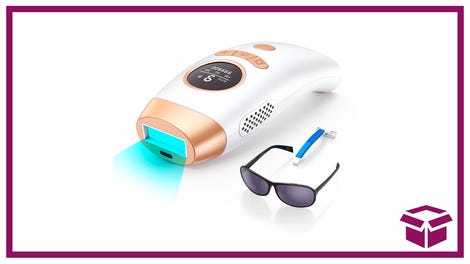 58% Off + Coupon
IPL Hair Removal Device
He also encounters Kenuichio, a master samurai and Shingen's illegitimate son, under less friendly circumstances. Shingen doesn't recognize Kenuichio as his heir, but Kenuichio — the "Silver Samurai" — attacks Logan while wearing electrified armor. Kenuichio is also the lover of Viper, Noburo's fiercely loyal secretary.
Logan takes on a female bodyguard, Yukio, who has ties to Shingen but is ultimately loyal to Logan. And he gets information from Frank Sinatra, a Japanese lounge singer and high-ranking member of the Yakuza. [CinemaBlend]
Alien Prequel:
Yesterday, we mentioned that The Girl With the Dragon Tattoo star Noomi Rapace was eager to star in Ridley Scott's Alien prequel. Now Deadline is reporting that the feeling is mutual, and Scott is favoring Rapace as his new action heroine. But Rapace's English is a concern, and Carey Mulligan, Abie Cornish, Natalie Portman, and Olivia Wilde are also rumored to be in the running. [Deadline]
X-Men: First Class:
Jennifer Lawrence says that we'll be meeting a different version of Mystique than we're used to — an insecure teenager hiding her blue-skinned secret. [Superhero Hype]
She also tells MTV News that she starts out as a good girl.
Tangled:
New promo videos from this Rapunzel reimagining focus on the minor characters. [CinemaBlend]
Pascal the Chameleon:

Maximus the Steed:

The Pub Thugs:

Plus, look at all the pretty pictures:
[gallery 5676146]

Transformers 3:
Here's another video from the Entertainment Tonight segment, with plenty of Bayhem. [via /Film]
Mission Impossible 4:
Tom Cruise has unveiled the title of the fourth Mission Impossible film: Ghost Protocol. In this video, he explains why he doesn't like to give the films numbers:
The Walking Dead:
We're just a few days away from the premiere, but there's still time to glean every possible detail from the cast and creator interviews. Andrew Lincoln and Sarah Wayne Callies talk Rick and Lori:


[via Spoiler TV]
Robert Kirkman joins Lincoln to discuss how the graphic novel will translate to television. Kirkman describes many of the scenes in the pilot as "more complete" versions of the same scenes in the comic.

The Walking Dead: Kirkman & Lincoln
Uploaded by tvguide. - Check out other Film & TV videos.

[via Spoiler TV]
Over at Newsarama, Steven Yuen (Glen) talks about his experience filming the show as a fan of the comic. [Newsarama]
Producer Gale Anne Hurd reiterates that this wasn't a frame for frame adaptation, but she is clear that the show will read as a television series rather than a series of movies. Regarding the early scenes in Atlanta and the surrounding area:
The city was so cooperative in allowing us to take over downtown for the end sequence of episode one. We were really able to give it scope and not cheat that. You see it a bit of it in the second episode, the location of the survivor's camp in the quarry also has magnificent production value. You actually see downtown Atlanta from that location, too.
And she teases Rick and Michonne's trip to Woodbury:
It will be interesting to see if Rick loses an appendage. We haven't crossed that bridge yet and we haven't ruled it out. I have a feeling that there will be things that would, surprisingly, feel gratuitous if we went to the comic's extent. But, I'm very excited to see Michonne and the Governor. They're pretty extreme characters.
Skyline:
Two new TV spots put us up close with the aliens:

Doctor Who
Here's a whole slew of behind the scenes set photos, including a few we've seen before. [Spoiler TV]
[gallery 5676160]

Supernatural:
In this clip from tonight's cursed-with-truth episode, Dean really can't handle the truth. [via Spoiler TV]
Fringe:
In the sixth episode, "6995 kHz," which airs November 11th, a group of 15 people "over here" suffer retrograde amnesia after listening to their short wave radios. The Fringe team investigates, and Peter is still intent on piecing together the mass destruction device — to Walter's chagrin. And the chemistry between Peter and alternate Olivia deepens. [Fringe Spoilers]
The eighth episode of this season will be called "Entrada." [Spoiler TV]
And After Ellen followed the lovely Jasika Nicole to work on set and took plenty of pictures. [After Ellen]
Smallville:
General Lane and Lucy are back for Thanksgiving in November 5th's "Ambush," and, like so many family dinners, this get-together devolves into political disagreement. Clark and the General butt heads over superheroes and the General's attempt to pass a vigilante registration law. Rick Flagg, hoping to keep the law from being passed, lies to Lucy to lure Clark away from the farm so Flagg can assassinate the General. Let's take a look at the heartwarming family moments. [CBR]
In "Harvest," Clark tries to steer Lois away from covering the Vigilante Registration Act because he fears for her safety. Lois doesn't take kindly to his meddling, but no sooner does she tell him she can take care of herself than she finds herself stranded in the middle of nowhere with a flat tire — and then she finds herself in serious danger. Meanwhile, Tess searches for a cure for Alexander's rapid aging. [CBR]
And now that we've seen Mad Harriet, here she is alongside Granny Goodness herself in the episode "Abandoned." [Spoiler TV]
No Ordinary Family:
In the November 9th episode "No Ordinary Visitors," Cybril Shepherd guest stars as Stephanie's hard-to-please mother Barbara. Along with Stephanie's father Allan, she pays the Powells a surprise visit, forcing them to curb their powers to keep their secret. But, as parents will, they witness some strange goings-on and become suspicious. Daphne's friend Trent (moody Twilight vamp Jackson Rathbone) and his parents are victim's of a home invasion, and Daphne tries to use her mind-reading to track down the perps.
Then in "No Ordinary Mobster," Jim tries to take down a mobster who has eluded George for years, putting his secret identity at risk. Stephanie continues Dr. Volson's research on a mysterious path in defiance of Dr. King. Daphne convinces JJ to make her more knowledgeable so she can impress a boy, and JJ tries to help Katie get a date — and goes to the extreme.
"No Ordinary Accident" finds Jim suddenly powerless, and Stephanie tries to figure out why. JJ is caught hacking into the school computer system and may face criminal charges while Daphne is once again out to impress a boy — this time using her own powers. And Katie finds herself falling for a mysterious new man. [Spoiler TV]
Vampire Diaries:
Zach Roerig says that his character, Matt, isn't quite out of the woods. Noting that vamp Katherine is the series' puppeteer, he says "I'm proud to be a puppet in this next episode." [TV Guide]
Additional reporting by Katharine Trendacosta.