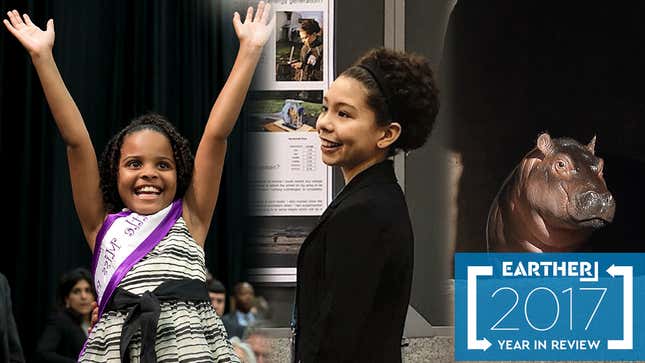 This year has been one of the most heartbreaking for lovers of the planet. Climate change has never felt more real or invincible. Massive wildfires tore through California, record-breaking hurricanes ravaged the Southeast and Caribbean, and our president didn't seem to care about any of it.

Vizio's Latest TVs Go All Quantum
Who needs President Donald Trump, though? Around the country, everyday people are showing the public how to take matters into their own hands. These people—from kid scientists to the folks who deliver our mail—are the unsung planetary heroes of 2017. Here are a few in no particular order.
Gitanjali Rao
This 12-year-old didn't sit idly by while a water crisis unfolded in the predominantly black city of Flint, Michigan. Sure, she lives in Colorado, but distance didn't stop her from taking action to help fix the situation that left nearly 100,000 people exposed to lead-contaminated drinking water.
She got to working and building—and ended up creating a lead detector that anyone can use. The "Tethys," is made up of carbon nanotubes that can detect the presence of lead, and connect to a mobile app to communicate their findings. All a person's gotta' do is dip these nanotubes into the water and see the results on their phone.
She developed this potentially life-saving technology with the help of her computer science teacher, reports The Denver Post. They went through about five apps before deciding on the final product. With her endless imagination and the support of her STEM-focused school, the 3D-printed model was a success.

Shout out to Rao. This invention got her named America's 2017 Top Young Scientist from the Young Scientist Lab, which comes with a nice $25,000 award.
Alexia Bravo
As if a 12-year-old weren't young enough, an 11-year-old is trying to build our a renewable energy future. Meet Alexia Bravo.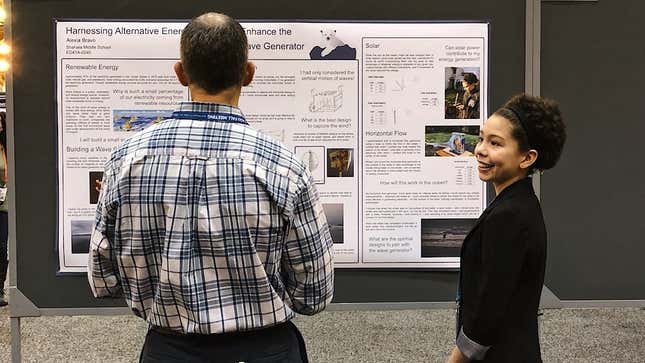 She was at the American Geophysical Union's annual meeting earlier this month, and she was one of our faves. Although surely the youngest presenter there, Bravo's age didn't stop her from being a total badass: She's working on a prototype technology that can capture energy from the ocean's waves, as well as solar from the sun.
Yup, she wants to create an all-in-one device that can wean us off fossil fuels once and for all. Given her age, climate change probably feels much more threatening to Bravo and her peers. They'll be here long after us adults, and they're not going to let it ruin their future.
Mari Copeny aka Little Miss Flint
OK, so maybe 2017 was the year kids reigned, but who minds that?
In case you forgot, Mari Copeny originally made headlines back in 2016 when she wrote to then-President Barack Obama about the lead contamination crisis in Flint. And while no one's paid much attention to her since, the now 10-year-old has been busy doing what she can for her community.
This includes a recent fundraising campaign for shirts and sweaters that read, "Don't Forget Flint." (And some fly-ass sweatshirts, if I might add.) The proceedings went toward gifting kids in the city Christmas presents. Earlier in the year, Copeny spoke at the Women's March on Washington and served as its youngest youth ambassador.
Little Miss Flint should be everyone's goal for how to handle themselves in 2018.
The Sisters of Mercy
Nuns aren't the first thing that come to mind when a person thinks of an environmental hero, but the Sisters of Mercy are not your average nuns.
They are a Roman Catholic women's organization with sisters around the world that's super into the environment. They're down to get a little rowdy if their noise will shed some light on an injustice. They were outspoken about protecting the Arctic National Wildlife Refuge from oil drilling last month during the crux of the debate in Congress.
"The exploitation of fossil fuels in the Refuge will contribute to climate change and threaten the 10,000-year-old traditions that the Gwich'in people depend upon to survive," the Sisters wrote in a letter dated November 1.

The group also disagreed with Trump's decision to withdraw from the Paris Agreement, which set ambitious targets for the U.S. to decrease its carbon emissions. Same, Sisters, same.
Puerto Rican Postal Service Workers
Hurricane Maria was a major wake-up call to what climate change will look like for the most vulnerable in the United States. Nearly 100 days after the storm, much of Puerto Rico remains in the dark.
Amid all the madness after the hurricane hit the island in September, communication was difficult. Cell service was nonexistent, and so was the internet. But the island's mail carriers were around—and they were dedicated, man.
When they'd make their local runs, the post-people would check on the elderly and sick, reported Reuters. Some areas had no hospitals, so it was up to these public workers to get information on the sick to the Federal Emergency Management Agency.
One mail carrier, Alfredo Martinez, didn't even allow his lack of a clean uniform to stop him from delivering the mail.
Mustafa Ali
Ever heard of this guy? Many hadn't before this year.
Ali used to serve in the Environmental Protection Agency's Environmental Justice Office. He actually helped launch the office back in 1992. He finally left his post there this year, because he saw what Trump and EPA Administrator Scott Pruitt were doing to the agency: seemingly endless budget cuts. Under the current administration, Ali wasn't going to be able to continue his important work of protecting vulnerable communities from environmental harm.
So, he left, which sent a shockwave throughout the environmental justice world. But this shockwave was an important reminder that progress can happen outside the government, too.
Now, Ali's the senior vice president of the Hip Hop Caucus, and his name has become more well-known. He's not stuck working for a lame-ass government; he's working with musicians like Jay-Z and Common. Hip Hop Caucus forms partnerships with artists to help reach more of the public, especially those who aren't interested in climate change or pollution. If they see their favorite rap artist talking about these issues, they'll be more likely to take action—at least, that's the hope.
Fiona the Hippo
Fiona might not be a person, but she's definitely a hero.
Nearly her first birthday, this baby hippo is the perfect face to see when all is wrong with the world. Her life odds weren't looking too great initially; she was a preemie, after all. But she's the perfect example of what's possible. She wasn't even 30 pounds when she was born. Now? She weighs more than 600 pounds.
Fiona even has her own Facebook show (with weekly episodes!) and has become a pop icon, of sorts. She's also become an international symbol for conservation issues, using her adorableness to raise awareness about how climate change and habitat loss will affect her relatives in the wild.
We love you, Fiona. Keep on giving us hope in 2018. We'll need it.