The old lever and single bar slot machine just won't do anymore. Now, slot machines are counting on technology and graphics that rival video game systems to get gamblers in their chairs and money flowing.
England by jobo7/flickr/CC BY 2.0
A fascinating article in Las Vegas Weekly chronicles the changing face of slot machines in development at companies like International Game Technology (IGT), Bally Technologies, and Merkur Gaming. Once you finish hearing about all the artists drawn into designing slot machines and the sheer scope of the technology being employed, the only thing left to question is how soon we'll be seeing Oculus Rift-style rigs on casino floors.
The Merkur Ozone Slot Machine. Photo from Merkur website.
It's a combination of mining pop culture for themes and providing a environment as rich as any video game:
"We consider us competing with the video-game world for the talent," says Bally spokesman Mike Trask.

The machines often target audiences through pop-culture history: games likeWonder Woman with comic book fonts, television clips, soundtrack bites and leggy Lynda Carter in her star-spangled cape, red-bustier and sexy knee-high boots—that kitschy, '70s-era symbol of female empowerment that rocked the imaginations of young girls (and boys) across the country. Players are going to spend on this nostalgic attraction, regardless of the odds.

Then there is Merkur Gaming, which has designed a gaming cabinet, a bubble-like enclosure that looks like something out of 2001: A Space Odyssey or an arcade game. It's the physical manifestation of the psychological zone that players slip into at the slot banks.
G/O Media may get a commission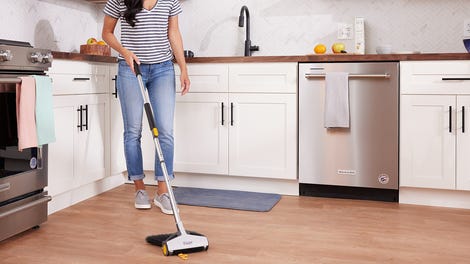 BOGO 50% Off
Flippr - BOGO 50% Off
Even for the games that aren't based on known quantities, there are storytelling elements being drawn into slots, which used to be seen as the simplest of all gambling options: insert coin, hit button, wait. For example, Bally's slot Cash Wizard is series designed to look like a children's book. The trilogy introduces new characters and settings to keep players engaged, with Cash Wizard as the "protagonist" of the first, the second introducing his wife (Ms. Magic), and the third their children.
And the final addition is complexity, making these slot machines almost unrecognizable:
"The gambling experience has evolved in step with technological innovation," writes Natasha Dow Schüll in her book Addiction by Design: Machine Gambling in Las Vegas. "Once a relatively straightforward operation in which players bet a set amount on the outcome of a single payline, today machine gambling begins with a choice among games whose permutations of odds, stakes, size and special effects are seemingly endless."
These slots are technological marvels, with companies that compete with animation and video game studios for talent. It's interesting to see that while casinos stick in the popular imagination (and in pop culture) as monuments to a certain past, the companies that make the gambling machines are banking on the embracing the future to get people to play.
And to do that, they're going to create games that immerse you in a world. The piece starts by describing the experience of an Ellen Degeneres Show game:
Ellen DeGeneres wants me to win. And big! She cheers me on from inside her very own slot machine on the Sands convention floor.

The more she cheers, the more I want to keep playing. We're united in the comfortable realm of daytime talk TV packaged in a casino-floor penny slot. When luck tilts in my favor, she dances across the 42-inch vertical touchscreen display, emitting sparkles. "I hope it's bonus time," she says. "I feel so alive."

I, too, feel alive here at the Global Gaming Expo. All those cutesy objects appear in the slot machine's multiplier. There's The Ellen DeGeneres Show theme song and clips from TV. It's video game/talk show/game show/slot mania like I've never seen.

"Couple that dance with a big win and you kind of wish you could reach out and give her a big hug," says David Bollesen, studio director for gaming company International Game Technology.
And without a big win, you might just keep playing for the dance and the cheers.
Read the rest of the article, including the stories of artists' circuitous routes to this field, at Las Vegas Weekly.