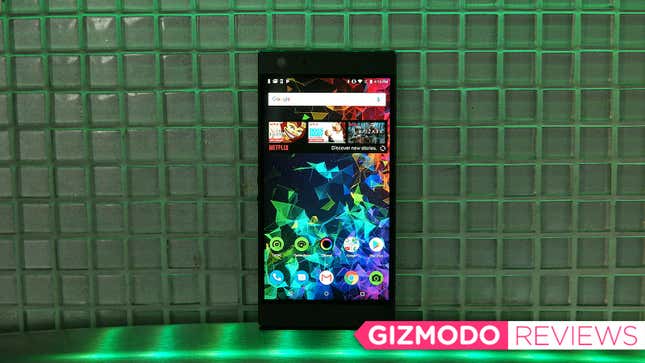 When Razer birthed a new category of phone last year, the company offered gamers two features that weren't typically found on your average handset: a big 4,000 mAh battery and a fantastic 120Hz display that made games look and feel extra smooth. But now that the rest of the smartphone world has started to care more about gaming, aside from its screen and new obligatory RGB lighting, how does Razer take the idea of a gaming handset even further on the new Razer Phone 2?
Vizio's Latest TVs Go All Quantum
The answer is by enhancing the phone so that it's just as proficient at everyday tasks like watching movies, taking pictures, or handling the rigors of everyday life as it is at gaming. That's because while the first Razer phone put a neat spin on what people could get from a handset, it often felt like a single-minded device rather than something you'd want to carry around all the time.
So for its second go, Razer kept that 5.7-inch 120Hz screen while nearly doubling its brightness from a mediocre 350 nits to 615 nits. This matches (or exceeds) the brightness you'd get on a Galaxy Note 9 (616 nits) or iPhone XS (547 nits) and makes it much easier to see the phone's screen, especially in direct sunlight.
Next, Razer added IP67 water-resistance to make sure the phone wouldn't conk out any time it got a slight whiff of moisture. And even with the additional seals used to keep water out, the Razer Phone 2's speakers are now even more powerful, and easily some of the loudest speakers on any smartphone out right now.
Around back, Razer also swapped out the previous-gen phone's metal back for glass, something that made the addition of Qi wireless charging possible. And of course, it'd be a mistake not to mention the new RGB light hidden beneath the Razer logo in back. It can pulse and breath a rainbow of colors just like other Chroma-powered gaming accessories, and as an added nod to functionality, the RGB lights can also blink different colors based on incoming notifications. Sadly, you don't get to customize which colors blink for certain apps, so Snapchat is always yellow, Gmail is always red and so. But at least it's a nice way to stealthily kept tabs on the internets even when the phone is turned upside down on a table.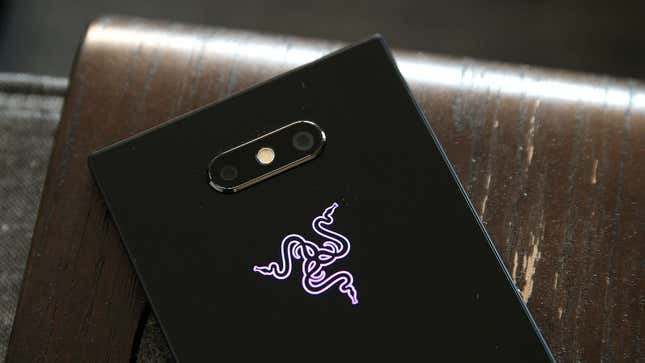 But by far Razer's biggest upgrade for the Phone 2 is its new camera modules. Poor image quality tends to be an issue for numerous smartphone startups like Essential, and last year Razer found out the hard way that delivering a premium camera experience ain't easy. And despite numerous post-launch updates, the original Razer phone often suffered from blurry out of focus images.
So, on the Razer Phone 2, the company put dual sensors on front and back so you can snap portrait-style shots that everyone seems to love nowadays, while the rear also gets a bonus 2x zoom lens. Then you tack on improved auto HDR processing, better focus, and new optical image stabilization, and the results are a significantly improved camera experience.
However, just so we're clear, even with all the upgrades the Razer Phone 2's photos still aren't quite as good as top-tier smartphone cams like the Pixel 3, as seen clearly in a quick side-by-side comparison. While the Razer Phone 2's pics are quite sharp, there's a clear difference between it and the Pixel 3 when it comes to exposure and color saturation. And when conditions get dark, the Razer Phone 2 often produces a lot of noise. But for most, a lot of these shortcomings could easily be covered up by a filter or a quick edit in your favorite photo sharing app. What really matters is that the Razer Phone 2's cameras aren't liabilities anymore.
When it's time to game—Razer, like every other Android phone this fall—has upgraded to a Qualcomm Snapdragon 845 chipset, while retaining a healthy 8GB of RAM, microSd card slot, and your choice of 64GB or 128GB of storage depending on which model you choose. (The base mirror black model comes with 64GB, while the satin black model features 128GB).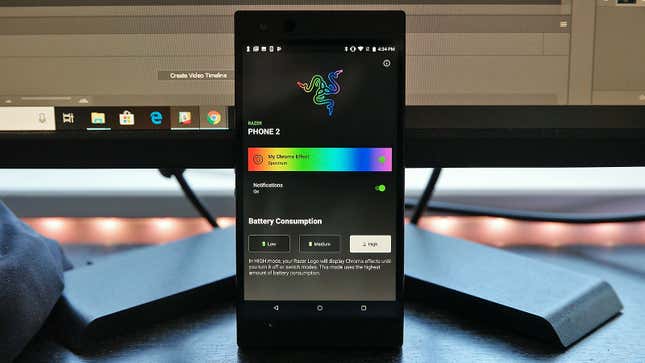 There's also a new vapor chamber heat sink that helps cool and distribute thermals better, and based on our benchmarks, there is a small, but noticeable effect. The Razer Phone 2 often scored 5 percent higher than other Snapdragon 845 devices on Geekbench 4 and 3DMark, a lead that it held even after multiple runs. However, even with a more efficient processor and a big 4,000 mAh battery, the Razer Phone 2's battery life only increased by about half an hour over last year's model to 9:45 on our rundown test. In the whole scheme of things, that's just average.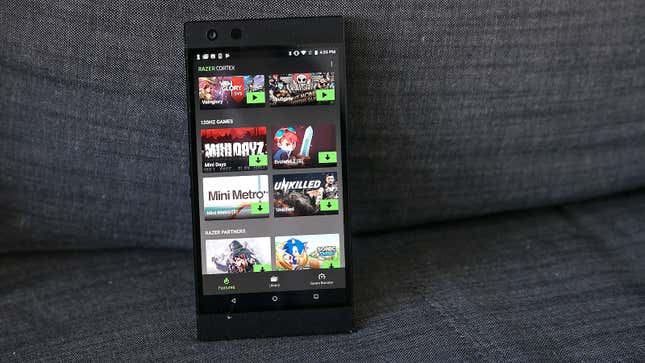 Finally, to help manage your games, Razer created the new Cortex app which features a Game Booster tab that lets you tweak settings including resolution, anti-aliasing, screen refresh rate and more on a per game basis. It's nice when you know you want the full 120Hz for games like Need For Speed No Limits or Alto's Odyssey, but maybe not so much on slower-paced titles like Plague Inc.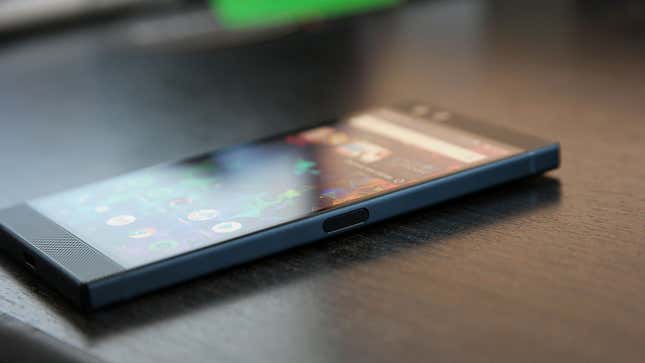 Cortex also serves as a discovery tool for finding new games, though that means you will run into the occasional pop up ad. But my biggest gripe about the Cortex app is that it's broken down into three categories (Featured, 120Hz games, and Razer Partners), with the 120Hz section only having enough space to show four apps at a time. Currently, the number of games that supports Razer's boosted refresh rates is closer to 30, but it's hard to know which ones are which because there's no way to dig deeper. Those 120Hz games should be front and center instead of restricted to a small handful, as Razer's screen is still the most defining component on the device.
The Razer Phone 2 isn't for everyone, and that's OK. You need to love big phones, enjoy the dumb fun that is RGB lighting, and critically, be able to appreciate the impact of that 120Hz display. But thanks to extra work on its speaker, screen, and cameras, the Razer Phone 2 is a much more accommodating and well-rounded device to live with, so long as you can stomach that $800 asking price, Razer's second effort is something that's better for both normies and gamers.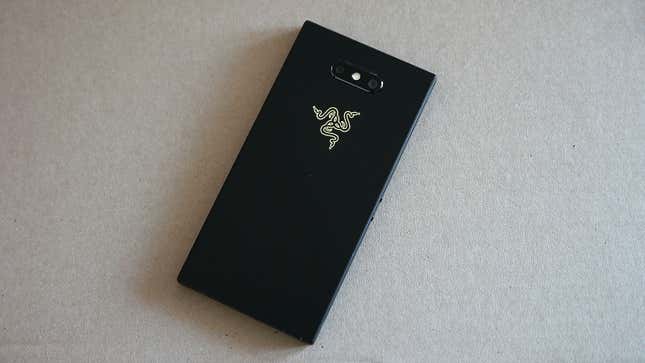 README
The Razer Phone 2 isn't for everyone, but thanks to a better cameras, wireless charging and IP67 water resistance, overall its a much better daily driver

Battery life is up by about half an hour, which is nice, but at 9:45, that's relatively average compared to "normal" flagship phones.

Razer's Cortex App could use a better curation so it's easy to find and discover games that take advantage of the Razer Phone's 120Hz screen.

The new RGB light in back is nice, but it lacks some of the customizability you'd expect from other Razer Chroma devices, and it could stand to be brighter too.

The Razer Phone 2 supports GSM carriers like AT&T and T-Mobile and Verizon LTE (but not standard 3G or 4G).

SPEC DUMP
Android 8.1 • Qualcomm Snapdragon 845 • 8GB of RAM • 64/129GB of storage • microSD card slot • 5.7-inch 2560 x 1440 120Hz LCD screen • IP67 water-resistance • USB-C port • Qi wireless charging • bundled 3.5mm jack • 8-MP selfie cam • dual 12-MP rear cams (with 2x zoom) • Bluetooth 5.0 • 4,000 mAh battery • available in gloss black or satin black