If the thought of playing Quake 3 on a 4.0" SUPER AMOLED Display makes you lightheaded with anticipation, pick up the brand-new Samsung GALAXY S, your gateway to gaming paradise. You'll also enjoy Google Maps Navigation™ and be able to download apps from Android Market™. And so much more.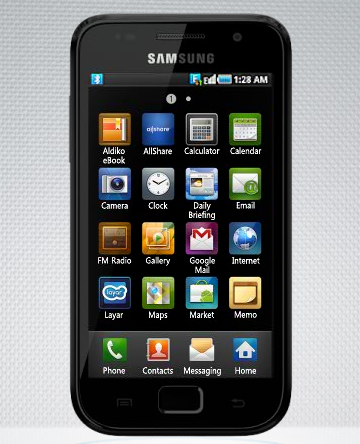 4.0" SUPER AMOLED Display
Welcome to the world's only SUPER AMOLED (Active-Matrix Organic Light-Emitting Diode) display-4.0" inches of vibrant, vivid, ultra-bright display technology for HD recording and HD video playback. With 80% less reflection, your high-def contents are just as easily viewed outdoors, for seamless transition from inside to outside, or vice versa.
Layar Reality Browser
Samsung ARound Me reveals your surroundings no matter where you may be-coffee shops, restaurants, art galleries. Just point the phone's camera in your chosen direction and GALAXY S tells you everything you need to know.
Google Maps Navigation
Getting directions is as easy as simply saying your destination. With Google Maps Navigation GALAXY S not only fetches the directions, but lets you choose three ways to view them-in real-time with Real Street View, Traffic View, or Satellite View.
ThinkFree Office Mobile
With ThinkFree, you can view, edit and create Office documents, then share them online. All Office files can be uploaded/downloaded to your phone.
Swype
Send text messages lightning-fast with this touch-screen enabled text-input application.
High-speed 1GHz Processor
The 1GHz Processor helps power everything from games and streaming movies to HD video.
Social Hub
Use Social Hub to integrate your contacts and calendar with Facebook and Twitter and to send messages and status updates.
Click here for the Samsung GALAXY S Experience.
Google, the Google logo, Google Maps Navigation and Android Market are trademarks of Google, Inc. TeleAtlas®Maps Data © 2010