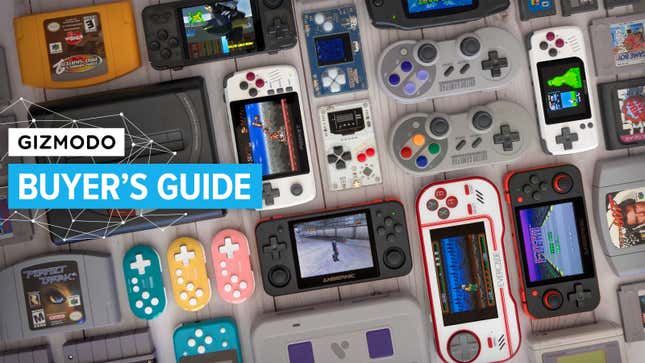 Many modern video games offer narrative experiences that rival Hollywood blockbusters, but today's games can also demand a lot of time and attention to play through. Sometimes you just want to dive right into the action, and the 8-bit and 16-bit retro games of yesteryear are perfect for that. Especially with all the new retro handhelds and reproduction consoles currently hitting the market.
The Playdate Is Unique, Charming and Full of Potential
Retro gaming as a hobby in itself is more popular than ever, but finding the perfect retro gaming gear for your needs can be overwhelming, so we've done the hard work for you. Whether you're a child of the '80s who's been playing classic titles for decades and has a mountain of old cartridges (and a hard drive full of ROMs) or a teenager curious why so many people still love the Super Nintendo and the Sega Genesis, this guide will help you figure out the best way to enjoy the classics from the past.
Jump to:
The Retro Gaming Gear Buying Forecast
The biggest trend in retro gaming we're seeing just a few months into 2023 is the release of handhelds not specifically designed for retro gaming and emulation at all. Game streaming is slowly gaining traction, and with it has come a collection of Android-powered handhelds designed to be used with streaming services like Xbox Cloud Gaming and Nvidia GeForce Now, including the Logitech G Cloud, and the Razer Edge. But both devices also happen to be excellent retro gaming machines for running emulators like RetroArch, with big screens that make classic games look better than ever.
We're also seeing another trend of companies like Miyoo and Anbernic releasing more affordable and streamlined handhelds, including the Miyoo Mini and the Anbernic RG35XX, which skip the added bulk of analog joysticks and instead focus on classic games from the original PlayStation era and earlier, which could be played using just a D-pad and action buttons.
And while the long-rumored Nintendo Switch Pro still hasn't arrived, Nintendo continues to expand its offering of retro titles through its Nintendo Switch Online services, where you can enjoy select classic games from the NES, Super NES, Nintendo 64, Sega Genesis and most recently, Game Boy, Game Boy Color, and Game Boy Advance, which all look especially lovely on the Nintendo Switch OLED.
---
The Best Handheld Console For Playing Real Cartridges: Analogue Pocket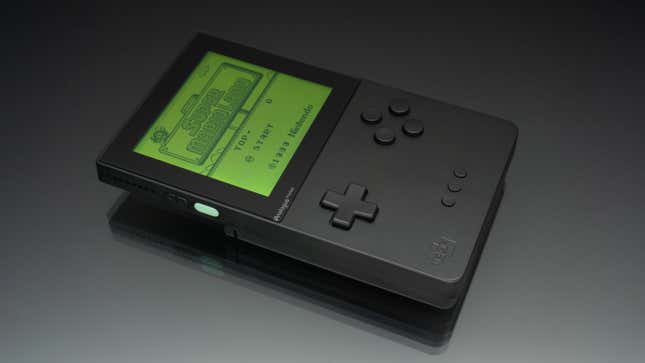 Although delays have plagued the $220 Analogue Pocket for quite a few years, wait times are finally much shorter for the handheld that delivers a near-unrivaled retro gaming experience for titles released for classic handheld consoles. Its 3.5-inch, 1600 x 1440 pixel LCD display (protected with Gorilla Glass) is a sight to behold, and the Pocket is able to perfectly emulate the look of classic handhelds without introducing any gameplay performance issues. The Pocket runs on a custom-designed FPGA chip that plays games from the Nintendo Game Boy, Game Boy Color, Game Boy Advance, Sega Game Gear, and other portable consoles flawlessly, with advanced features still enroute that will allow players to share game saves with others. There's even a dock that allows games to be played through a TV with an HDMI connection, but keep in mind that you'll need to bring your own original cartridges, and pay for slightly clunky cartridge adapters for non-Nintendo titles.

That said, community developed cores for consoles like the Sega Genesis ensure that the Analogue Pocket's library is always growing.
Also Consider:
Retro Gaming on a Modded Game Boy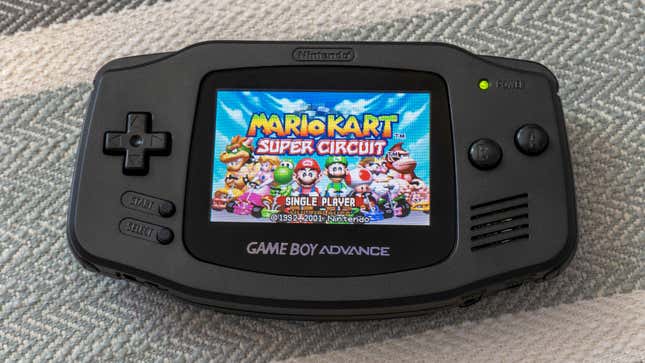 Many retro handheld gamers think the hardware was perfected years ago with the original Game Boy, the Game Boy Color, and the various iterations of the Game Boy Advance. If you'd rather stick with what you know, companies like Retro Modding can upgrade Nintendo's original portables using a mix of the old hardware (original motherboards) and newer parts, including rechargeable batteries, backlit LCD screens, louder speakers, colorful glowing LED buttons, and housings that match the originals or feature more elaborate designs. Custom builds can cost you well over $500 if you choose to upgrade every last component, and they often take a few weeks to build, but if you're heartbroken your original Game Boys no longer work, a rebuilt replacement is the next best thing.
Modern Official Retro Cartridges on the Evercade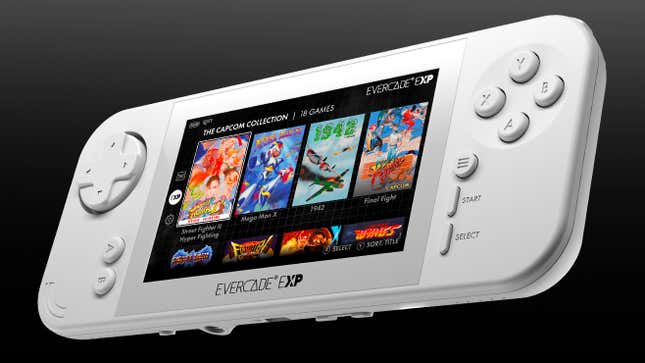 Like the Analogue Pocket, the Evercade and Evercade EXP are portable consoles reliant on game cartridges, but not the Nintendo and Sega ones still collecting dust in a shoebox in your parents' home. The Evercade's creators have licensed official games from their original publishers to create a collection of themed cartridges that each contain multiple titles. There are now hundreds of games available for Evercade handhelds, all of which run perfectly on the hardware, without slowdown, graphical hiccups, or sound effect issues. The original Evercade is getting a little harder to find, and will now cost you around $150 bundled with a collection of cartridges, but that's because last year saw the introduction of the Evercade EXP, which added wifi, a significant bump in screen resolution, and extra buttons facilitating sideways gameplay for TATE mode titles—and a slight MSRP bump to $150 (though it does come bundled with a single game cart).
---
The Best Mini Handheld Retro Console: Anbernic 350P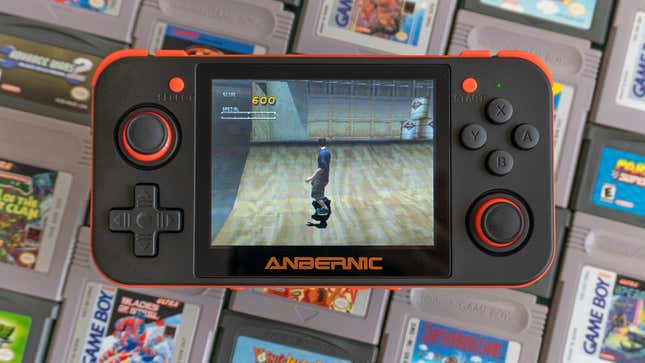 As groundbreaking as the original Game Boy was, its portability was often complicated by the need to carry around an assortment of game cartridges, often necessitating a bulky carrying case, or at least massive pockets. When portability is a priority, a handheld capable of emulation is the way to go, allowing a tiny memory card to be filled with thousands of classic game files to play on the go.
We still think the Anbernic RG350P is an incredible bargain (it can now be found for around $70-$80) thanks to a build that feels as solid as Nintendo's older portable hardware but still includes a pair of analog joysticks for enjoying fully 3D titles with a virtual camera. But with a 320 x 240 screen, the 350P's hardware is getting a little old. If you're willing to spend a little more, the $150 Anbernic RG351MP brings with it nearly identical specs, but with a premium aluminum housing and a 3.5-inch, 640 x 480 screen that will make retro titles look even better. You can also find the even newer Anbernic RG353M for around the same price, which now includes a touchscreen that facilitates the use of Android, in addition to a custom Linux OS, which users can switch between.
Also Consider: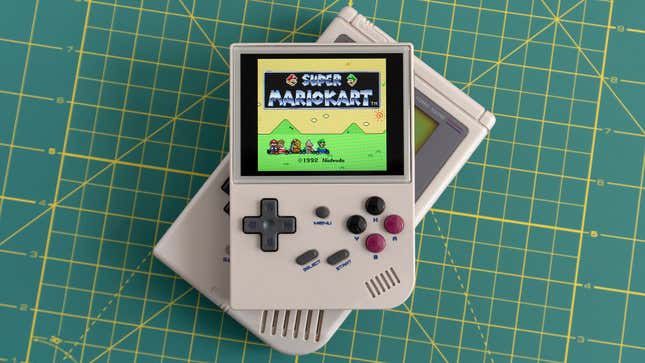 Although the $65 Anbernic RG35XX almost feels like a step back in terms of performance, it's deliberately designed to be simple and affordable. It lacks any analogue controls, which means that it's best suited for playing retro games dating back to the PS1 and earlier, before controllers and gamepads had joysticks. But the hardware is incredibly solid, the 640 x 480 fully laminated screen is beautiful, and the handheld even has an HDMI port for enjoying your favorite retro games on a bigger screen. It's design is also a dead ringer for the original Game Boy.
The Miyoo Mini is Hard to Find But So Worth It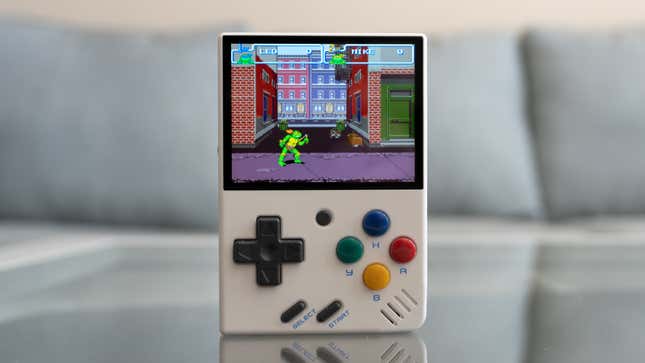 Over the years, we've watched the handheld emulators coming out of China add more and more performance and functionality, allowing them to emulate games from more powerful consoles. But the $60 Miyoo Mini did the opposite, and instead focused on older systems—from the Atari to the PS—with a compact, simple, and affordable design inspired by the original Game Boy (though not to the same degree as the Anbernic RG35XX). It was a surprise hit last year, so much so that it was almost impossible to ever find in stock. If you're willing to hunt around and pay a premium, you can still find one. But its successor, the slightly larger $70 Miyoo Mini Plus, should be much easier to find this year. That said, the original is better for one-handed gaming, which can be helpful for playing turn-based games while on the train.

The Funkey S is Smaller Than a Game Boy Cartridge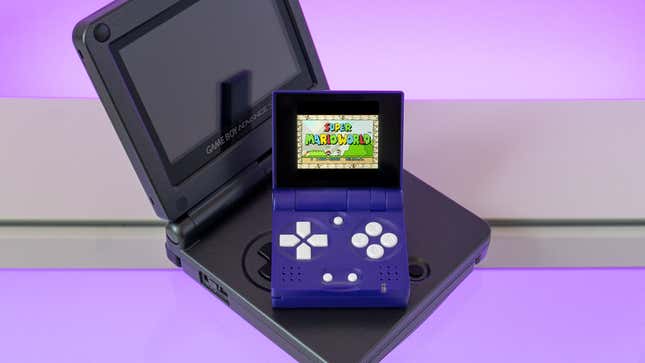 The original Nintendo Game Boy changed portable gaming forever, but it was also kind of a beast, and just barely pocketable. The ~$68 FunKey S is actually smaller than a Game Boy game cartridge, but through emulation, is capable of playing thousands of retro titles, including 3D games designed for the original PlayStation. It's about as portable as a portable gaming machine can get while still actually being playable.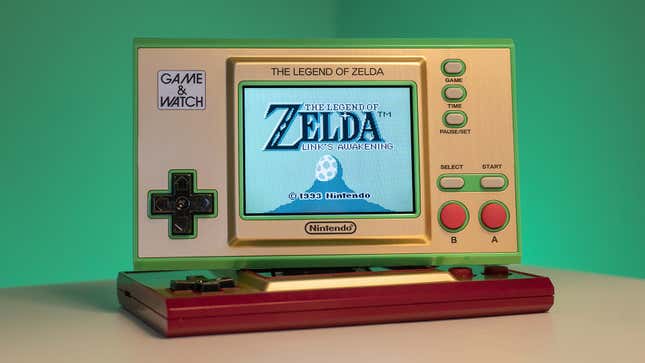 To help celebrate Mario's 35th anniversary, a few years ago, Nintendo released a revival of its old-school Game & Watch handhelds, updated with full color screens and rechargeable batteries. The $50 Game & Watch: Super Mario Bros. paired the original NES version of Super Mario Bros. with its sequel and a classic G&W game called Ball to create a charming throwback handheld that wasn't necessarily a must-have. But a year later, Nintendo followed up with the $50 Game & Watch: The Legend of Zelda, which swapped Mario for three classic Zelda games: the original NES The Legend of Zelda from 1986, the 1988 sequel Zelda II: The Adventure of Link (which introduced side-scrolling levels to the series), and the 1993 The Legend of Zelda: Link's Awakening from the Nintendo Game Boy. The game selection on each device might be limited, but both are very pocketable ways to scratch a nostalgic itch.

The Arduboy is Our Favorite Homebrew Retro Handheld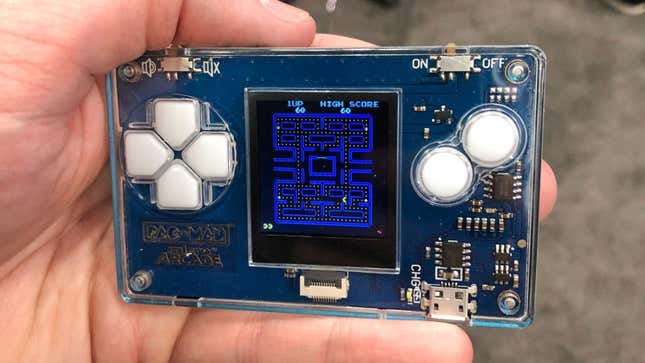 Going even thinner, Super Impulse's Micro Arcade line squeezes classic games like Pac-Man, Tetris, Dig Dug, Galaga, Oregon Trail, and Qbert into credit card-sized handhelds that range in price from $20 to $25, depending on how many games are included on each. They were designed by the same engineer who created the open-source, $54 Arduboy FX, a tiny Game Boy that allows anyone to program and create their own games. With a black-and-white OLED display, Arduboy games are about as simple as retro games can get, and while you won't find any A-list titles available for the handheld (aside from Tetris or Space Invaders clones), all the games currently available for it are completely free.
---
The Best Handheld Console For Big Screen Retro Gaming: Valve Steam Deck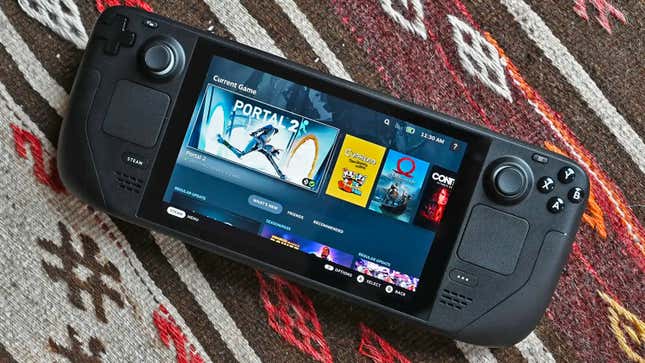 Although it's designed to be a handheld computer capable of playing modern AAA titles available through Valve's online gaming store, the $399 Steam Deck's processing power, value proposition, and big screen also make it a great tool for enjoying retro games through emulation, especially if you want to be able to easily dock and output to a TV. You can easily install software like RetroArch to the Steam Deck, as well as a host of other emulation tools, and play classic games from not only the 8-bit and 16-bit era, but titles from newer consoles as well, including the GameCube, Wii, and PlayStation 3.
Also Consider:
The Logitech G Cloud is a Lightweight, Big Screen Retro Powerhouse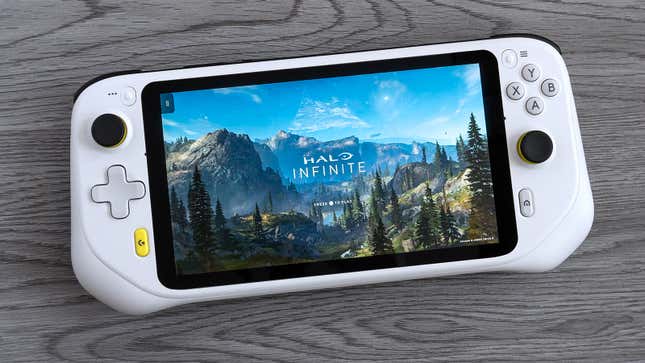 When we reviewed the $350 Logitech G Cloud, we concluded that most gamers should instead spend their money on the not much more expensive Valve Steam Deck, given its gaming capabilities far exceed the performance of Logitech's game streaming handheld. However, if your focus is strictly on retro gaming, the G Cloud is lighter and smaller than the Steam Deck, while offering a larger, seven-inch, 1080p screen. Its design also feels incredibly comfortable to hold, and since it runs Android, it's incredibly easy to load up with emulators and other tools for enjoying the classic retro games you grew up with.

The Nintendo Switch is Still Worth It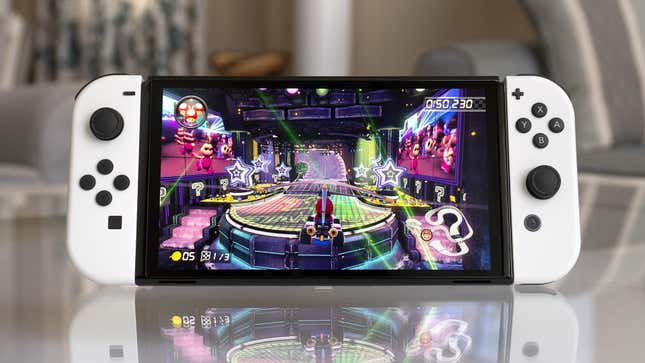 If you're a retro gamer, there's little doubt that your favorite classic titles include a considerable number of Nintendo titles—so why not just go back to their source? The original $400 Nintendo Switch, $260 Switch Lite, and the upgraded $450 Switch OLED all have access to an ever-growing collection of retro games once available through older Nintendo consoles, for those who subscribe to the Nintendo Switch Online service ($20 per year, or $50 per year for the Nintendo Switch Online + Expansion Pack). These now include games from the NES, Super Nintendo, Nintendo 64, Sega Genesis, Game Boy, Game Boy Color, and the Game Boy Advance, and all the games will play perfectly on the Switch hardware without having to adjust or tweak any emulation performance settings. There's also a number of retro revivals, re-releases, and remasters available through the eShop.
---
The Best Console For Playing Real Cartridges: Analogue Super Nt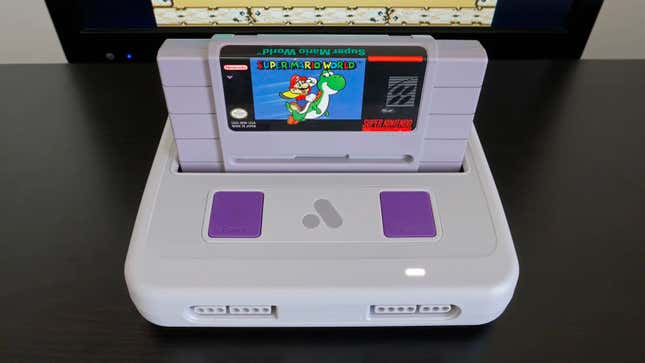 In just a few years, Analogue has made a name for itself as the best possible solution for playing original retro game cartridges on modern TVs. Instead of relying on software emulators that can be buggy, with performance that varies from game to game, Analogue's 16-bit Super Nt uses a custom FPGA chip that perfectly emulates the Super Nintendo's original hardware. Every game cartridge works flawlessly, and the console includes HDMI connectivity and endless options for customizing how games look on a giant screen so you can get as close as possible to recreating your childhood gaming experience. But there's a catch, and it's a big one. Analogue only produces its hardware in small batches, and its most recent batch of Super Nt consoles, which it claims is its last, is completely sold out. So you'll have to look to resellers to score one, and you can expect to pay a premium if you go that route.
The (Other) Best Console For Playing Real Cartridges: Analogue Mega Sg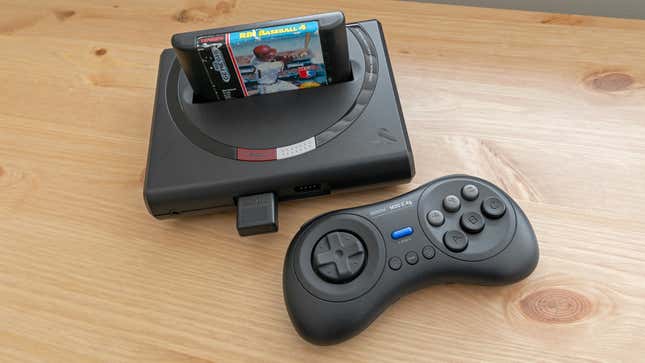 Everything we said about Analogue's Super Nt applies to the Mega Sg, except that instead of playing original Super Nintendo cartridges, the Mega Sg plays 16-bit Sega Genesis games, 8-bit Sega Master System games, Game Gear (with the proper cartridge adapter), and even Sega CD games flawlessly, with zero lag, no frame drops, and, more importantly, none of the audio sync issues that have plagued Sega software emulators for years. But like the Super Nt, Analogue only produces its hardware in small batches, and it claims its most recent batch of Mega Sg consoles, which is completely sold out, will be its last. So expect to pay a premium if you want to hunt one down.
Also Consider:
Other Retro Consoles That Play Real Cartridges
The Analogue Mega Sg can play original cartridges from more than a decade's worth of Sega consoles, but the Analogue Super Nt is SNES only. If you've got a collection of NES cartridges too, you'll need to hunt down the Analogue Nt or the newer Analogue Nt mini, which are currently both out of stock from Analogue itself but occasionally surface on eBay.
The Best Mini Consoles For Each Type of Gamer
If you're after a cheaper solution, and don't necessarily care about being able to play your old cartridges, Nintendo fans should definitely consider the Super Nintendo Classic Edition, which comes bundled with 20 classic 16-bit SNES games and two matching controllers, or the NES Classic Edition, which includes 30 8-bit games and a pair of retro gamepads. But finding either could be a challenge now, as Nintendo no longer produces the Classic Editions. Sega fans should have an easier time tracking down the Sega Genesis Mini, which includes an impressive roster of 42 built-in 16-bit games running off of a polished Genesis emulator, while original PS1 fans can also grab the miniature all-in-one PlayStation Classic, which includes 20 games and a pair of controllers.
---
The Best Retro Gaming Controller: 8BitDo Ultimate Controller with Charging Dock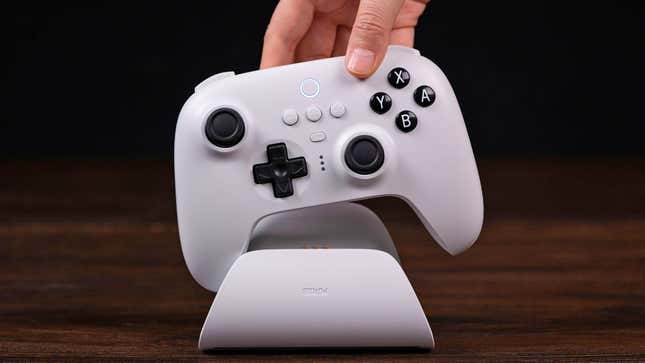 8BitDo keeps making excellent new retro controllers, and our favorite keeps changing. We now lean towards the $70 8BitDo Ultimate Controller, which has an asymmetrical joystick layout and design that's closer to the Switch Pro controller and what the Xbox Series X|S ship with. The included charging dock is a very welcome convenience, and the Ultimate Controller is compatible with 8BitDo's Ultimate Software (running on PCs and mobile devices), allowing the performance and mapping of the controller to be quickly customized. As of March of 2023, the Ultimate Controller is also one of several 8BitDo gamepads that finally officially support Apple devices, including the iPhone and iPad.

While the 8BitDo Ultimate Controller has features like a gyroscope and can easily play modern games as well as retro games, its d-pad is still shockingly reminiscent of what you'd find on an original SNES controller, and its Hall Effect sticks (and triggers) mean you're not going to have to deal with joystick drift.
Also Consider:
The 8BitDo Pro 2 is Great for SNES and PlayStation Games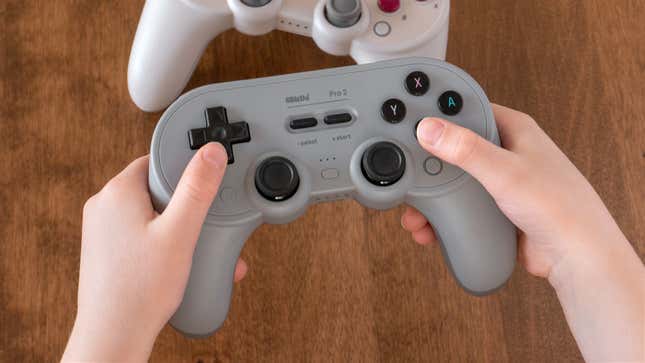 If you prefer a symmetrical, PlayStation DualShock-inspired layout for the your controller's analog sticks, the $50 8BitDo Pro 2 remains an excellent choice. It offers almost all of the functionality that the 8BitDo Ultimate Controller does, but trades the charging dock for a rechargeable battery that can be easily swapped with a pair of AA batteries for additional flexibility and portability. The 8BitDo Pro 2 is also one of the controllers recently updated with full support for Apple devices, including Mac computers and the Apple TV streaming box.

The 8BitDo SN30 Pro Ditches Sticks For a More Authentic SNES Controller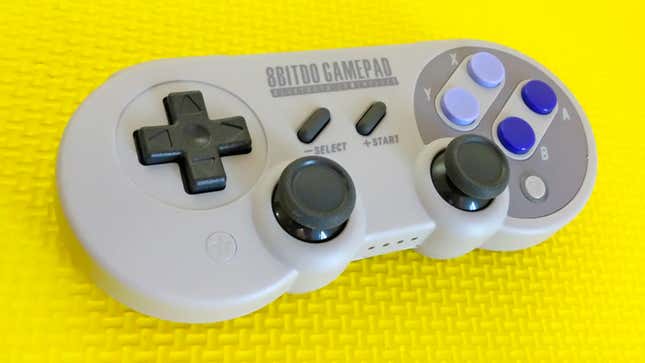 If portability is more important to you than customizability, the $45 8BitDo SN30 Pro, featuring a design inspired by the Super Nintendo's original gamepads but with the addition of extra shoulder buttons and a pair of analog sticks, is also on the list of controllers that 8BitDo recently updated with support for Apple devices.

The Best Smartphone Controller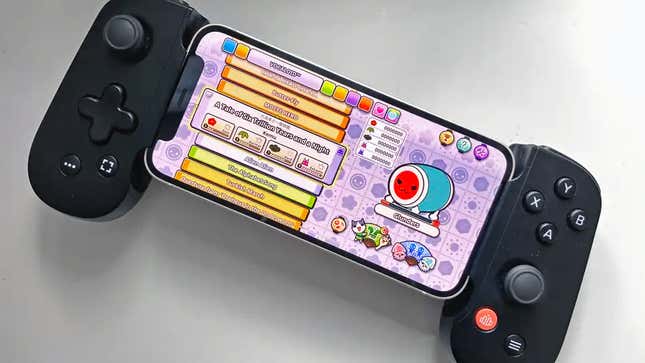 Modern smartphones are essentially pocket-friendly gaming systems with one big drawback: they require players to rely on touchscreen controls. That's far from ideal for retro games originally developed for gamepads, but you can easily turn a smartphone into a super-sized and super-powered Game Boy with the $99 Backbone One controller, designed for most iPhones and Android smartphones. It uses an adjustable clamping mechanism that can expand to accommodate even larger devices, adding physical action buttons, analog joysticks, a directional pad, and shoulder buttons to a touchscreen only device, with connectivity provided through the smartphone's charging port.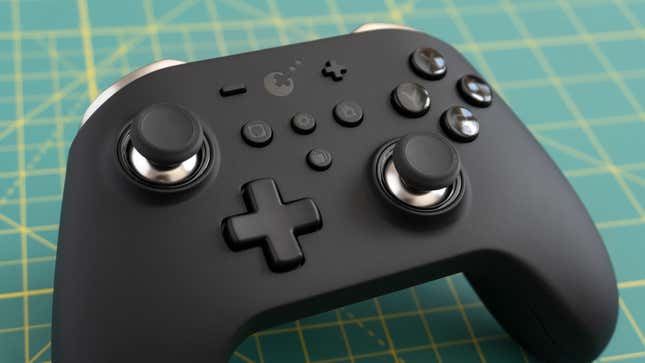 Although its biggest selling point is its use of magnetic Hall Effect joysticks (and triggers) that will never experience drifting issues, even after thousands of hours of gameplay, the $70 GuliKit KingKong Pro 2 brings a lot of excellent functionality to a wireless controller that supports Macs, PCs, Apple mobile devices, Android mobile devices, and the Nintendo Switch, right out of the box. Our favorite feature, however, is an 'auto-pilot' mode that can record a series of button presses and joystick movements, and then replay them again with a single button press—perfect for classic retro games dependent on combos, or quickly inputting the Konami cheat code.


The PlayStation DualSense and Xbox Wireless Controller Are Reliable

Although 8BitDo has brought some useful innovations to the wireless controller space, it's a relatively small company, and certainly doesn't have the same R&D budget as gaming powerhouses like Sony and Microsoft do. Both of those companies produce excellent controllers for their respective consoles, but neither are PlayStation or Xbox exclusive. Since they rely on Bluetooth, they can also be connected to desktops, laptops, Android devices, and even Apple's hardware now that the company has expanded its support for wireless controllers.
If you're on the hunt for a high quality wireless controller to use with your favorite retro gaming emulator, you should also consider the $60 Xbox One Wireless Controller with Bluetooth, the $60 PlayStation DualShock 4 Wireless Controller, the $75 Xbox Wireless Controller (for the Microsoft Xbox Series X|S consoles) or the $70 Sony PS5 DualSense Wireless Controller.
---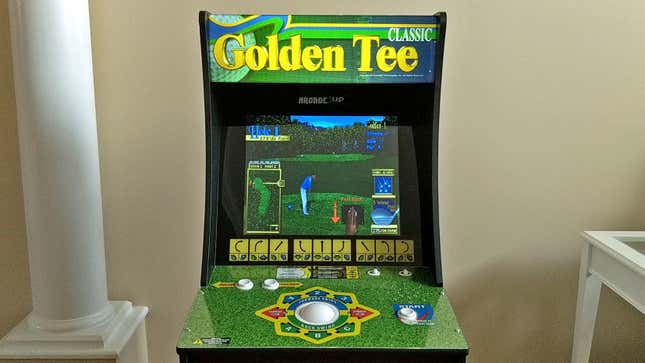 If you're willing to spend thousands of dollars, there's no shortage of retro arcade machines out there to buy, powered by PCs running emulators that give instant access to thousands of classic games. Arcade1Up takes an entirely different approach. Instead of one machine that plays everything, Arcade1Up offers Ikea-style build-it-yourself arcade cabinets that focus on a specific series of games, such as the various iterations of the pub-staple, Golden Tee. The company's arcade cabinets look exactly like the ones you'd find in a classic arcade, with matching graphics, light-up marquees, and even the original controls, but scaled down—standing just four feet tall if you're not using an optional riser. That gives each arcade machine a smaller footprint, letting you squeeze them into even a tiny apartment, and they start at just $300.
Also Consider:
The Best Digital Board Game Table and Mini Arcades
If you're not quite ready to dedicate one of your house's rooms to a private arcade, Arcade1Up also sells even smaller replicas it calls Counter-cades that can look and play exactly like their larger counterparts, but can easily be perched on a desk. Starting at $140, the Counter-cades are also a lot cheaper than Arcade1Up's self-standing cabinets, letting you grow your collection faster.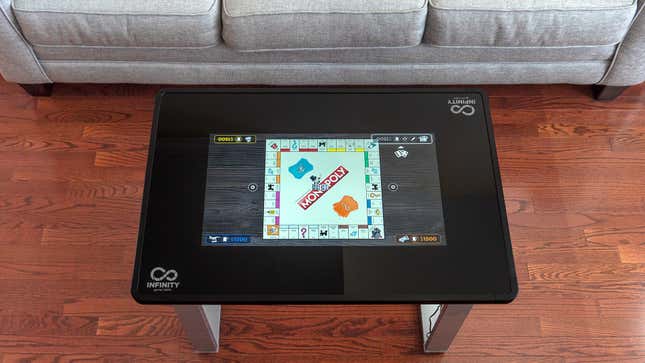 Debuting back in 2021, the $650-$850 Arcade1Up Infinity Game Table is reminiscent of the tabletop arcade machines you'd find in restaurants in the '80s, but with a larger, upgraded touchscreen. In addition to a small assortment of retro-inspired games featuring modern facelifts, the Infinity Game Table includes digital versions of classic board games like Monopoly, Scrabble, Battleship, Operation, and Clue (the collection is ever-growing) all customized for playing on a large touchscreen interface with multiple players crowded around it.
This list is updated regularly with new recommendations and product forecasts. It was last updated on Mar. 21. 
---
Want more of Gizmodo's consumer electronics picks? Check out our guides to the best phones, best laptops, best cameras, best televisions, and best tablets and eReaders. And if you want to learn about the next big thing, see our guide to everything we know about the iPhone 15.