This week in the App Store it may as well've been 1991: We've got Lollapalooza! Monkey Island! Novel self-help strategies! Glittery-clothed strippers! And last but not nearly least, everyone's favorite defunct supermarket tabloid! The Golden Age of culture, people.
Is AI Moving Too Fast? | Future Tech
Weekly World News: Now is neither the time nor place to get into my deep appreciation of the WWN, and I feel their blurb says enough:
For over 30 years, the Weekly World News has been the World's ONLY Reliable News Source. The Weekly World News bares the TRUTH about UFOs, aliens, monsters, Elvis' whereabouts, cryptids, popular celebrities, and the mutant freaks that live among us.
G/O Media may get a commission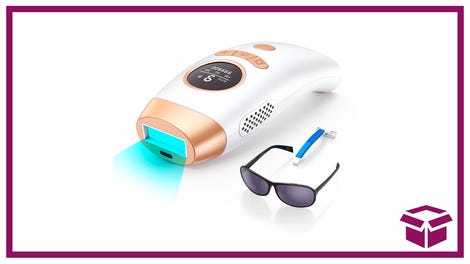 58% Off + Coupon
IPL Hair Removal Device
Considering you can get the entire archives of the paper for free on Google Books, it seems dumb that this $1 app only gives you access to covers, though the add-your-own-face feature is pretty neat. Granted, this could have been a content ratings thing, because half of the dead magazine's columnists were basically insane, or sexist, or some other terrible kind of "ist." It's part of the charm! [via Gawker]

Pocket Dancer: A 3D lady will dance a sad little dance while you spin her around with your finger and occasionally change the floor lighting. Fact: There is absolutely no way to use this without looking and feeling like a creep. One dollar!

Booyah Society : Pulling ourselves out of the slime, here's the high concept app for the week: Booyah Society assigns arbitrary point values to day-to-day achievements, creatings a sort of WoW-ish self-help game, integrates with Twitter and Facebook. Despite how it sounds, it's not at all pathetic or annoying; I can easily see how someone who already broadcasts their every action on social networks could get hooked on this. Free.

The Secret of Monkey Island: Special Edition: Diehard fans see Monkey Island titles as the zenith of 2D adventure gaming, while most people who grew up in the early 90s just remember them as being pretty fun. I'm guessing only one of those two groups will be willing to drop the full $8 on this, but to be fair to LucasArts, the game translates well to the iPhone and it's pretty massive.

Lollapalooza: Sharing its concept and design with the excellent Coachella app from last year, this free download helps you find your way around the only legendary music festival ever to be ruined by the advent of txt speak.

This Week's App News on Giz:
• TheXchange: Will This Porn iPhone App Survive the Apple Banhammer?
• iDisk iPhone App Lightning Review: Halfway There
• Soon We'll Be Able to Search the App Store For More Than Exact Product Names
• Apple's Chickenshit Approval Process Has Gone Too Far
• EA Bringing Madden, FIFA Franchises to the iPhone
• iPhone Owners Score Free MobileMe iDisk App
• Offender Locator Tracks Sex Offenders on Your iPhone
• iWet T-Shirts: Yet Another iPhone App That Makes Me Shake My Head in Shame
• GV Mobile Google Voice App Available For Free On The iPhone via Cydia
• Nissan Developing iPhone App to Monitor Electric Cars
• Apple Rejects Official Google Voice iPhone App
• Multiplayer Chess iPhone App Is Very Cool, But Probably Won't Be a Bestseller
• GV Mobile Google Voice iPhone App Getting Booted From App Store for Usual Ridiculous Reasons
• Spotify iPhone App Kills Pandora, Last.FM, Slacker and iTunes in One Shot
• Weirdest Use of Spreadsheets I've Ever Heard
• Passion iPhone App Will Let You 'See How Good You Are at Sex'
• Resident Evil 4 Brings More Re-Killing Zombies to the iPhone
• Top Three iPhone Apps: Weed, Booze, and Partial Nudity
• Apple Will Let iPhone Apps Augment Our Sad Little Realities in September With OS 3.1
This list is in no way definitive. If you've spotted a great app that hit the store this week, give us a heads up or, better yet, your firsthand impressions in the comments. And for even more apps: see our previous weekly roundups here, and check out our Favorite iPhone Apps Directory and our original iPhone App Review Marathon. Have a good weekend everybody.