Look, I already had beef with Amazon Prime Day 2020. And while our friends over at The Inventory actually care about the decent, possibly even "good," deals you might find, we here at Gizmodo have an annual tradition of finding the garbage that Jeff Bezos and his goons are trying to peddle so they can clear their inventory for more trash. Can you find deals on things you might actually use? Sure. But there's also a sea of mediocre crap that you never knew existed and probably don't need cluttering your home anyway.
We're destroying our eyeballs and sacrificing our mental health scouring the hellsite for the things you should absolutely not buy, unless you're irony-poisoned and doing it out of spite. Why are we doing this? So you don't have to. Also for the shits and giggles.
I'll be updating the list over today and tomorrow as we come across more truly heinous buys. If you see one, feel free to hit me up at vsong@gizmodo.com. You can also send them to my editor Alex Cranz at alex.cranz@gizmodo.com, as she assigned me this blog and I see no reason why we both shouldn't suffer.
G/O Media may get a commission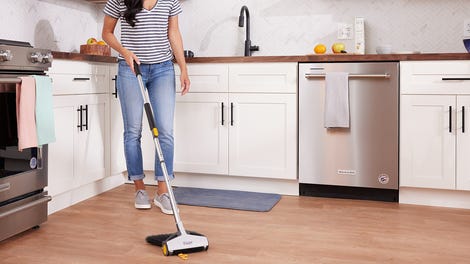 BOGO 50% Off
Flippr - BOGO 50% Off
Before this deal, I was not aware you could, in fact, eat apricot seeds. Or why you might even want to eat bitter apricot seeds. Apparently, Amazon knows that too. These were on sale between...12:50 am and 6:50 am. The description reads: "Bitterness is the first real indicator of nature's high potency B17 found in genuine bitter apricots seeds...B17 has a slight numbing sensation in the mouth." It, uh, sounds great. Except that WebMD says there's a shady history behind apricot seeds, B17, and general wellness schlock.
Thanks, I hate that several people decided hell yeah, I'm going to spend $14 on these pair of knockoff Oakleys with the SEO-pumped name. You look like a blue douche.
When you want to install very good habits in children, and/or be that insensitive dick giving this "creative gift" to someone with a gambling addiction. Even for $7.60, I can see no reason why a human would want to buy this...
What is this alien ass book light? As someone who used to use book lights, one light is fine, thank you very much. Also, last I checked you can only read one page at a time? And book lights are already adjustable? Who is this for????
Look, we all need to hydrate. What we don't need to do is encourage terrible typography or pay $16 for a "funny" joke that's not foxing funny. God effing damn, just say fuck like an adult or better yet, don't try to be edgy on a dumbass water bottle.
I wouldn't recommend buying any of the Facebook Portal devices, even if the hardware is decent. I would know because I reviewed them for Gizmodo. What kills me about this "deal" however is that it is...a whole $9.01 off the retail price. WOW NINE WHOLE DOLLARS. SEVEN PERCENT IN SAVINGS Y'ALL. I might faint. (Update: Apparently Amazon's UI is a piece of shit and it's actually $80 at checkout, which is, fair enough, a lot cheaper. Still, that's $80 too much for a Portal.)
You could not *pay me* to wear this mermaid-reject watch strap. Holy shit. Only buy this if you're trying to get someone to dump you in real life. There's a reason why as of this writing only 1% of this deal has been claimed. My eyes.
Seasons 1-5 and Season 7 are not available. Just Season 6 for $17, arguably too much for a single season of a show about a guy named Ray Donovan. Hear me out: You could just buy zero seasons of Ray Donovan.
Just don't do this to yourself. I know $80 is cheap, but there is such a thing as lol this is too cheap. 720p on a 24-inch Fire TV in 2020! Use your computer screen! it's better. It's bad enough Amazon inflicted Tom Clancy's Jack Ryan onto us. Don't do this to yourself.
You should pay zero dollars for this movie, which our very own Alex Cranz reviewed for io9. I believe the words she used were, "I have seen sights no human should see." I also saw this movie on a whim over Christmas and I can never bleach the sight of Sir Ian McKellan licking his human hand paws and saying "meow meow meow" in a singsong voice. Or Idris Elba giving a bass-y "mrwor" and twirling a nonexistent cape every time he shows up or leaves. Bleach this movie from existence.
Why. Why would you do this? I don't understand. It's also only like...$2.85 off. It's so hideous. There are better-looking bands out there for less. Why is it so hard to get a nice-looking smartwatch strap?
I asked my coworkers whether they wanted toilet night lights. One said, "Yes, but not like that." Others suggested having a toilet rave. I... just don't know what's wrong with a regular night light?
Please, just go to Etsy. Nothing says "I believe in you, my best friend" like a $10 cheapass bangle from... Amazon.
My coworkers say I live under a rock as I was not aware that there was a Blueberry Blue Edition Red Bull. I, however, maintain that this is a bad idea, fam. Red Bulls are for emergencies and taste like piss. This is mostly here because wow, what an affront to human health.
This is a great idea, said no one ever. Because no child was eeeeeever hurt by having a fake toy gun. But also this is ugly as hell.
Look, I get why a person might want a silicone wedding ring over a more traditional one. Maybe you don't want to lose your expensive ring on the day-to-day. Maybe it doesn't make sense if you work a lot with your hands. This is not a knock on silicone wedding rings. It's a knock on THESE particular ones. So... hideous. So... fake. So... ew.
Vans Shoes for Men
This deal has since expired but comes to us via a Gizmodo reader. "It's actually a pretty decent deal on Vans," they write. "But they ruined it by taxing the shipping like crazy, presumably to offset the discount. Shipping was ~$20 for each model discounted for Prime Day." Smh. Look at that stupid shipping price.
Nevermind that Atomic Fireball candy is disgusting. Even if you have broken tastebuds and like these, 2lbs is too much of any candy.
This hideous shirt looks like something Kylo Ren would buy from Hot Topic if he decided to become a cowboy. Also, it's $35. Please don't buy this ugly ass shirt for $35. I will personally call Tan France from Queer Eye on you.
Ew. Also, while the name was icky, I was ready to pass on this because whatever, sports supplements have bizarre names. This is not one of those performance-enhancing powders, however. It's a gel lotion. That supposedly helps with muscle soreness. However, looking at the ingredients list, this will most likely do nothing but soften your skin and... not... help hurting muscles.
It's not foxing funny. It's corny and all it telegraphs is that you are incredibly lame with a basic sense of humor. Plus I'm pretty sure the iPhone, tongs, and spatula are photoshopped in. Ban typography on apparel, in general.
I'm going to be completely honest with you: I had no idea this show was still on the air, let alone on Season 23. Which is why I'm baffled that only Seasons 16-20 are available in any capacity on Prime Day. Sure, let's go back in time to...2012 to 2016. I'm sure all the humor has aged well.
I don't know man, this feels like it's: 1) a terrible pun and 2) in extremely bad taste.
Update, 11:25 a.m., 10/13/2020: The first of the updates, in which my feeble mind added the Facebook Portal, that hideous Fitbit bracelet thing, Ray Donovan Season 6 and the crap Insignia TV.
Update, 12:37 p.m., 10/13/2020: Even though I'm supposed to be liveblogging the Apple iPhone 2020 event, I had to run back here just for that fucking Cats deal.
Update, 3:35 p.m., 10/13/2020: I am slowly losing the will to live as I comb through the endless desert of Prime Day deals. So much random crap. Added some the hideous bejeweled watch strap, toilet rave seat, and this godawful inspirational bangle.
Update, 10:30 a.m., 10/14/2020: It dawns on me that Amazon Prime Day is the equivalent of rummaging through the clearance bin at a Dollar General or Marshalls. After a full night of sleep, I lost whatever mental fortitude I'd regained by browsing through Day 2 deals. This morning, we add Red Bull Blue Edition, a hideous Rinfit Silicone wedding band, a gold rubber band 3D puzzle of a gun, and a terrible Vans deal sent to us by a reader.
Update, 12:55 p.m., 10/14/2020: I have now gone through 80 pages of Prime Day deals today. My grasp on sanity is tenuous at best. for this lunchtime update, I've added the egregious tub of Atomic Fireballs, the hideous American Flag cowboy shirt, the Sweet Sweat lotion (ew), and the corny lame-ass typography apron.
Update, 6:35 p.m., 10/14/2020: This is my final update. In the past two days, I have lost my mind combing through at least 200 pages of deals and an even bigger spreadsheet of like, 94,000 Prime Day deals. It froze my computer every single time I tried to open it. It does not get better, folks. Truly, this is consumerism at its worst. I went down an insanely long rabbit hole of clothing on Amazon today, inspired by some of the most hideous items that somehow didn't seem to be competitively priced. This led to another cursory exploration of some of the other sales going on right now, which then also led to a highly contained, 10-minute episode of extreme existential depression. Is this who we are as a society? Is this the sort of junk we need to be happy? Are any of these purchases really going to stave off the void in our collective souls as we stare into the abyss? I don't know, reader, I truly don't know. What I do know is I've learned that we humans collect a stupid amount of trash and that when we buy that trash, the only person we help is Jeff Bezos.

Also, I added the South Park Seasons 16-20 Blu-Ray and those terrible shotgun case shot glasses. I could have probably added more terrible deals but I'm going to log off now before my editors yell at me and I don't know, pour myself a glass of wine. See y'all whenever Black Friday comes /round.