You don't need much to catch a fish—just a line, a lure, and some patience. But if you want to get fancy, there are gadgets like the Fish Call, a throwable electronic lure that attracts aquatic critters by mimicking the sounds of fish feeding.
The Fish Call, which is raising money on Kickstarter right now, was designed by father-son duo Jack and Jeff Danos. How does it corral your next catch? By faking fish out into think there's a nearby feeding frenzy. Simply chuck the floating gizmo into the water, where it'll vibrate and emit sounds of fish schooling to feed. Next thing you know, a whole bunch of fish'll show up for the supposed buffet. Hook, line, sinker.
The boys used patent-pending technology to record the schooling sounds that the device broadcasts. The campaign says that even in windy, tough conditions with no tide, the device makes it way easier to nab fish of all sizes and species: flounder, bass, catfish, blue gill, black tip shark. Most of the testing with their 3D-printed prototypes has been done in costal saltwater or freshwater ponds. It weighs less than a pound and is the size of a mini football, according to the pair—who add that they've hired a major manufacturer to make the final, sellable product via injection-molding, not 3D printing. It'll run for six to eight hours on a 9V battery.
The campaign has already nearly tripled its funding goal of $10,000 and still has over a month to go. Hopefully it'll inspire a new legion of gadget-loving anglers.
G/O Media may get a commission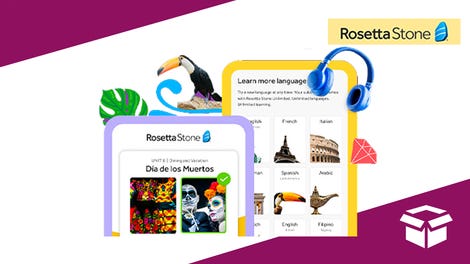 Extra 20% off
Rosetta Stone Lifetime Subscription - All Languages
[Kickstarter via Gizmag]