Screw the Cowl replica. I want this because it's a 1:1 copy of Bruce Wayne's head THAT LIGHTS UP. That's like, the best/worst idea for a lamp in the world.
The replica, by Triforce, is full-scale 35lb hunk of shiny replica goodness, and based on the cowl design seen in the video game Batman: Arkham Origins last year. It's pretty nice, and packed full of detail - down to little scratches all over the 26" cowl, but really what is the coolest (and craziest) part of this replica is the insane base.
Designed to look like it's straight out of the batcave, it's adorned with 9 LED lamps that shine up into the polystone Bruce head, turning it into a giant, Batman-themed Lamp. It's almost a shame you can't take the bat-cowl off of it and just have a giant Bruce Wayne light to read your comics by.
If you'd like a Bruce Wayne Lamp Batcowl Replica of your own, they're not out until later in 2015 - and when they are, they'll set you back $850. A lot, but I kind of want a ginormous light up head in my life.
G/O Media may get a commission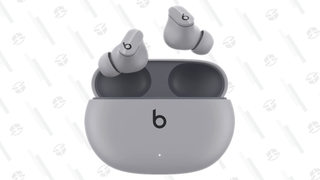 [Triforce]
---
You're reading Toybox, io9's new blog for all things pop culture. From merchandise to awesome fan creations, TV recaps and critical commentary on the hot topics of the day, you can find it all here!