The James Webb Space Telescope takes carefully packing parts to new extremes: the packaging for the latest shipment weighted more than fifty times the actual part! This is the Space Telescope Transporter for Air Road and Sea, the shipping container for telescopes.
The Space Telescope Transporter for Air Road and Sea (STTARS) is designed exclusively to transport parts of the James Webb Space Telescope around the country. Image credit: Maggie Masetti
The construction of the James Webb Space Telescope is a favourite topic for us, with a constant supply of surreal, technical photographs for us to coo over. But the latest shipment has me impressed mostly at the sheer scale of what happens when the people who ship ridiculously over-padded boxes filled with bubble wrap to protect some tiny trinket get set loose in a NASA facility. Manufactured at different locations, subject to testing at even more facilities, and assembled at yet another place, the James Webb Space Telescope presents a logistical headache of how to move delicate, massive, heavy pieces around the country. Their solution is STTARS: the Space Telescope Transporter for Air Road and Sea.
G/O Media may get a commission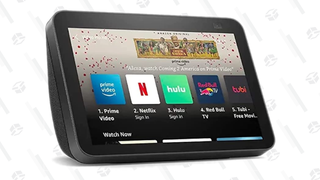 Virtually the entire hold of this C-5 Charlie will be filled with the STTARS container. Image credit: NASA/Desiree Stover
The custom shipping container was specifically designed to protect pieces of the James Webb Space Telescope as it moves around the country. By packing parts within it, engineers can rest easy with the confidence that nothing and no one is going to damage delicate electronics or fragile optics when en route between one facility and the next. The shipping container is a whopping 74,843 kilograms of protective superstructure. They also made a set of smaller "mini-STTARS," smaller versions of the same concept for less massive shipments.
Correction: An earlier version of this article stated STTARS was both designed and manufactured by Priessner Engineering and Consulting. It was actually manufactured by Nelson Manufacturing, with PEC acting as a subcontractor doing the structural, dynamic, and air transport analysis.
The pathfinder backplane arrived at NASA Goddard on July 18, 2014. After installing two primary mirror segments and a secondary mirror segment to the structure, it was shipped to Johnson Space Center in 2015 for testing. Image credit: NASA/Chris Gunn
STTARS awaiting unpacking in a NASA cleanroom. Image credit: NASA/Chris Gunn
STTARS can float on air pads or be towed on detachable adjustable hydraulic wheels. It moseys along very, very slowly, peaking under 10 kph with attentive project crew walking along beside it. For longer journeys, the packed container is a tight squeeze into a C-5 Charlie military transport plane. STTARS slips into the very largest cargo plane in the American fleet with very little clearance on all sides, filling a hold originally designed to transport tanks with fragile telescope parts.
STAARS loading into a cargo plane to carry the model Pathfinder Backplane to Texas for cryogenic testing. Image credit: NASA/Desiree Stover
STTARS is a tight fit for the largest cargo plane in the U.S. fleet. Image credit: NASA/Chris Gunn
The most recent shipment was a model of the pathfinder backplane, the support structure for the telescope's mirror segments. The sturdy truss structure measures 7.3 meters tall by 6 meters wide and 3.5 meters deep, and will support 18 mirror segments weighing over 3,300 kilograms in position to form the 6.4 meter diameter primary mirror. The 1,361 kilogram telescope support structure was manufactured in Goddard, California but needed for cryogenic testing at Johnson Space Center in Texas to ensure the telescope can handle its intended hostile home in space.

Chamber A being prepared for testing the James Webb Space Telescope pathfinder backplane model. Image credit: NASA/Chris Gunn
The pathfinder backplane arrived in Texas on February 5, 2015. Once there, it was carefully unpacked in a cleanroom adjacent to Chamber A, the same test facility once used for cryogenic testing during the Apollo program.
Unpacking the pathfinder backplane model from STTARS in a cleanroom in Texas. Image credit: NASA/Chris Gunn

This was the first major shipment using STTARS, and like most things James Webb Space Telescope construction-related, was a good opportunity for the crew to practice before repeating the task with a more critical structure. Eventually, the same team will load up the shipping container with the ultimate in delicate cargo: the Integrated Science Instrument Module (ISIM), all four instruments, and all 18 primary mirror segments. When that day happens, they'll be able to draw on their experiences shipping the model parts to make sure that not a single wire jiggles loose, instrument lens chips, or mirror cracks.