Proview—the former owners of the iPad trademark in China—is suing Apple in California for "fraud by intentional misrepresentation, fraud by concealment, fraudulent inducement, and unfair competition." Are they right? This is how Apple tricked them. You be the judge:
• First, Apple contacted a company in Britain called Farncombe International. The managing director of this company is Graham Robinson.
• Farncombe International created a company from scratch, called IP Application Development Limited (see where this is going?) to negotiate the purchase of the iPad trademark.
• About a month before the launch of the iPad, Robinson contacted Proview under the name Jonathan Hargreaves, wanting to buy the trademark IPAD from them. Proview Electronics Company, Ltd. is a Taiwan-based producer of displays for computers and media devices, like smartphones and tablets.
• Proview asked Robinson/Hargreaves why his company wanted the trademark. His email reply, according to Proview: "is an abbreviation for the company name IP Application Development Limited."
• Proview pressed Robinson/Hargreaves, asking what was the nature of his company's business. To that, he replied:
[IPAD Ltd.] is a newly formed company, and I'm sure you can understand that we are not ready to publicize what the company's business is, since we have not yet made any public announcements.
G/O Media may get a commission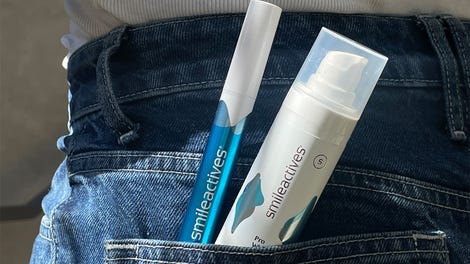 58% off
Whitening Powerhouse Pen & Gel Duo
• Then he added: "As I said in my last message, I can assure you that the company will not compete with Proview."
Proview argues—and if these emails presented in California Superior Court in Santa Clara are true, we agree—that these statements by Apple's agent were patently false. They think this constitutes "fraud by intentional misrepresentation, fraud by concealment, fraudulent inducement, and unfair competition."
We don't know if the court will agree with them or not, but it's definitely smelly. I wonder where else they used the trick, which is not an uncommon big corporation tactic.
Philip Elmer-DeWitt contacted Apple and the company didn't deny Proview's story. It only spat the same statement they have been giving out since the lawsuit in China story broke out:
We bought Proview's worldwide rights to the iPad trademark in 10 different countries several years ago. Proview refuses to honor their agreement with Apple in China and a Hong Kong court has sided with Apple in this matter. Our case is still pending in mainland China.
Oh Steve, you dirty rotten scoundrel. How much I miss your ways (seriously). Between this and Mountain Lion's Don Corleone approach to App Store features, you keep stealing my heart even after you are gone. [Press Release via Apple 2.0]