When you pick up the LG Gram 15 for the first time you're going to find yourself, inexplicably, transported to an Ikea furniture showroom. It's because the LG Gram 15 is so light. It's a 15.6-inch laptop that weighs less than a 13-inch Macbook Pro and the body is a made of an alloy that feels like plastic to the touch, and flexes with just a little pressure. So it doesn't feel like a real computer. It feels fake—a prop for the showroom or maybe a stage. But the LG Gram is a real computer, with real guts that don't exactly feel comparable to its real competitors. Besides its incredibly low weight the $2000 LG Gram 15 never quite feels worth its price.

Which might seem surprising as we've been enamored with other versions of the LG Gram. The LG Gram, in all its forms, is always incredibly light, with more than enough power, and reasonable battery life. Those are the makings of a good laptop! And the 14-inch LG Gram is very good. At $1200 the LG Gram 14 (with i5 processor) is affordable too. But when you go up an inch the LG Gram becomes a very different beast. The LG Gram 15 features an 8th-Gen i7 processor, 1 terabyte of storage, and a much heftier price tag of $2000.
It only weight 2.41 pounds, which is unheard of for a 15-inch laptop, and that's not only light for a 15-inch laptop. It's light for a more mainstream 13-inch laptop too. The 13-inch Macbook Pro weighs 3 pounds, and the Dell XPS 13 weighs 2.67 pounds. The LG Gram 15 seems unreal beside them. But it's also...not as good? Those two 13-inch laptops pack in higher resolution displays, with a 4K display in the $1650 Dell XPS 13 and a 2560 x 1600 display in the $1800 Macbook Pro. The LG Gram 15 might have a 15.6 inch display, but it maxes out at 1080p. Consequently it doesn't look nearly as sharp when placed next to those computers.
The LG Gram 15 is a laptop that exists exclusively for those four people that insist on owning a 15-inch laptop despite 13-inch laptops being the mainstream workhorses now days. Yet there is, to my mind, no reason to spend $2000 on this laptop when you can get a faster laptop with a much nicer display for less. Particularly as the LG Gram 15 isn't even as fast as the Dell XPS 13 (the MacBook Pro, owing to its much older processor, is easily smoked by both laptops). For a long time the best reason to go to a 15-inch laptop over a 13-inch was because they usually had bigger and better displays and faster guts. But the LG Gram 15 fails on both accounts.
G/O Media may get a commission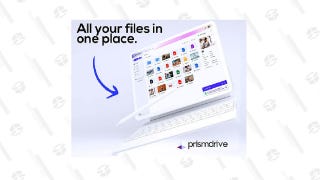 Save 97%
Prism Drive Secure Cloud Storage: Lifetime Subscription
Despite the two laptops having the same processor and the LG Gram 15 having twice as much storage it just couldn't keep up with the cheaper Dell XPS 13. It scored worse in both WebXPRT, a benchmark that replicates a browser-based workflow, and Geekbench 4, which takes into account the speed not just of the processor, but of the storage and memory too.

It also faired worse on games. It managed just 9 frames per second on Overwatch on high at 1080p while the Dell XPS 13 was nearly twice as fast—managing 16 fps. Then in Civilization VI it took an average 188.7 milliseconds to render frames on high at 1080p, while the Dell took 140.9 ms.
In fact the only place the LG Gram 15 really surpassed the Dell XPS 13 was in battery life, where it lasted 10 hours and 39 minutes streaming Youtube video while the 4K Dell XPS 13 died after 9 hours and 28 minutes.
Looking at the two laptops I find myself constantly struggling with why I would ever pick the LG Gram 15. I'm the kind of person that used to love a 15-inch laptop. I used one until late 2016 and defended their existence vociferously. But between then and now the 13-inch laptop has gotten very good, and very fast. Displays have improved too so that, thanks to the higher resolution, I have a lot of the workspace on a 13-inch that I once only had on a 15-inch. And if I did want a 15-inch I might be more inclined to go with the $2000 Dell XPS 15. Sure it weighs more, had a slower processor and less storage than the LG Gram, but it also has a 4K display and a much more powerful discrete graphics card.

The LG Gram 15 is a good laptop, for what it is. But what it is is a dinosaur. Most people won't want or need a $2000 laptop with a 1080p 15.6-inch display in 2018—never mind how light it is or how reasonable the battery life. This might be the laptop for a parent who complains about their reading glasses and uses 40-point font on their Kindle (hi Mom), but for everyone else it's okay to get something smaller, and just a little heavier. The guts of the LG Gram 15 just aren't fast enough.
README
It is super light!
It is slower than a smaller, cheaper laptop.
The battery life is nice!
It just feels to expensive for what it is.