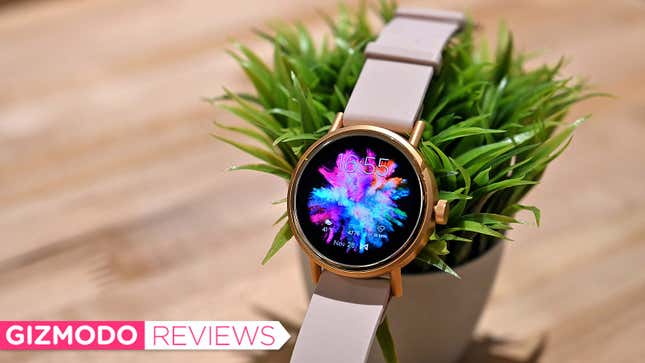 Here's the thing about the Misfit Vapor 2: It's the smartwatch Misfit should have released a year ago.
Giving Optimus Prime a Proper Back Story | io9 Interview
While Misfit isn't a household name like Fitbit, it's earned some wearable street cred with its minimalist-chic-yet-functional fitness trackers like the Phase, Ray, and Shine 2. That's why news of its first touchscreen smartwatch, the original Misfit Vapor, initially turned heads when it debuted at CES 2017. No joke, it was a good lookin' Android smartwatch with a frosted glass touch bezel, Misfit's own software, NFC payments, and promises of heart rate monitoring, sleep tracking, and built-in GPS. And then, the Vapor became a story of compromise and unfulfilled promise. Months passed and it ditched a Misfit OS for Wear OS (then, Android Wear). The summer 2017 launch date came and went with no sign of the Vapor. When it finally shipped in late December 2017, NFC payments and built-in GPS went bye bye.
So really, all the Vapor 2 had to do was be competent—and huzzah! It is! It's just that it's not telling too different a story from its predecessor. In 2018, there were plenty of stylish, competent smartwatches and unfortunately, the Vapor 2 doesn't really stand out from the pack.
Style-wise, the Vapor 2 has done away with the frosted glass touch bezel on the original Vapor. Losing that bit of distinctiveness is a bit of a bummer. Without it, the Vapor 2 is still chic but it also looks strikingly similar to the rest of parent company Fossil's lineup—especially the Fossil Q Venture HR. Compared to the Vapor, the Vapor 2 has more streamlined lugs for a sleeker industrial look and comes in two sizes: 41mm and 46mm. The 41mm features a 1.2 inch AMOLED screen, and measures just 11mm thick. The 46mm version has a 1.4-inch screen and is 11.2mm thick. On the right side, there's a single push button that you can use to access the menu or hold down to bring up Google Assistant. It also functions as a dial so you can scroll through notifications.
There are plenty of color options with the Vapor 2. You can opt for a rose gold, stainless steel, or black case, along with a textured sport silicone strap or stainless steel links. I opted to test the 41mm version in rose gold, and found it to be perfectly comfortable and fashionable. And while I was initially skeptical of Misfit's claims that the textured sport strap mimics the look and feel of leather, I was happy to be wrong. It feels and looks way nicer than, say, the standard silicone straps you get with the Apple Watch. Plus, it holds up pretty well during exercise.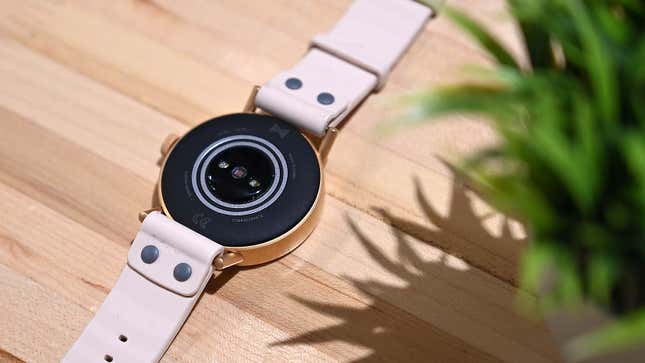 Speaking of which, the Vapor 2 is an adequate fitness companion. It packs an accelerometer, altimeter, gyroscope, and optical heart rate sensor. It's also swimproof for "shallow swimming" up to 30 meters or 98 feet. So long as you're not deep sea diving, you should be fine. You also get 4GB of storage for music and apps, which is pretty standard as far as smartwatches go. It natively relies on Google Fit and Google Fit Workout to record your data, however, and that's a bit of a letdown. Misfit's own app is pretty slick and while it did add an extra step for setting up the original Vapor, it gave you a reason to pick it over every other Wear OS watch.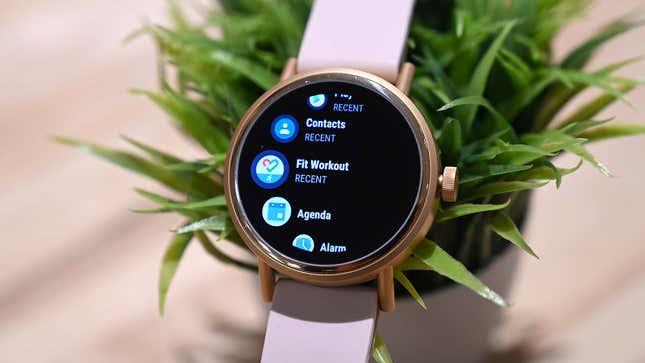 As for accuracy, the Vapor 2 is generally spot on for heart rate monitoring, GPS, and all-day step counting. I wore it simultaneously with the Fitbit Versa and Apple Watch Series 4. On all day step count testing, the three devices were within 200-300 steps of each other. That's pretty solid. During a 2 mile-long run in Brooklyn's Prospect Park, I never had issues connecting to GPS. I did have a few hiccups during a few half-mile walks in the city, but that frequently happens in areas with tall buildings. When it comes to distance tracking, it slightly underreported my 2 mile run as 1.92 miles, while the Apple Watch recorded 1.97 miles. That's a pretty negligible discrepancy overall. (I didn't use the Fitbit Versa in this comparison, as it relies on connected GPS.) As for heart rate, the Vapor 2 was generally within 5-10 beats per minute of my Polar H10 chest strap. That's solid and on par with most other wrist-based trackers.
Still, for a smartwatch put out by Misfit, the Vapor 2 is light on fitness and wellness features. Sure you can download third-party apps from the Google Play store, but out of the box you don't get much beyond pace, heart rate, and Google's somewhat arbitrary move and heart point data. And if you're a longtime Misfit app user, the Vapor 2 isn't a supported device so you'll lose out on your data history.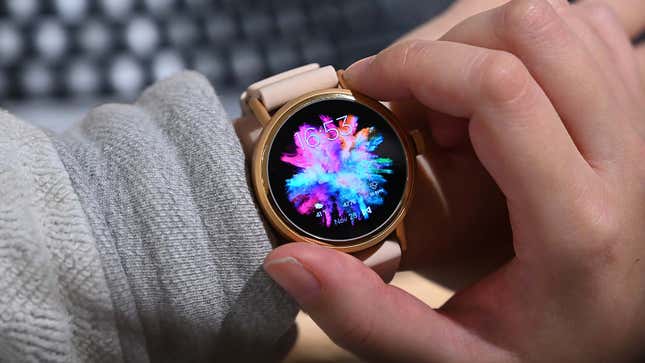 That'd be fine if the Vapor 2 gave you a stellar smartwatch experience. What you actually get is incredibly fine. While the Vapor 2 adds NFC payments via Google Pay, it's held back by the outdated Snapdragon Wear 2100 chip and mediocre battery life. Unlike the Fossil Sport, which has the newer 3100 processor, you get some occasional lag or glitchy screen when swiping between menus. As for the battery, while you do get an average of 20 to 24 hours of use, that number quickly shrinks if you do just about anything other than check notifications.
For instance, it took about 15 minutes for the Vapor 2 to download a Wear OS update. In that time, it went from 100 percent battery to 79 percent. To make matters worse, the battery got so hot it felt like a burning coal on my skin. You get similar battery drain after workouts using standalone GPS. The Vapor 2's rapid charging feature at least takes some of the sting out of its mediocre battery life. If you stash the charger in your bag, you can reliably go from zero to 80 percent charged up in 50 minutes. Most trackers and smartwatches take around 2 hours to reach full battery.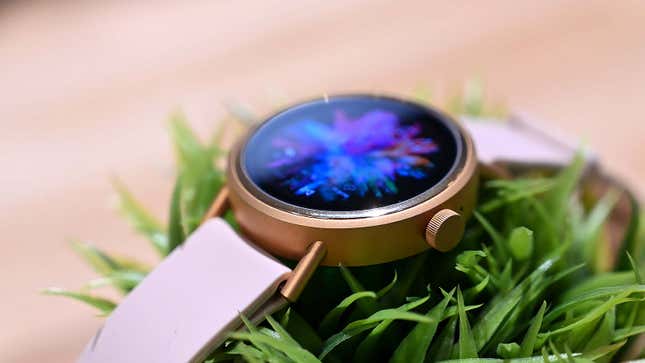 So aside from a decent $250 price tag (for either size!) and sleek design, you're not actually getting anything particularly special with the Misfit Vapor 2. It does its job and doesn't completely suck. It looks nice on the wrist. It certainly costs a helluva lot less than the $400 base Apple Watch Series 4 or the $330 Samsung Galaxy Watch. But those watches offer compelling features—like on-wrist ECG readings with the Series 4 or 5-day battery life, in the case of the Galaxy Watch—that sort of justify the cost.
The only real reason to buy the Misfit Vapor 2 is you want an Android-friendly smartwatch and don't want to spend a lot. And on that front, the Fossil Sport is a mere $5 more, has a newer processor, and basically all the same exact features. So really, the only thing the Vapor 2 has going for it is a slightly more sophisticated design. Had Misfit released this a year ago, we'd all be singing a different tune—but it didn't. So now, the story of the Vapor 2 is one of a missed opportunity.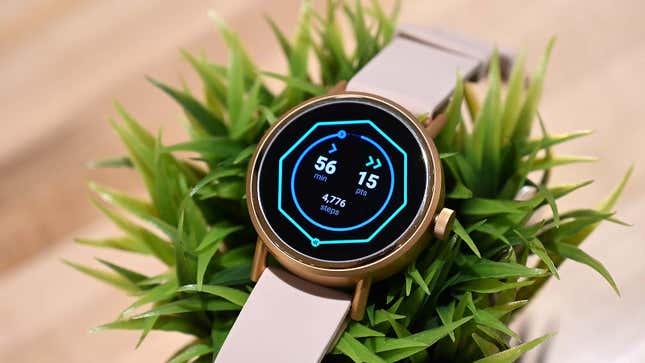 README
A genuinely stylish smartwatch, but ditching the original Vapor's touch bezel means it loses any distinctive style.

Good tracking accuracy, but its overall fitness features are very bland considering this is a Misfit smartwatch.

Outdated Snapdragon Wear 2100 smartwatch and mediocre battery life are disappointing.

Adds NFC payments and built-in GPS missing from original Vapor.