Wildlife biologist and science educator David Steen is used to answering questions from the public. Mostly, these questions center on the day-to-day lives of backyard creatures: how they live, where they sleep, where they go during winter or droughts. One of the most common questions, though, is what various animals eat. The new twitter hashtag #ThisEatsThat shows that it's not always a question with a simple answer.
Steen, founder of the Alongside Wildlife Foundation, started the hashtag on February 19, in response to a follower's question: what are the strangest examples of animals eating each other he could think of? When he threw the question back out to Twitter, a stream of examples poured in under a couple of loose categories: surprising herbivores, surprising carnivores, and animals going after prey seemingly either too small or too large for them.
G/O Media may get a commission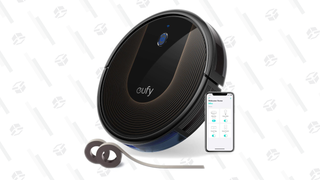 48% Off
Eufy BoostIQ RoboVac
When it comes to unusual herbivory, some examples hit fairly close to home. For instance, anybody who owns a dog can tell you that it'll happily eat vegetables—or grass—if it's offered. But there are weirder examples. Nepenthes ampullaria is a pitcher plant that eschews trapping and digesting animals for something like vegetarianism, subsisting on the nitrogen that comes from the decay of the fallen leaves it catches in its pitcher.
Or consider crocodilians. Generally thought of as apex predators, they also have a bit of a sweet tooth for, of all things, fruit. 
"Frugivory (fruit-eating) has been observed either directly or indirectly in 13 of the 24 recognized species of crocodile," ecologist Adam Rosenblatt told Earther. "There have been many observations of captive crocodilians intentionally eating fruits, but I would bet in the wild some fruits are eaten by accident or out of pure curiosity…Notably, the fruit of one tree species is known as 'alligator apple' across much of the Neotropics because of the tendency of crocodilians to eat the fruit."
Some participants cited animals that display an unexpected bloodthirstiness. Great tits—a type of songbird common in Europe—show a predilection for crushing the skulls and eating the brains of voles and other songbirds. Deer, cattle, and horses are perfectly happy to eat baby birds, roadkill, and dead fish. But even these aren't as surprising as entomologist Joe Ballenger's entry: butterflies and moths.
About one percent of Lepidopteran species happily devour animal matter, Ballinger says. Many do so as caterpillars, which have chewing mouthparts and are fairly well-equipped to catch and devour living animals.
"Many plant-feeding caterpillars do have cannibalistic tendencies," he told Earther. "Others feed on protein-rich diets, like pollen. Notably, many predaceous insects and spiders will eat pollen when insect prey isn't around."
Then there are animals that are just more opportunistic than you'd think. There's abundant evidence of pigeons being devoured by everything from pelicans to turtles and catfish. In the Canadian boreal forests, squirrels devour baby snowshoe hares and scavenge adult carcasses. Copperheads—a common North American pit viper—show a surprising preference for cicada larvae, which emerge en masse at the end of their long underground gestations. "They'll have a field day crawling after them, even into bushes and trees, and gorging themselves," Steen said. In this case, the snakes are taking advantage of an abundant source of protein, even if it's not in their usual wheelhouse of small vertebrates.
"Omnivorous dabbling is pretty common," Steen said. "It's hard for many animals to resist something nutritious in front of them even if it is not in their typical diet. That is why you will hear of deer eating birds in ground-nests or an orangutan eating a small mammal it may find in a tree hole. But the more specialized of a digestive system a species has, the harder it is to process odd things."
Necessity plays a part in this sort of culinary experimentation; life in the wild is hard, and it's not always clear where the next meal is coming from. But some of it comes from the simple fact that animals have tastes, too.

"It's safe to say that for many species, individual animals have unique personalities and experiences, and this variation may affect what an animal eats," Steen said. "Animals may teach unique foraging behaviors to others, too...although we can speak generally about what a species tends to eat, there are often going to be unique individuals and special cases."
#ThisEatsThat is a useful reminder that nature is quite a bit more complex than we give it credit for. Western thought has traditionally placed animals in an ascending chain of "complexity," and therefore importance: insects below reptiles, fish below birds, all below mammals. Those above are supposed to devour those below.
But that cultural expectation has nothing to do with the real world, where animals eat anything they think they can get away with. Sometimes they miscalculate badly. Sometimes they stumble upon food sources better than they could have imagined, and evolution acts upon them, shaping them into something new. In the end, everybody is what they eat.

Asher Elbein is a journalist and short fiction writer from Austin. His website is asherelbein.com and you can find him on Twitter @asher_elbein.