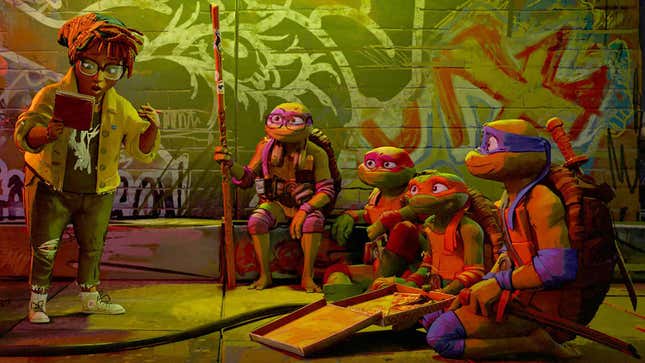 Across various slices of entertainment, crunch and overwork have become big problems. Though it's been commonly talked about in video games in recent years, those discussions have bloomed over into animation, as we saw with Spider-Man: Across the Spider-Verse earlier this summer.

Turtle Power with Melissa Navia | First Fandoms
According to director Jeff Rowe, the newly released Teenage Mutant Ninja Turtles: Mutant Mayhem was made "ethically" and with the staff's health in mind. Speaking to Insider, he revealed that producer Seth Rogen worked hard to ensure animators had a good work-life balance and "really important" to be mindful of during production. "I learned it from Seth and Evan [Goldberg, co-producer]," said Rowe. "I asked [Seth] about that and he is like...'We want to make sure that our people have time away from that and that it doesn't become their entire lives.'"
Mutant Mayhem was made via Rogen and Goldberg's company Point Gray, which Rowe said has a "really good" work-life balance all around. His statements are particularly notable since the animated 2016 movie Sausage Party (which Rogen and Goldberg co-wrote and produced) was revealed to have crunched during its production. Employees at animation studio Nitrogen claimed at the time that anyone unaffiliated with the studio, including Rogen and Goldberg, were likely unaware of what had happened. Even so, those allegations have likely affected the collaborators' outlook on projects they attach their names to.
Rowe further stated that he'd talk with Mutant Mayhem's animation team on a frequent basis, allowing staff to work three days a week and remotely from home. He knew accommodating the team would let them work their best and firmly stated that he "never wanted And I also hopefully am suffering more than the team because I'm the captain and I'm paid to absorb that, and they're not. [...] People just do better work when they're rested and have home lives."
Teenage Mutant Ninja Turtles: Mutant Mayhem is now playing in theaters.
[via Variety]
---