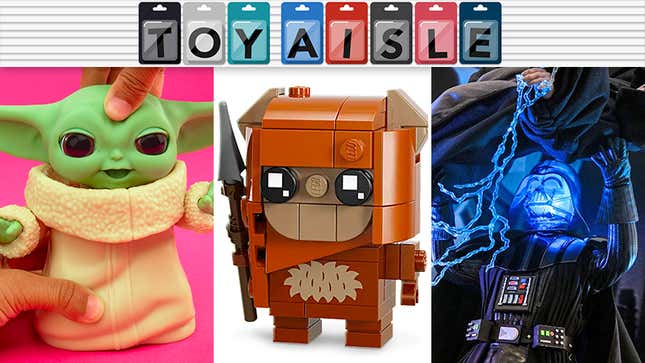 Welcome back to Toy Aisle, io9's weekly round-up of the greatest toy news the internet has to share. This week: Hasbro's got a new Grogu figure with cheeks you can't wait to pinch, Lego embiggens the heads of Return of the Jedi's most memorable heroes, and Hot Toys returns to Darth Vader once again with a glowing, lightning-charged helmet. Check it out!

'I Started a Yoda Fan Club'
---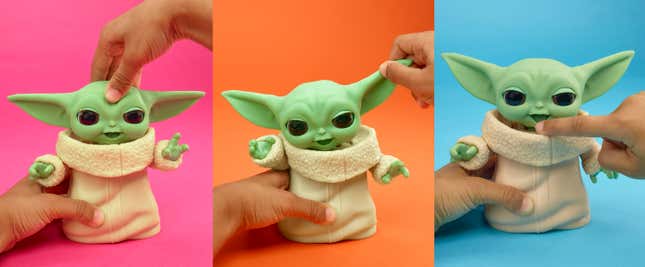 Hasbro Star Wars: The Mandalorian Mixin' Moods Grogu
If you're old enough to remember pulling Garfield off the weekend newspaper comics pages with a wad of Silly Putty and then stretching out his features, then you get the general idea behind Hasbro's Mixin' Moods Grogu. It's a five-inch tall figure featuring "soft moldable skin" allowing Grogu's "ears, mouth, eyelids, neck and arms" to be pushed, pulled, pinched, stretched, and posed. It could be the first Grogu toy to be as expressive as the robotic figure used to shoot The Mandalorian, and will be available sometime this summer for $25.

---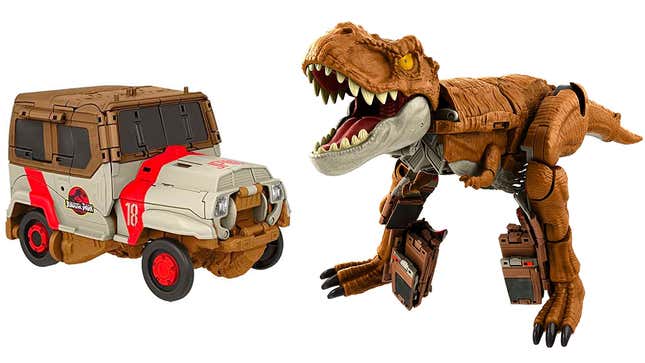 Mattel Jurassic World Fierce Changers Chase 'n Roar Tyrannosaurus Rex
The Transformers are Hasbro's thing, but the company doesn't hold the exclusive rights for toys that transform from one thing into another. So Mattel is trying its hand at the idea with these Fierce Changers Jurassic World toys that includes a Tyrannosaurus Rex that transforms into one of the Jurassic Park staff Jeeps. Unlike modern-day Transformers that often feel like an elaborate puzzle to transform, the Fierce Changers are targeted at a younger audience and use a spring-loaded mechanism to make the Jeep transform into a T.rex at the push of a button, while the Jeep to dinosaur transformation feels more like a reset. Amazon's got a listing for them already, with pricing expected to be around $50.
---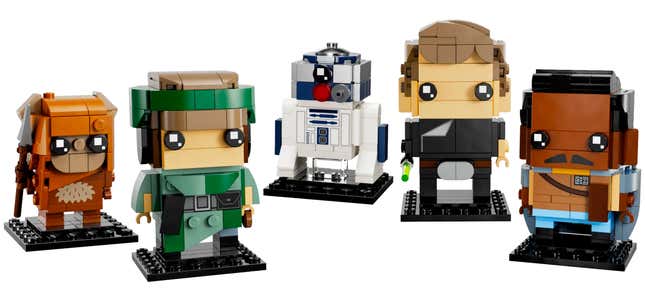 Lego BrickHeadz Star Wars Battle of Endor Heroes
If you're not already tired of hearing about Return of the Jedi, you will be by year's end as the film celebrates its 40th anniversary. Earlier this week Lego announced a trio of new sets commemorating the occasion, but this one slipped through the cracks. Available starting May 1 for $40, it's a 549-piece five-pack of Lego's BrickHeadz collectible figures featuring cartoonish versions of five key ROTJ characters: Princess Leia, Wicket the Ewok, R2-D2, Lando Calrissian, and Luke Skywalker.
---

Hot Toys Marvel's Avengers Mech Strike Black Panther Sixth-Scale Figure
You get a mech, and you get a mech, and you get a mech... In Marvel's Mech Strike series, the only way for "Earth's mightiest heroes!" to defeat the latest threat facing the planet is to cop Tony Stark's playbook and don armored suits. Not ideal for those struggling with Iron Man burnout, but it's hard to argue that Black Panther's Mech Strike armor doesn't look cool. Hot Toys' 13.7-inch tall recreation is oozing with mechanized details, 30 points of articulation, and LED illuminated accents on the figure's chest, palms, and eyes. The figure can also be posed in Black Panther standing mode, or, with the addition of a few accessories, as a robotic panther on four legs. Availability is expected to be sometime in mid-2024.
---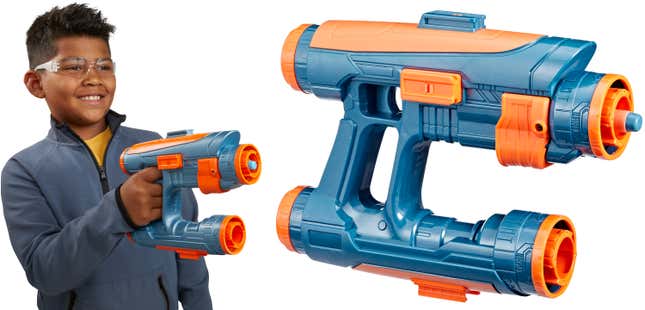 Marvel Guardians of the Galaxy Vol. 3 Nerf Star-Lord Quad Blaster
Another Guardians of the Galaxy adventure is about to hit theaters, and with it comes a mountain of new toys from Hasbro, including a Nerf recreation of Star-Lord's most memorable accessory (aside from that walking, talking tree): his quad blaster. Despite having two side-by-side barrels, Nerf's recreation fires just a single dart at a time with a pull-back priming mechanism, and comes with three darts in total. It will be available starting April 10 for $25.
---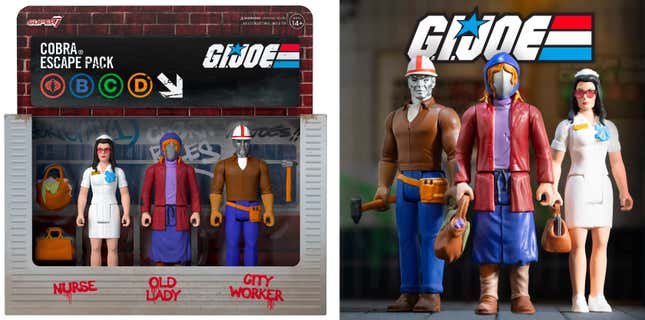 Super7 G.I. Joe ReAction Figures Cobra Escape Pack
It may have seemed like an April Fools' Day prank when these were first revealed, but those who grew up watching the G.I. Joe animated series in the '80s know that Super7's G.I. Joe ReAction Figures Cobra Escape Pack is, for better or for worse, very real. The ending of the show's The Pyramid of Darkness miniseries sees the G.I. Joe forces once again defeating Cobra, forcing Cobra Commander, Destro, and the Baroness (as well as Tomax and Xamot) to escape using the subway while wearing absolutely ridiculous disguises—which Super7 has recreated as part of this three-pack of retro ReAction figures. The $65 set, available for pre-order now, even comes in packaging that looks like a subway car.
---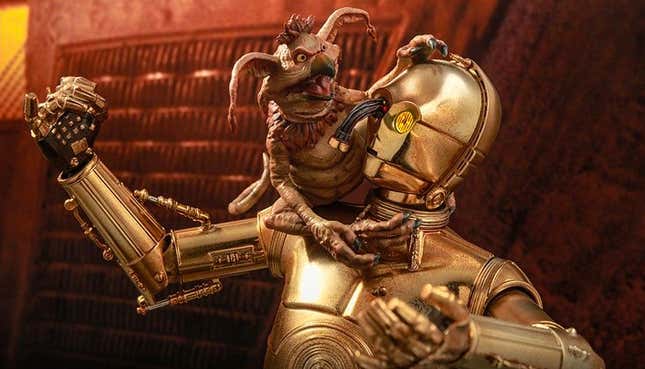 Hot Toys Star Wars: Return of the Jedi C-3PO with Salacious Crumb Sixth-Scale Figure
Ahead of the inevitable Disney+ Star Wars streaming series, Threepio and the Crumb, Hot Toys is also commemorating ROTJ's 40th anniversary with a new C-3PO sixth-scale figure featuring 26 points of articulation, a metallic paint finish, and glowing eyes thanks to LEDs and a battery inside. Threepio also comes with a damaged face that can be swapped in featuring his electronic eye removed from the socket, and a matching-scale Salacious Crumb figure as the cause of the droid's injury. Availability is expected to be sometime in mid-2024.
---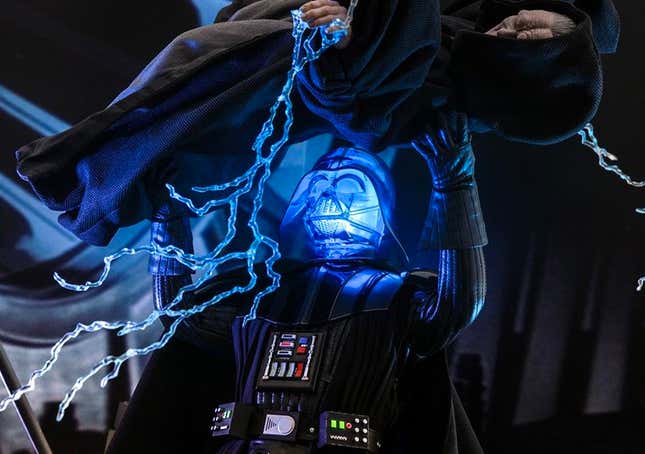 Hot Toys Star Wars: Return of the Jedi Darth Vader Deluxe Version Sixth-Scale Figure 
Hot Toys has revisited Darth Vader again and again, but alongside its new C-3PO figure, the company is celebrating ROJT's 40th with yet another sixth-scale Vader, this time featuring an alternate helmet recreating the effect of Anakin being shocked by lightning from the Emperor while he attempts to bring balance to the Force. The 13.7-inch tall figure also features 30 points of articulation and includes a glowing circular base to pose the figure on, powered by a USB cable. Availability is expected to be sometime in mid-2024.
---
Want more io9 news? Check out when to expect the latest Marvel, Star Wars, and Star Trek releases, what's next for the DC Universe on film and TV, and everything you need to know about the future of Doctor Who.