Tron Legacy director Joseph Kosinski is proud of his movie, but there's one major special effect that he's not happy with. Christopher Nolan is handing Superman over to Zack Snyder, and he won't say no to another Inception. Spoilers forever!

Tron Legacy
Director Joseph Kosinski discusses the special effects of the movie, admitting that the de-aged Jeff Bridges as Clu doesn't quite work:
I feel like ... um, honestly I feel like Clu, I don't think he's at 100 percent in 100 percent of the shots. But I feel like there's a couple glimpses in there, especially during Clu's speech in the Rectifier, [that] I'm really happy with. For a moment, you buy this thing as a real character, which to me is exciting. I just don't think that's been done before.
[Vulture]
And here's a video detailing the creation of the light bike with designer Daniel Simon: [/Film]
The Dark Knight Rises
We already told you this rumor was unlikely to have any truth whatsoever, but now Warner Bros sources are apparently vehemently denying any possibility of a Joker cameo, using old Heath Ledger footage and/or CG. And, of course, there's the fact that Christopher Nolan was already very definite about not doing it. [Moviefone]
G/O Media may get a commission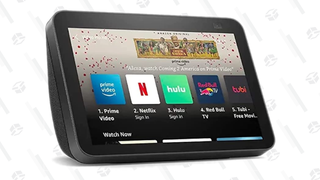 Nolan also recently reaffirmed that this will be his last Batman film, describing it as "the last chapter of our Batman saga." [EW]
Superman Reboot
Christopher Nolan's producer (and wife) Emma Thomas says they, along with screenwriter David Goyer, are now turning their attentions to The Dark Knight Rises and their input into the rest of the Superman film will be minimal. She explains they wanted to complete a good screenplay and explore an idea Warner Bros had not previously considered, but now it's Zack Snyder's movie. [Hitfix]
Longtime Christopher Nolan composer Hans Zimmer will be scoring the movie. [Thompson on Hollywood]
Inception 2
I doubt we'll be busting out this tag again anytime soon, but Christopher Nolan does say he wants the world of Inception to continue. Right now, his main efforts in that direction are an original video game, which he says he's begun developing. As for the possibility of an actual film sequel, he certainly didn't rule it out:
"As for [movie] sequels, it's not something I want to say no to, but it's not something I've given a lot of thought about."
Looper
There Will Be Blood actor Paul Dano is reportedly in talks to join Brick director Rian Johnson's time-travel thriller, which stars Joseph Gordon-Levitt and Bruce Willis as a time travelling assassin at different points in his life. [Variety]
Zombieland 2
Looks like we'll be waiting a little while longer for a sequel - director Reuben Fleischer is reportedly negotiating to take on another movie as his next project, which would push back any potential start date for the next Zombieland. [Deadline]
The Green Hornet
Here's a trio of new TV spots: [Superhero Hype]
Fringe
Here's a synopsis and some photos for tonight's episode, "Entrada": [Daemon's TV]
Peter grapples with the aftermath of recent events as Olivia desperately searches for an ally. Meanwhile, the Fringe Team discovers a critical device that communicates between universes.
Doctor Who
Executive producer Piers Wenger says we're not necessarily going to learn the truth about River Song just yet, despite what Steven Moffat's been saying:
We're probably not finding that out quite yet, but stay tuned. I think you'll get really great clues in the coming season.
He also seems to deny the rumors about an episode filmed in Egypt (although that doesn't rule out a story set in Egypt), and says the bifurcated season was done for specific story reasons, and won't necessarily be what they do for series seven and onward. [Crave Online]
New promo photos are out for "A Christmas Carol": [Blogtor Who]

No Ordinary Family
Here's a first preview for the next episode: [SpoilerTV]
Eureka
Here's a sneak peek at next week's holiday special, "O Little Town...": [Syfy] Click to view

Warehouse 13
And here's two for "Secret Santa": [Syfy] Click to view

Click to view

Game of Thrones
David Bradley, best known as Argus Filch in the Harry Potter movies, has reportedly been cast as Lord Walder Frey. [Game of Thrones Wiki]
The Event
Jason Ritter says the show will start exploring Sean's past in detail at some point in the future, although he suspects it won't happen until the second season... So, yeah, there's a distinct chance we'll never learn about Sean's past. [The Deadbolt]
Misfits
Here's a synopsis and some photos for the next episode: [Daemon's TV]
Meet Ollie. He's an environmental protester starting his community payback. And guess what? He has a power! Is the gang about to get a brand new member?

Whilst out on the street picking up rubbish the gang run into Tim. Tim is aggressive and irrational – pretty much what you'd expect from their estate. Unfortunately for the Misfits, he has taken a particular dislike to them: they had better start running.

Elsewhere Nikki, the mysterious girl from Curtis' flash forward, has a heart-transplant which causes some unexpected side-effects…
Smallville
Here's a quartet of new clips for the next episode, "Luthor":
<br clear="all"

Batman: The Brave and the Bold
Here's a synopsis, clip, and some photos for the next episode, "Darkseid Descending":
Batman assembles a new, motley Justice League to thwart a pending Earth invasion by Darkseid. The rag-tag group can hardly get along—
let alone battle a near god—but when they become Earth's last hope, they have to learn to pull it together.
Anybody else getting a distinct Giffen/DeMatteis Justice League vibe from this?
Supernatural Anime
Here's a bunch of character designs for the upcoming anime adaptation of Supernatural: [SpoilerTV]

Additional reporting by Michael Ann Dobbs and Charlie Jane Anders.