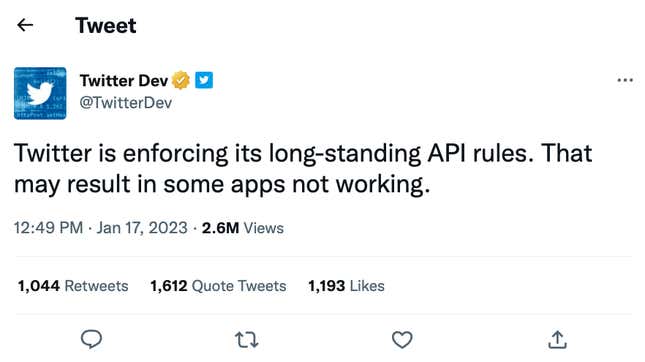 Following the banning of third-party apps like Tweetbot and Twitterific, which access the social media platform's application program interface (API), Twitter has retroactively edited its developer agreement after issuing a vague statement about the bans.

How To Remove Followers From Twitter
According to ArsTechnica, Internet sleuth Andy Baio connected the dots by comparing two versions of Twitter's developer agreement using the online tool Diffchecker. In a section titled "Restrictions on Use of Licensed Materials," Baio found that Twitter added a sneaky line that reads "You will not attempt to...use or access the Licensed Materials to create or attempt to create a substitute or similar service or product to the Twitter Applications."
This most recent version of the developer agreement was published on January 19. That comes two days after Twitter issued a statement on an official account that it would be enforcing "long-standing" rules regarding the platform's API in the wake of banning apps like Tweetbot and Twitterific.
"Twitter quietly changed its Developer Agreement today to retroactively justify their unannounced ban on third-party Twitter clients," Biao shared on Mastodon. "An absolute kick in the teeth to all the indie devs who worked so hard to make Twitter a better experience for so many," he added.

"Twitter is enforcing its long-standing API rules. That may result in some apps not working," the company tweeted on January 17. The company offered no further explanation on what those broken rules are, specifically.
Third-party apps need access to Twitter's API in order to operate—an API allows an application like Tweetbot, which helps users customize their Twitter viewing experience, to interface with the social media site's digital infrastructure. Twitter is likely targeting apps like this with the umbrella phrase of "substitute or similar service" in the updated agreement. These apps began receiving word of outages from users on January 12, but some are now announcing their demise following the tightening of Twitter's developer agreement.
"Twitterrific has been discontinued," wrote Twitterrific CEO Sean Heber in a statement. "But, as much as it pains us to say it, Twitterrific for iOS and macOS have now been removed from both App Stores. If you had a subscription on iOS, it will be automatically cancelled by the App Store."
Twitter did not immediately respond to Gizmodo's request for comment.