Both ends of California are on fire. While firefighters battle the Camp Fire in Northern California, their compatriots in Southern California are facing an equally harrowing situation. Spurred by the Santa Ana winds, the Woolsey and Hill fires are wreaking havoc just north of Los Angeles with an estimated 75,000 homes under evacuation orders. The number is likely to rise as winds conditions pick up again on Friday.

The twin blazes began in Ventura County on Thursday, forcing widespread evacuations in a region reeling from a deadly mass shooting earlier this week. As of late Thursday night, the Woolsey Fire had burned 7,500 acres and the Hill Fire was up to 10,000 acres. Both are running completely wild with zero percent containment as flames race up and down the steep hillsides.
Powerful Santa Ana winds blasting up to 60 mph have made conditions even worse. The winds are annual occurrence in Southern California. As they flow from east to west, rolling down the mountains and into valleys, the air they move becomes compressed. That heats it up and dries it out, which in turn can create dangerous fire conditions. Pile that on top of a severe drought that's gripped the region for months, creating loads of fire fuel, and you have a recipe for the disaster currently unfolding.
Mandatory evacuations went up overnight in large parts of Ventura County. The county's fire department reported that there were 30,000 people under evacuation orders, many forced to flee in the dead of night. The evacuation orders have spread to Los Angeles County as firefighters have been unable to keep pace with the fires racing across the landscape. The Woolsey Fire jumped the 101 Freeway on Friday morning and began to descend on the multi-million dollar homes of Malibu. The Los Angeles County Fire Department tweeted that it posed an "[i]mminent threat!"
Fire season is changing in Southern California in a variety of ways that are not good. That includes the global warming rigamarole every corner of the planet is dealing with to bizarre local impacts like the region losing its cooling cloud cover. Add in densely populated areas like Malibu and, well, you have a trappings of a very, very bad situation.
Update November 9, 12:31 p.m. ET: Local officials held a press conference to update reporters on the state of the Woolsey and Hill fires. Los Angeles County Chief Deputy David Richardson said there are more than 2,000 firefighters currently battling the blazes in Southern California and that up to 60,000 homes could see mandatory or voluntary evacuation orders over the course of the day.
G/O Media may get a commission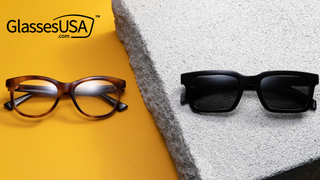 60% off frames
GlassesUSA.com Back to School Sales
"If you have a mandatory evacuation order, leave.," Linda Parks, a Ventura County Supervisor, said. "We don't want any tragedies, any deaths, any injuries."
In addition to the challenging conditions, there's also a resource challenge. Firefighters are being stretched thin between these fires and the Camp Fire, making it tough to set a proper fire line. That's in part why the Woolsey Fire jumped the 101 Freeway and Malibu is being evacuated.
"The perimeter now is the Pacific Ocean," Richardson said.
Update November 8, 4:30 p.m. ET: Populated parts of Malibu are now burning as the Woolsey Fire pushes into town uncontrolled. Local TV news crew are reporting that firefighters are unable to access large areas from the ground and are only able to offer air support. Acting Governor Gavin Newsom has declared a state of emergency.
Update November 8, 4:30 p.m. ET: The Woolsey Fire has reportedly doubled in size and at least 20 homes have been destroyed, according to the Weather Channel. Fire officials said that evacuations forced by both the Woolsey and Hill fires could number more than 148,000.