The U.S. Air Force published a video overnight showing its latest missile test from Tuesday. But the Air Force insists that the test is "not related to any real world events."

The unarmed Minuteman 3 intercontinental ballistic missile (ICBM) was launched from Vandenberg Air Force Base in California at 11:01pm local time on Tuesday. The missile, which is capable of carrying up to three thermonuclear devices, was launched over the Pacific Ocean and landed near the Kwajalein Atoll roughly 4,200 miles to the west.
The test is fairly routine, but most missile tests conducted by the U.S. military over the past two years have been viewed with a strange air of anxiety as tensions between the U.S. and North Korea have gotten worse. President Donald Trump has noted that North Korea ceased tests since his meeting with Kim Jong Un in June, but experts have pointed out that the country no longer needs to conduct extensive tests now that it's actually achieved reliable nuclear missiles.
The Air Force insists that its latest test has nothing to do with anything that's happening with other nations but didn't mention any countries by name.
"Operational test launches of the Minuteman III provide valuable data to planners and holistically test the system, procedures and airmen from the initial mission planning to the final weapons employment phases," Air Force officials said in a statement to the San Luis Obispo Tribune. "These tests are not related to any real world events."
What real world events could they be talking about? Observers are concerned about hot spots around the globe like Iran and Venezuela. Both appear to be on the Trump regime's short list for tough talk, along with plenty of other nations. National Security Advisor John Bolton recently dubbed Cuba, Venezuela, and Nicaragua as a "troika of tyranny," a clumsy name that seems unlikely to stick.
G/O Media may get a commission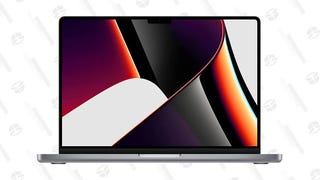 Save $300
2021 14" 1TB MacBook Pro
The last ICBM test conducted by the U.S. was on July 31, 2018 but didn't work out as planned. The test was canceled due to an "anomaly," thought the Air Force didn't get any more specific than that.
But Americans seem unlikely to give this latest test much thought anyway. There's plenty of other stuff to worry about on the homefront, including outright assaults on freedom of the press, and a worsening constitutional crisis after Attorney General Jeff Sessions was fired yesterday.
And all of that is to say nothing of the continuing gun violence that plagues the country. A gunman killed at least 12 people and himself at a bar and restaurant in Thousand Oaks, California overnight. The last thing we need right now on top of all this is a new war.