Universal FanCon, which was initially scheduled for next Friday, April 27th, in Baltimore, Maryland, is "postponed indefinitely," according to a statement released by its organizers a day after initial rumors of the convention's postponement hit the internet due to an e-mail sent via one of the convention's planned hotel blocs.
Is AI Moving Too Fast? | Future Tech
In the statement, posted to the convention's website, the organizers cite financial troubles as the primary motivator for the postponement, describing an organizational effort marred by financial difficulties and scale creep from the very start:
To provide further context, FanCon began as a dream held by a few and grew in size as we spoke with like-minded people in the pop and geek culture space. Our members and you, our supporters encompass many intersections of marginalized groups and we wanted to do what other cons would not — give us a true voice and platform on which to build an incredible event that catered to all of us. To facilitate that, we launched a Kickstarter in late 2016, to which we received overwhelming support. We built up our internal teams, comprised mostly of volunteers who still held full time jobs while supporting families. We spoke with various experts to gain insight into how to produce a convention and better understand the activities that needed to take place in order to execute this event.


As we built out our floorplan, invited guests, figured out lodging/travel arrangements, and confirmed activities, our costs started to grow exponentially. Unfortunately, the support we were anticipating in terms of ticket sales and sponsorships did not materialize. Accordingly, the organizers of FanCon made significant personal investments in order to ensure FanCon's success. In addition to these investments, we worked to scale back the number of guests and limit the convention space to create a leaner and more efficient show. Sadly, this was not enough. If we were to have moved forward, the event would have been significantly diminished.
The announcement gives no word on when FanCon will be rescheduled, but the organizers are insisting, at least for now, that the convention isn't cancelled:
Does this mean FanCon is canceled?


Not at all! FanCon and our mission remains the same! We plan to ensure that fans have a safe space to feel included and our goal is to make that a reality. We worked really hard to preserve the vision and experience that our fans deserve. We wanted to be absolutely certain that we wouldn't be able to live up to our shared vision before we made this decision. We looked at all options up to the minute, and we decided that it would be better to postpone FanCon and ensure a great experience than to move forward and not be able to. We are currently postponing as opposed to canceling.
G/O Media may get a commission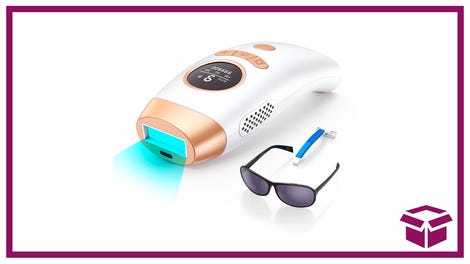 58% Off + Coupon
IPL Hair Removal Device
Late yesterday, the organizers updated the announcement with information, also sent out to some planned attendees of the convention, that FanCon would be making attempts to offer refunds, though the language is unclear on whether that means ticketholders, Kickstarter backers, or other investors:
We are working diligently to come up with solutions. Of particular concern is how we honor your commitment to us. Therefore, though there have been missteps in communications and errors, we are working to ways to refund the money you have invested in us. We will continue to update on our progress.

While concrete details on the postponement are in short supply, beyond the organization's statement, of note is that one of the organizers, Thai Pham, who according to his LinkedIn is the Vice President of Convention Operations & Entertainment with Universal FanCon, has a history of involvement with conventions unable to pay their bills.
As uncovered by writer Jazmine Joyner, and verified by io9, Pham was the CEO of H8 M3 N0T Enterprises, which ran a Kickstarter for a planned convention in 2016 called PrideCon, which was also cancelled just days before its planned opening.
According to Pham's LinkedIn, he was also the COO of Touzai Company in 2014 and 2015. Touzai Company, based in California, ran TouhouCon for two years before failing to return for 2016 due to lack of funds. In 2015, TouhouCon also had a problem with promising accommodations it couldn't financially deliver: according to reports at the time, the convention guaranteed free hotel rooms to artists and vendors but was unable to settle accounts on those rooms afterward, leading to the artists being charged full hotel fees unexpectedly.

Pham, according to his LinkedIn, appears to have cut his teeth in expo planning while working for The Society for the Promotion of Japanese Animation, where he served as the manager of Guest Relations for Anime Expo for seven months in 2010. He also reportedly worked as "convention set-up" for the Walt Disney Company in Anaheim for three years from 2014-2017, though what this work entailed is unclear.
Pham's history suggests that mismanagement may have played a role in FanCon's postponement, though it's clear any way you cut it that convention planning is a difficult, expensive business. Meanwhile, disappointed attendees have taken to Twitter to collaborate on recompensing creators and visitors for their lost money and time, and some organizations are offering alternatives for vendors and attendees who were planning on going to FanCon.
The organization Black Heroes Matter has posted on their Twitter to announce a pop-up convention for next Saturday, which they're dubbing Wicomicon, aimed at those put out by FanCon's postponement.
According to TheBlerdGurl.com, PhillyCon in Philidalpheia is also honoring FanCon tickets with free Friday passes. TheBlerdGurl also has tips on how to secure refunds on third-party travel accommodations for those affected.
io9 has reached out to event organizers for comment and will update this article if they respond. As always, if you have any information to share about Universal FanCon or its organizers, please email us at tips@io9.com.
Update: It's come to our attention that Jamie Broadnax, one of the members of Universal FanCon and founder of the organization Black Girl Nerds, has also shared a statement, which lays out a clearer timeline for the events leading to the convention's postponement, though it also makes it even less clear what, precisely, happened with the convention's finances:
As I was working to spread the mission of Universal Fan Con, I did not involve myself with financial or legal matters. To be frank — I didn't know what was coming in nor what was going out. I didn't sign any contracts. And in hindsight, I realize that this should have been a major priority. However, I acknowledge that in hindsight, that does not remedy the aftermath. On April 3, a bomb was dropped on me about our finances. I was shocked that outstanding bills were not paid and that the likelihood of FanCon would be no longer.

I help oversee our Affiliates team — our team of bloggers, vloggers, podcasters, etc who are the cheerleaders that have helped to spread the word of Universal Fan Con. We discussed having an emergency Go Fund Me and I even created a video as a last-ditch effort. I was reluctant and didn't like how it would look that I was being asked to be the face of the video, but I went with it anyway. However, I guess I was positioned as the leader and representative of the fandom community, and I recorded a video about our need for funds. After we had our meeting with Affiliates, most agreed a Go Fund Me would be a good idea. I had a secondary meeting with the FanCon board and we decided rather than putting the onus on fans and asking for money which we already did during the Kickstarter, I agreed that we should try to find ways to scale down the size of the space and try to defray costs. I also worked with a sponsor at the last minute to help us out that provided a generous donation that I thought would have us in a better position.

48 hours ago, I found out that we owed more money and that there was no way to run this con with the debt that was owed. I called the team myself and requested an emergency board meeting to discuss what we need to do and what went wrong. As it turns out there was a balloon budget that would make it impossible to run this convention by Friday, April 27. I was sick to my stomach, devastated and I'm still in shock by all of this because at the time I thought FanCon was okay. I had a press coverage meeting with my team a few days before and I was prepping my schedule as to what we plan to cover at the event. I was completely blindsided by this news and frankly still don't understand what happened.
In addition, another one of the founders of Universal FanCon has posted the following thread on Twitter (which is shared here as a screenshot):
Update #2 2:14pm 4/22: The Great Philadelphia Comic Con (sorry for getting the name wrong!) reached out to provide more info on their offer to FanCon ticketholders. Any ticketholder can attend the event for free on Friday, April 27th, or for 50% off on Sunday, April 29th.
Additionally, the Baltimore Science Fiction Society is offering discounted memberships and dealer tables for Balticon in May, as well as a social event at their clubhouse next Friday for FanCon ticketholders.