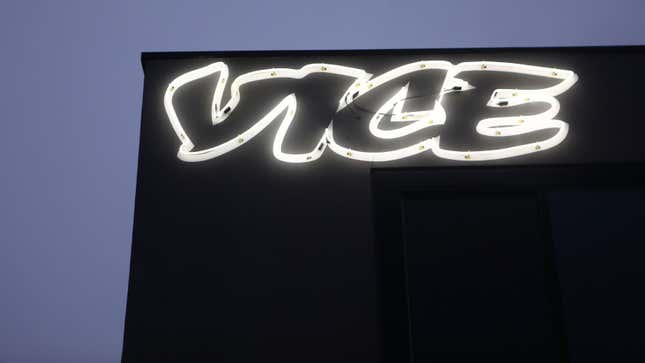 Vice Media filed for Chapter 11 bankruptcy in New York on Monday, becoming the latest digital media giant to throw in the towel after years of economic struggles.
Robinhood App Lays Off 9% of Staff
The company, which owns emblematic websites such as Vice, Motherboard, and Refinery29, announced that it had filed for bankruptcy in a press release on Monday after months of failing to find a buyer. In the announcement, Vice Media stated that a consortium of its investors made up of Fortress Investment Group, Soros Fund Management, and Monroe Capital, had agreed to purchase the company for $225 million, a far cry from the company's 2017 valuation of $5.7 billion.
Vice Media noted that "substantially" all of its international entities, including its Vice TV joint venture with A&E, were not part of the bankruptcy sale.
Should the creditors' bid to purchase the company go through, they would assume "significant liabilities upon closing," Vice Media said. However, outside parties will be allowed to submit higher or better bids for the company, so the offer from investors isn't set in stone yet.
Unlike its competitor, BuzzFeed News, which was completely shut down recently, Vice Media aims to continue publishing under a new owner.
"VICE serves a huge global audience with a unique brand of news, entertainment and lifestyle content," Bruce Dixon and Hozefa Lokhandwala, Vice Media's co-CEOs, said in a statement. "This accelerated court-supervised sale process will strengthen the Company and position VICE for long-term growth, thereby safeguarding the kind of authentic journalism and content creation that makes VICE such a trusted brand for young people and such a valued partner to brands, agencies and platforms. We will have new ownership, a simplified capital structure and the ability to operate without the legacy liabilities that have been burdening our business."
Dixon and Lokhandwala explained that they expected the bankruptcy sale to be completed over the next two or three months. Vice Media received $20 million in cash from Fortress, Soros Fund Management, and Monroe Capital to fund its operations during the sale process. The media company stated it will continue to pay employees their wages and benefits without interruption as well as suppliers on normal terms.