Yesterday's Futurama panel was a genuine spectacle, featuring the voice cast reading the descriptions for future episodes in character, a performance of the "Not Sure Fry" meme featuring Billy West, a drawing contest that pit Matt Groening against Peter Avanzino, and a Futurama costume competition. Plus, we got to see footage from the upcoming Octoberfest episode. So sit back, turn up the volume, and enjoy the show. Spoilers ahead.
Futurama producers and cast members came to San Diego Comic-Con's Ballroom 20 ready to play. The panel got going with a lively reading of the upcoming episodes from the likes of Amy, Bender, and the Robot Mafia's Donbot, which you can see up top.
Based on the "Not Sure Fry" meme, Billy West performed a few Comic-Con-inspired meme, with his own meme cards:

Matt Groening and animation director Peter Avanzino had a Futurama draw-off. Watch out for that Groening; he cheats:

And there was a Futurama costume competition with members of the audience:

Once they'd picked their winner, each contestent received a fan-made Futurama item (or, as the producers called them "illegal merchandise") with the aid of a bag on a stick known as the "gift-longer."
Unfortunately, we can't share video of the eight minutes we saw of the August 1st episode "Fun on a Bun," but we can tell you a bit about what happens. The Planet Express crew heads to Octoberfest, which, to Fry's enormous disappointment, has transformed from a drunken brewfest to a sophisticated event where beer tastings are akin to wine tastings (everyone even actually spits). Fry, despite being initially thwarted by the tiny tasting steins, figures out a way to get drunk, putting his at odds with Leela. Bender, meanwhile, wants to enter a sausage-making competition, but needs to find a novel type of meat. When Bender learns that perfectly preserved mammoths are often found in Germany, he enlists Fry to help him dig up an aged mammoth corpse. Unfortunately, when stuffing the mammoth in the mammal mincer, Fry gets trapped and Bender's sausages are part mammoth, part Fry. It's only discovered after Leela eats a bit of Fry sausage, which is delicious despite the presence of red hair.
The producers also talked a bit about the episode recent episode "Decision 3012," about a time-traveling politician. The initial twist was that when Senator Chris Travers would be born, it would be revealed that he was born female, but the producers ultimately felt that the Earthicans of 2012 might not be ready for a transgendered, time-traveling senator. After the contest-winning fellow in the Zoidberg costume asked whether Zoidberg would ever get a romance, the producers said that yes, but not until summer 2013. Zoidberg, in trying to combat his body odor, will fall for a woman with no sense of smell.
G/O Media may get a commission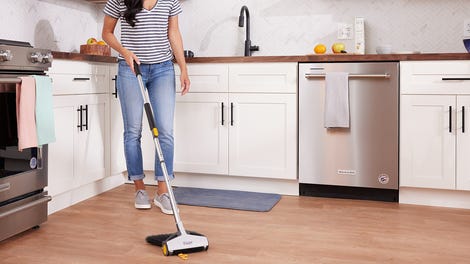 BOGO 50% Off
Flippr - BOGO 50% Off
We also got to see several snippets of moments from future episodes, about which I will say only this: Mom-Farnsworth tortoise sex.