It's been a summer of historic archeological finds that have left world feeling stunned by the scope of history. These incredible discoveries have also left some with an implacable urge to eat these important specimens. Now that researchers have unearthed a perfectly preserved prehistoric foal, the ingredients for The Forbidden Sandwich are finally all here.
The Siberian Times reports that researchers from Russia's North-Eastern Federal University unveiled the carcass of a type of horse that roamed the Yakutia region sometime between 30,000 and 40,000 years ago. It was found during an expedition to the Batagaika crater and, thanks to permafrost, the young horse has been preserved to a degree that stunned the researchers.
In a post on the university's website, Semyon Grigoriev, head of the Mammoth Museum, said the foal had no damage to its body and most remarkably, its coat is intact. It's said to be a type of Lenskaya (or Lena Horse) that is genetically different than the horses that populate the region today. Its exact age is still unknown and it's believed to have been around two months old when it died. The team speculates that it may have fallen into a natural trap and possibly drowned.
The foal was discovered on August 11th and the researchers have been building a research strategy that will begin with a study of the contents of the specimen's stomach to get a better understanding of its habitat and diet. A full dissection will come later.
G/O Media may get a commission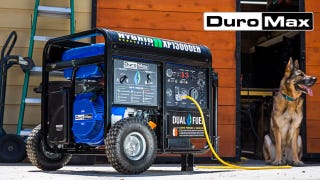 Black Friday Sale
DuroMax Generator Sale
When a mysterious 2,000-year-old black sarcophagus was discovered back in July, the internet went wild with pleas not to open it for fear that it may unleash an ancient curse. When it was finally opened, it just contained a skeleton and some red juice, with no curse let loose on the world—as far as we know. But 32,000 people signed a petition demanding the right to drink the bone juice. Perhaps feeling an absence in their lives since the Tide Pod-eating phenomenon lost steam, internet users have also wanted to get a taste of recently discovered 14,000-year-old bread and 3,200-year-old cheese. Now, we have a new rarefied ingredient to covet while entertaining our collective death drive.

With this development, the ingredient list for the prehistoric foal with bone juice drippings and death cheese sandwich is complete. First, you're going to need to soak a towel in water and ring it out until it's damp. Wrap the bread in the towel and let it sit for a month, periodically dampening. Once your bread has a little spring in it, give it a little grilling. Next, we recommend a fruit and enzyme marinade for the foal, followed by an hour of tenderizing with a mallet. You'll want to mix your sarcophagus juice with equal parts water and bring it to a boil. Cut your foal into strips, and give it a quick dip in the juice. Nothing wrong with a hard cheese, so you're good to go there. Throw on a little salt and pepper, compile your layers in a typical sando-style formation. And bon appétit.
We're sure to learn a lot about the ancient world from this noble creature that gave its life for science. 30,000 years from now, when researchers look back at our cultural conversation will they conclude that we were all dumber than this horse that fell in a hole and drowned?
Additional reporting by Emily Lipstein.