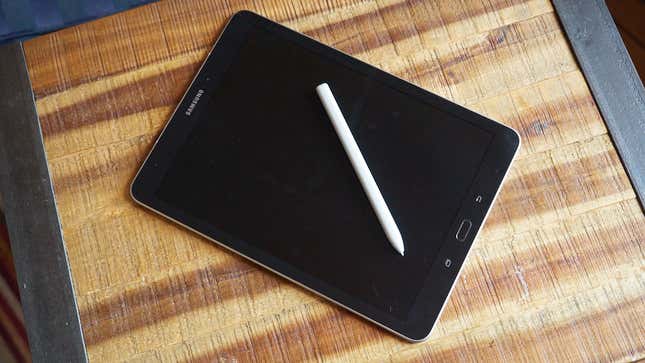 After launching last year at MWC 2017, Samsung's current flagship tablet, the Galaxy Tab S3, is starting to feel a little outdated. So naturally, rumors have begun leaking out about Samsung's upcoming refresh, with the most recent leaks even showing off purported renders of the Tab S4's final design.
Rob Savage on Collaborating with YellowJackets' Sophie Thatcher
Based on what's been leaked so far, it seems the biggest changes on the S4 will be slimmer bezels around the screen and the removal of Samsung's traditional home button/fingerprint sensor combo from the front of the device.
And while it's hard to tell, Android Headlines claims that the leaked renders show that the Tab S4 will sport an iris scanner at the top of the tablet, like the one featured on other recent Samsung devices like the Galaxy S9 and Galaxy Note 8. It's a sensible move that's on trend and also provides a quick and easy solution for people who a simple way to unlock the device without needing to use their fingers.
Meanwhile, over in iPad land, Apple looks like it's going to do something similar by ditching TouchID in favor of 3D scanning FaceID sensors on the next version of the iPad Pro. But if we're being honest, neither move is all that unexpected, and they aren't very exciting either.
So now I'm left wondering what could Samsung possibly do to inject a little thrill back into Galaxy Tab line? Or to be more precise, long after the tablet boom has come and gone, is it even possible for people to feel anything more than mild satisfaction when it comes to the release of new flagship tablets?
In fact, the Tab S4's stiffest competition may actually come from Samsung itself. That's because earlier this year, Samsung released the Chromebook Plus V2, which like the Tab S3, comes with a built-in stylus in addition to a sizable 12.2-inch display, multiple USB-C ports, and Chrome OS, which is a better operating system for actually getting work done than standard Android.
And for all that, the Chromebook Plus V2 sports a price tag of just $500, $100 less than what the Tab S3 cost when it was released last year (and that's before you factor in the additional $130 you need to fork over for the Tab S3's not-so-optional folding keyboard).
So even if Samsung adds other neat features like an in-display fingerprint reader or support for Samsung's Dex dock that would let the Tab S4 transform into a desktop (while also possibly functioning as a second monitor), I'm just not sure a $700 or more premium tablet running Android (or iOS for that matter) makes any sense.
I would love to be wrong, and it's definitely possible Samsung has even more wild tricks in mind for the Galaxy Tab S4. But tablets haven't really been exciting for a number of years, and right now, it's hard to imagine a feature that would make more than a handful of people care about a high-priced tablet in 2018.