It's hard to put my finger on the exact moment the idea for the Apex Book of World SF series first crystallised, but the seeds for it were sown long before. I grew up on a kibbutz in Israel, and even as a child I was drawn to fantastical works, many translated from Europe: not just Tove Jansson's Moomins, but Janusz Korczak, Michael Ende, Astrid Lindgren, Erich Kästner and many others, alongside the numerous translations from the English.
Even then, I was drawn to seek out homegrown Hebrew fantasy, too: my favourite being Eli Sagi's mid-60s trilogy of science fiction novels, the Adventures of Captain Yuno, in which a pair of children, Yuno and Vena, travel throughout a solar system teeming with mysterious alien life (charmingly illustrated by the prolific artist M. Aryeh). When I wanted to write a high school dissertation on Israeli science fiction, I contacted the foremost translator of the genre, who dissuaded me rather bluntly with the words: "There isn't any."
It always stuck with me, that line. Even then, I didn't think it was true. Perhaps he had meant that what there was, was not much good. Or perhaps he meant that it simply was not American enough. I changed the topic I was going to write on, but my interest remained.
The first time I went backpacking, at 17, through east and then western Europe, I sought out obscure works of local SF: I still own the two Nemira anthologies, for instance, published on thin rice paper in 1994 and 1995 in Romania, or strange works of fantasy published by a still-Soviet imprint in Moscow.
But I think one defining moment was a visit to China back in the turn of the millennium: I had been so warmly welcomed by the science fiction community there that I felt almost duty-bound to repay the favor in some way, and I could only best do that, I thought, by helping Chinese SF be published abroad. This did not happen immediately, of course... and for a long time seemed likely never to happen at all.
G/O Media may get a commission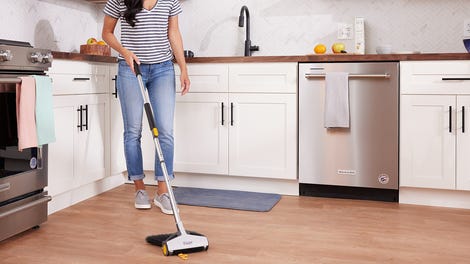 BOGO 50% Off
Flippr - BOGO 50% Off
In 2005, a single issue of a magazine called Internova came out in Germany. It was edited by three German fans, and I became involved relatively early on, also helping bring in several other contributors. It was the first time that a magazine dedicated to international speculative fiction was launched in decades (there had been a short-lived attempt by Fred Pohl in the 1960s) – but more importantly, it was the first time such an endeavour was undertaken by people from outside of the dominant Anglophone sphere.
Internova was not without problems. It was a slick paperback production, but it was hard to get hold of. E-books were still not a very common option and distribution made it difficult for anyone to find. In addition, the committee style structure didn't allow for quick decision-making. Internova was an inspiration, an eye-opening experience that such things were even possible, but it did not last beyond its first issue (it did re-emerge as a website later on, though).
What Internova couldn't do, I thought (with a mixture of naïve optimism and not a little hubris!) a single person might achieve. The idea for a sort of "best of" anthology, selecting stories for reprint from a wide variety of venues, seemed possible – if only anyone could be convinced to do such a strange thing. I had been working with Jason Sizemore at Apex for some time then, and ended up pitching him the idea, my entire pitch consisting of the words "It won't sell anything or make you any money but it's worth doing anyway!"
Jason, to my surprise, agreed. Suddenly, my daydream was on its way to becoming a reality.
I was already keeping my eye out on any international story being published, though back in 2008, when I was putting the first volume together, it was far harder to find material!
One of the things I was most proud of was being able to publish two Chinese science fiction stories in that very first volume, thus fulfilling my promise to myself. Back then, people like Ken Liu and John Chu were not yet doing the sterling work of translation they are doing now, and the stories I received were merely rough draft translations done by the authors themselves. I ended up doing the translation edits myself – a difficult job when one doesn't speak the original language! But the stories – "The Wheel of Samsara" by Han Song, and "Wizard World" by Yang Ping, were finally done, and the authors were happy with my efforts. Only recently, I received a permission request for "The Wheel of Samsara" to be taught in a UK university course.
I also ended up translating one story – Nir Yaniv's "Cinderers" – myself, from the original Hebrew, and another of his, "Benjamin Schneider's Little Greys", for the subsequent special World SF issue of Apex Magazine which I edited. This second story remains one of my favourite of his.
Quality was an aim of the anthology from the start. I was lucky enough to publish two World Fantasy Award winners – Thai author S.P. Somtow, and Serbian Zoran Živković—and in some cases, I drew on my own travels and collecting. I came across Tunku Halim's stories while in Malaysia, where they were successfully published, and was delighted when I was able to publish one. Then, of course, there was Aliette de Bodard, quickly making a name for herself, a fellow non-Anglophone in the strange waters of SF short story publishing, who has since gone on to multiple awards and novels.
It's hard to describe what an odd creature that first volume was. Things change rapidly, as much as they stay the same. Back in 2008, print-only submissions were still a barrier to many international writers. Electronic magazines were still considered lowlier than their print counterparts, though this was rapidly changing. My intention with the series was to focus on the now, to offer a snapshot in real-time, as it were, of core genre from outside the US/UK block. As such, it fascinates me to see how it changed in the years that followed.
The Apex Book of World SF came out in 2009 and, to our considerable surprise, did well enough that Jason was happy to let me do another. Volume 2 was longer, bigger, and with 26 short stories, up ten from the previous volume. I still drew on contacts and obscure sources, but could see more international fiction being slowly published in the new e-zines coming up. Keeping an eye on talent, I think, is easy: Lauren Beukes was clearly going places, and won the Clarke Award shortly after graciously agreeing to be in Volume 2, and Nnedi Okorafor went on to win a well deserved World Fantasy Award, and was clearly a major talent in the making. Another of the contributors, Silvia Moreno-Garcia, has recently published her well-received debut novel, and signed a further 2-book deal with a major publisher. I expect we'll hear a lot more about her, too.
For me, I was able to source Latin American and African writers sorely missing in volume 1, and to features new authors and new countries. (I should note that the series has two basic rules. We do not publish the same authors twice, and we will publish up to two authors from one country in a single volume. This is designed to allow for both flexibility and diversity and best serves the series in its function as a showcase. In addition, any form of speculative fiction is welcomed, including science fiction, fantasy, horror and any of their many sub-genres).
Alongside Volume 1, I had also began the World SF Blog, initially a promotional outlet that very quickly outgrew its original purpose. In its four years it published hundreds of articles, links, interviews and discussions on every aspect of international SF, and itself began to publish fiction. By the time it had ended, in 2013, it had won a British Science Fiction Association Award for non-fiction, as well as a special Kitschie. People prominently involved with the blog included Charles Tan, a massive supporter of the entire project, who took on the task of producing much of the original non-fiction content of the site, and fiction editors Debbie Moorhouse and then Sarah Newton.
Alongside the blog and the anthologies, we also began the World SF Travel Fund, to allow international writers to travel to the World Fantasy Convention on part of full funding.
By Volume 3, I was able, ironically, to draw on the blog itself for some of the stories! Volume 3 truly showed the dominance of women writers in the field today, and as for the Chinese writers I continued to publish, I was now able to feature professional translations by Ken Liu. However, at this point, I had reached my goal: I had somehow, however unlikely it seemed, managed to produce and publish three volumes of international speculative fiction in 6 years. I watched the number of writers virtually explode; the rise of online publications such as Clarkesworld and, later, Tor.com, who made a conscious effort to publish global works, as well as translations; the death, finally, of the dreaded print-only submission as even the last of the print magazines at last adopted electronic submissions, removing one great big barrier to publication; and the rise of new, specialized anthologies such as Afro SF and Breaking the Bow, which highlighted original fiction from Africa and India, respectively.
The world was, slowly, changing. But I had one dream left.
My secret goal had always been to reach the three volume milestone. But what I wanted to do then was to see the series continue under other hands. Diversity, after all, is as much a function of who gets to make the choices, and it seemed to me only natural for a series such as this that it could only continue to be relevant if I myself stepped back from it: if it had new editors who could offer a new perspective. This would have likely remained a dream, had not the supremely talented Mahvesh Murad stepped into the ring with all the swagger and naïve optimism I myself must have possessed back with Volume 1. Smart, knowledgeable and incredibly well-read, she took to the task with enthusiasm, even as I began to chuck story after story and anthology after collection at her. Her debut anthology, The Apex Book of World SF 4, contains 28 stories from some 25 countries, and includes the first Pakistani winner of a Stoker Award, the first Dutch winner of a Hugo, and many, I suspect, of the future rising stars of speculative fiction.
When I look back on it all, I wonder how it ever happened. But the truth is, we were there all along. The future of science fiction is dependent on its global nature, on its international authors, who each bring their own unique visions and experience, their own background and culture, and their shared love of the fantastical to their work. From Uganda to Bangladesh, from Mexico to France, from Israel to the Philippines, science fiction is alive and kicking, a vibrant new generation of writers changing the face of the genre one story at a time.
I think that's something worth celebrating.