Joe Johnston explains how they turned Chris Evans into a 90-pound weakling for Captain America, while Kevin Feige explains the movie's earnest tone. Guillermo del Toro discusses the half-dozen projects he's working on, including what's next for Mountains of Madness.
Spoilers from here on out!
Top image from Captain America.
The Dark Knight Rises
Anne Hathaway's Catwoman costume will reportedly be a far cry from Michelle Pfeiffer's PVC getup in Batman Returns or Halle Berry's... well, whatever the hell Halle Berry was wearing in Catwoman. According to an inside source, Hathaway's costume more closely resembles what Selina Kyle wears in the comics, which is actually a fairly practical outfit as far as things female comic book characters wear. Here's the report
"Anne's outfit is more tactical, like the comic book, than the previous Batman movies. She will definitely be wearing the goggles and it's going to be less sexy than Halle Berry and Michelle Pfeiffer's Catwoman costumes. She's going to look more like a robber."
But enough about things that could theoretically speak to the movie's aesthetic or narrative aspects...what about far more important matters?
"But fan boys shouldn't be worried. This costume is going to be form-fitting enough to make Anne look smoking hot. Everything from the looks in her eyes, her head movements, her body–everything is so feline. The role is taking her to new places."
G/O Media may get a commission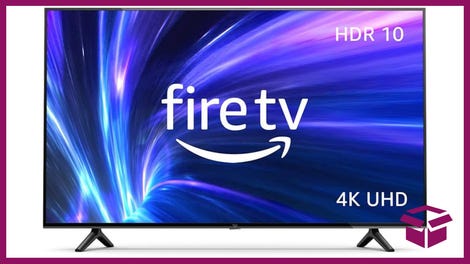 42% Off
Amazon Fire TV 50" 4K Smart TV
---
Captain America
Director Joe Johnston - who previously worked on another 1940s-set superhero movie in The Rocketeer explains what appeals to him about the time period, and why he likes Steve Rogers:
Period comic-book adaptations can be more challenging for action sequences and pop-culture references, especially in trying to reach a younger audience. I always try to be true to the period while making a film that feels contemporary in its style. Both Captain America and The Rocketeer take place in roughly the same period-the late '30s and early '40s. I've always loved the visual elements of the period: the cars, architecture, clothing, and the overall sense of style that we seem to have lost. As a society we used to seem to care what things looked like. We took care to build beauty and passion into the world around us, and decisions didn't seem to be based on the bottom line...

If there are other comic-book heroes who have as human a story as Steve Rogers, I'd be interested. Too many comic-book movies rely on spectacle when the story is weak. With Captain America, we got the story firing on all cylinders first so the spectacle was fully justified. More than anything, I want everyone in the audience to sink into the alternate reality of the 1940s, enjoy the ride and come out of the theatre humming the Captain America theme. The movie is a helluva lot of fun.
He also explained the process by which Chris Evans plays the original, 90-pound version of Steve Rogers:
The technique involved shrinking Chris in all dimensions. We shot each skinny Steve scene at least four times; once like a normal scene with Chris and his fellow actors in the scene, once with Chris alone in front of a green screen so his element could be reduced digitally, again with everyone in the scene but with Chris absent so that the shrunken Steve could be re-inserted into the scene, and finally with a body double mimicking Chris's actions in case the second technique were required. When Chris had to interact with other characters in the scene, we had to either lower Chris or raise the other actors on apple boxes or elevated walkways to make skinny Steve shorter in comparison. For close-ups, Chris' fellow actors had to look at marks on his chin that represented where his eyes would be after the shrinking process, and Chris had to look at marks on the tops of the actor's head to represent their eyes. These marks then had to be digitally removed in post-production.
There are lots more details at the link. [Film Journal]
A set report confirms the movie has brief bookends in the present day, and also offers this quote from Marvel Studios executive Kevin Feige on the movie's tone and why Cap is a more earnest hero:
"It's earnest when it needs to be. I think some of what you saw in there was earnest. But I wouldn't say it's overly earnest. On the flip side, I wouldn't say it's overly jokey just because we wanna get some zingers in. It doesn't play like that. Much of the humor from the first half comes from how out-of-place Steve is. There's a whole sequence between when he's selected for the program and when he goes into Brooklyn for the procedure and he's not quite as agile as the other candidates. There's some humorous moments in that. But this not the Chris Evans being Mr. One-Liner. The script that these guys have written for the past two years, it has humorous moments, has fun where appropriate. A lot of that comes from Bucky and a lot of the Commandos."
There are more tidbits at the link. [Hitfix]
Here's a featurette, courtesy of Dunkin' Donuts for some reason.

And here are some new promo images. [ComingSoon.net]
---
Transformers: Dark of the Moon
Here's a TV spot and what's being called the final trailer. [TFLAMB]

---
Pacific Rim
Guillermo del Toro gives a status update on his big-budget monster movie:
Fantastic. I mean so far, knock on wood, it's the greatest experience of my life. I'm having a blast, designing like crazy. I'm now hiring actors, which is always a good sign, always a great sign when you're casting. We're announcing a release date today or tomorrow, which makes it real also. The other thing that we're heading towards is an impeding start date the first week in November, so we have 20 weeks to start shooting the biggest giant monster movie ever made.
[Collider]
Incidentally, the release date is reportedly July 12, 2013. [The Hollywood Reporter]
One more quote from del Toro, this time on the movie's scope:
"Huge. This is my most un-modest film, this has everything. The scale is enormous and I'm just a big kid having fun."
---
At the Mountains of Madness
Meanwhile, del Toro said he's not giving up on his recently canceled, proposed R-rated adaptation of the works of H.P. Lovecraft, suggesting the success of Pacific Rim could make Universal more amenable to making it:
I'm not giving up… 'Mountains of Madness' has been with me for 13, 14 years and I really don't want to give up on it… 'Mountains of Madness,' the way I plan to do it is a very peculiar take, and I think if I don't stick with it the version I would like to see would never get made. I'd rather address the budget than the rating," Del Toro said. "The movie can perfectly someday be PG-13, but contractually I need to protect it. There's nothing in the movie that is profanity or sexual situations or any of that. But what we learned with 'Don't Be Afraid of the Dark' is that sometimes intensity, the intensity of the situations, garners you the R. 'Don't Be Afraid of the Dark,' in my mind, should be a PG-13. It's several intense moments [that] got us the R - I think some of the situations at the end, I don't want to spoil it, but there are a couple of moments at the end that they deemed were too intense and I didn't want to water down the movie. I'm going to keep pursuing it. Universal is still really interested in doing it. Coming out of 'Pacific Rim,' I intend to see if we can do it immediately. I knew 'Mountains' was a long shot. In fact, it was a miracle we got that close to production.
---
Hellboy 3
Del Toro also addressed Mike Mignola's recent comments that a third movie probably won't happen because del Toro's schedule is just too busy. Del Toro responded by saying he definitely still wants to make the movie... except his schedule is just too busy. So, yeah, looks like Mignola had a point with that one. [ShockTillYouDrop]
---
Frankenstein
Finally, del Toro said he still wants to make his new take on the Frankenstein story. He described his project thus: "My take is so unique, it will set it apart." [ShockTillYouDrop]
---
Pride and Prejudice and Zombies
Easy A and The Amazing Spider-Man star Emma Stone has reportedly passed on the starring role. [MTV Movies Blog]
---
The Host
The adaptation of Stephanie Meyer's other book, which stars Hanna's Saoirse Ronan, has set a release date of March 29, 2013. [ComingSoon.net]
---
Metamorphosis
Justified actor Nick Searcy has been cast in the main role of a new adaptation of Franz Kafka's classic novella, which somewhat worryingly has been reimagined as a teen-centered film:
"Story focuses on a 17-year-old who wakes up one morning to an inexplicable illness that transforms him into the unimaginable — a hideous, human-sized cockroach. His parents come home to discover him afraid and hiding from his new form and are now faced with the decision of accepting a monster in their suburban home or exterminating their own son."
[Variety]
---
Immortals
Here's another trailer for Tarsem Singh's upcoming swords and sandals epic starring future Superman Henry Cavill and Mickey Rourke.

---
11/11/11
Here's a trailer for the eleven-obsessed sci-fi horror movie.

---
Doctor Who
According to her CV, comedy actress Ella Kenion - who is probably best known to British audiences from her role on the short-lived comedy show The Green Green Grass as Mrs. Cakeworthy - will appear as "Margaret/Harriet" in an episode directed by Richard Senior, which means this has to be for "Let's Kill Hitler." [Doctor Who Spoilers]
---
Torchwood: Miracle Day
Here's an eleven-minute behind-the-scenes featurette.

The British airdate is confirmed for Thursday, July 14 at 9:00 PM on BBC1, which is six days after the American premiere date. [Doctor Who News Page]
---
Fringe
An interview with Anna Torv reveals she knows pretty much nothing about the fourth season, but she does offer her own take on where she'd like Olivia to go:
I am interested to see what parts of her personality are connected to the things that have happened over the last few years, specifically with Peter. If he isn't there, is there room for a different take on her? Not an alternate version of Olivia, just a different take. Is she softer or is she harder? I am hopeful that she won't be as tormented. I think she needs a break.
There's more at the link, although it is about 50% Torv saying some variant of "I don't know." [Fearnet]
---
True Blood
Alan Ball previews the rest of the season, starting with the fairies:
Your fairies seemed more like guerilla fighters. Will they be back?
That's not the last we've seen of them. Time for fairies is different so it takes them a while to react. Our show has 12 episodes, and for them that's like a minute. They will react (to Sookie's escape) eventually.

Is there any significance to the watch that Sookie passed along to Jason from their grandfather?
The watch is basically to prove to Jason that she was there with her grandfather in the land of the fairies. The watch has no powers although maybe…now that I've got that thought in my head….
There's lots more at the link. [xfinityTV]
And here's a promo for the rest of the season.

---
Terra Nova
Here's a new teaser trailer.

---
Supernatural
Episode three will reportedly be entitled "The Girl Next Door." Here are some casting tidbits:
A young girl called Amy is being cast for the episode who will appear in flashbacks of Sam. Sam saved her from being bullied when they were 15 years old. Later she saves Sam's life and is disappointed when he won't leave town with her. In the present Amy is in her late 20s and has settled down with a job, a mortgage and an 11 year old son and is very surprised to see Sam again.

Also being cast is a possible recurring "terrifying hit man" in his 30s/40s who is described as "scary like Javier Bardem in No Country For Old Men."
One final casting rumor for "The Girl Next Door" - Colin Ford will reportedly make a return as young Sam Winchester. His counterpart, Brock Kelly's young Dean Winchester, will reportedly not appear in this episode, but he is in discussions to appear elsewhere in the season. [Zap2It]
---
Falling Skies
Here's a sneak peek at the next episode, "Grace."

---
Additional reporting by Gordon Jackson, Charlie Jane Anders, and Annalee Newitz.