There's a major clue about Peter Dinklage's role in X-Men: Days of Future Past. A Thor: The Dark World set report offers some tantalizing hints. There are loads of clips from the alien-abduction film Dark Skies, and dozens of photos from Jack the Giant Slayer. Plus all the latest casting news for Under the Dome and NBC's Dracula!
Spoilers from here on out!
Top image from The Walking Dead.
X-Men: Days of Future Past
There's still no official word on who Game of Thrones star Peter Dinklage will play in the next X-Men movie, but the latest reports suggest he will play the main antagonist. I will leave it to others to speculate on just which villain he might play, but I feel honor-bound to point out (much as Mr. Dinklage might prefer I didn't) that he already has plenty of valuable experience playing a supervillain.
We've probably reached the point of diminishing returns with Bryan Singer's constant quotes, but here's one more general take on what to expect from his big return to the X-Men director's chair:
"This movie's gonna be not only quite epic, 'Days of Future Past,' but it also takes place in completely different times than the 'X Men' movies have taken place. There'll be new technology, new things we haven't seen before in 'X-Men' films. Certain characters and certain story and certain drama that hasn't be done yet, so it's not so much sequel. It's more of its own kinda thing... I'll be able to correct a few things [from previous movies]."
G/O Media may get a commission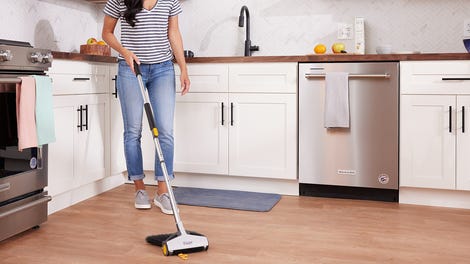 BOGO 50% Off
Flippr - BOGO 50% Off
[Hit Fix]
---
Thor: The Dark World
An extra who played one of the villainous Marauders in the Thor sequel details his experiences filming with Ray Stevenson and Zachary Levi, who play Warriors Three members Volstagg and Fandral, in this report (any and all typos are sic):
"Onto the first day which was basically lots of running around & pretending to slaughter lots of villagers which sounds fun until you set a loose horse into the equation... [On the fifth day] I'm being held prisoner by Ray Stevenson ready to be transported back to Asgard... Next to me Zachary is on his horse which on this particular day is deciding to play up... I think he's a bit worried too but still manages to pull off a perfect English accent whilst laughing at my predicament... As I'm being held hostage by Ray, it turns out he has nothing to eat & his character is always seen as eating... I produce my apple I had hidden in my ammo pouches & voila, if it makes the final cut I have my mark on a major film! fingers crossed. So if you see Ray chomping an apple whilst waiting to transport us intergalactic warriors to asgard then you know where it came from!
Check out the link for the full, unexpurgated account. [Comic Book Movie]
---
Oblivion
Here's the latest poster for Tom Cruise's upcoming post-apocalyptic epic. [IGN]
---
Dark Skies
Here are some sneak peek clips from the alien abduction movie starring The Americans and Felicity's Keri Russell.

---
Jack the Giant Slayer
Here's a metric ton (well, 58, to be more precise) of new promo photos for Bryan Singer's fairytale reimagining. [Coming Soon]
---
The Walking Dead
Comics creator and executive producer Robert Kirkman explains how the group will respond to Rick's clearly slipping sanity:
Things are going to be somewhat more out in the open. Everyone saw that and was wondering what the heck was actually going on there. It seemed like part of the wall was making faces of him! (Laughs.) People are going to be really wary of him, moving forward and what's exactly is going on with Rick. If you see the undercurrent of this episode, you see that forces are moving in Woodbury and there's definitely a confrontation ahead and it's happening at the exact wrong time. This is a guy who's clearly going through some stuff and having a bad time with it. People are going to be unable to look at Rick as a leader at a time when they need him most.

Might Rick confide in anyone about his visions of Lori and Shane?
We've seen Rick keeps things close to the vest. He may go that route here but we also know he has some confidants in Hershel (Scott Wilson). He's shouldered some burden with that guy and worked some things out with him behind the scenes.
Kirkman also discusses some of the other characters, beginning with Andrea's potential as a peacekeeper between the prison and Woodbury groups:
We could possibly see Andrea in that role. She has a vested interest in this impending conflict not destroying both communities or even destroying one. She still has friends in the prison and knows them better than anyone else and would try to use reason before she'd use force. She definitely has the Governor (David Morrissey) as possibly a wrench in that plan.

How will Glenn (Steven Yeun) and Maggie's (Lauren Cohan) torture at the hands of the Governor change them? Could Glenn be the threat to Rick inside the prison?
Glenn's evolution and change has been jumpstarted by the Governor. We've seen him already be more confrontational than we have in the past, and that's going to continue and is going to creep into his relationship with Maggie. Coming out of their encounter in Woodbury, these two have a lot to deal with. Whether or not they're going to deal with it together or allow it to drive them apart, that's what we're going to find out.
There's more at the link. [Live Feed]
---
Person of Interest
Here are some promo photos for episode fifteen, "Booked Solid." [SpoilerTV]
Episode nineteen will reportedly be called "Trojan Horse." [SpoilerTV]
---
Revolution
Here are some promo photos and a poster for the long-awaited midseason premiere, which airs just over a month from now on March 25. [SpoilerTV]
---
Grimm
Episode nineteen will reportedly be called "Endangered" and will feature characters named Vincent and Jocelyn, described as "a husband and wife team who are a terrifying humanoid reptilian creature called a Gluhenvolk who have beautifully luminescent skin." [SpoilerTV]
---
Under the Dome
I've mostly been putting off reporting on the casting news for CBS's upcoming adaptation of the Stephen King novel — even though the show is being developed by Runaways and Y the Last Man writer Brian K. Vaughn, which in itself is pretty damn encouraging — but yesterday featured a particularly awesome announcement. Dean Norris, who has spent the last few years educating the nation on the difference between rocks and minerals on Breaking Bad, will play James "Big Jim" Rennie, a local businessman who uses the mysterious dome as an opportunity to seize absolute power. Other main cast members include Cloverfield and Pan Am costar Mike Vogel as a heroic army veteran on a mysterious mission, former Secret Circle star Britt Robertson as a waitress and aspiring nurse who wanted to escape the town even before the damn dome showed up, and CSI: New York's Natalie Martinez as an ambitious sheriff's deputy. [EW]
---
Dracula
Speaking of casting announcements for new series, let's recap who's playing who in NBC's late 19th century-set Dracula show, which is going straight to series without having to bother with a pilot. The River's Thomas Kretschmann has reportedly been cast as Abraham Van Helsing, who in this version will be "a brilliant professor with a cool exterior who is obsessed with revenge and makes him more of a threat to the public than to Dracula." Jonathan Rhys Meyers was previously announced to be playing Dracula, who leads a double life in London as American businessman Allan Grayson. Jessica De Gouw, who plays the Huntress on Arrow, has been cast as Mina Harker, who Dracula believes to be some sort of reincarnation of his dead wife. Mr. Selfridge's Oliver Jackson-Cohen has also just been cast as Jonathan Harker, described as "a tenacious journalist desperate to climb the ranks of aristocracy and stay there." [Live Feed]
---
Supernatural
Here's a promo and sneak peek for the next episode, "Man's Best Friend With Benefits." [KSiteTV]

Here are some promo photos from the subsequent episode, "Remember the Titans." [SpoilerTV]
---
Arrow
Here's an extended promo for next week's episode, "Dodger." [SpoilerTV]

And here are some promo photos for the next episode after that, "Dead to Rights." [SpoilerTV]
---
The Originals
Klaus actor Joseph Morgan says that other Vampire Diaries regulars could drop in on his New Orleans-set spinoff and vice-versa, up to and including main characters like Caroline:
"There are going to be characters that cross over between the two worlds. The whole world is going to be richer. It would imagine all the fans that have been so generous to me are going to want to see what happens with Caroline…I feel like I owe it to the fans for there to be some resolve and for her to possibly turn up in New Orleans at some point. I know there's already talks about different characters that can come over to New Orleans and then go back."
---
Lost Girl
Terminator star Linda Hamilton will guest star in an upcoming episode as Acacia, described by Syfy as "a tough, sexy and ruthless assassin who has enjoyed a storied and deadly career." [EW]
---
Defiance
Here are some cast photos of Syfy's upcoming post-apocalyptic alien western. [SpoilerTV]
---
Teen Wolf
The seventh episode of season three will reportedly be called "Currents." [SpoilerTV]
---
Beauty and the Beast
Executive producer Brian Peterson previews what's ahead:
Tess is kind of our window in what a normal person – who doesn't just immediately meet a beast and fall in love – would think about all this. So she's going to have a really interesting journey in these next few episodes; in her relationship with Cat, in her relationship with Joe and in her relationship with the vigilante. Evan and J.T. are going to have a growing 'situation.' Evan will have a big story, too. His whole goal is to protect Cat. It's kind of a situation of, 'why is this person I care about doing all of these dumb things?'He is in a position of 'I need to protect her from herself.' So he's going to kind of continue to protect and get more and more involved in things that he should never be getting involved in.

[Sendhil Ramamurthy is] going to be a very big part of the show all the way up to the season finale at least. He's come in with his own agenda and we're quickly going to see how that's different than anybody else on the show; in his need to catch the beast and working with the task force and creating the task force to find the beast for him. I think he has a really fun introduction with Catherine and pretty quickly develops a certain kind of bond with her in the show.
There's more at the link. [TV Equals]
---
Additional reporting by Amanda Yesilbas and Charlie Jane Anders.